James Buck
Marcie Hernandez (center) conducting a session with Hannah Waterman (left) as personal care assistant Stephanie Shohet helps out
Hannah Waterman doesn't speak. The 16-year-old Burlington girl has Rett syndrome, a rare neurological disorder that affects her motor skills, coordination, balance and intellectual development. She also grinds her teeth, wrings her hands repetitively, has difficulty focusing her gaze and suffers from sleep disruptions.
But one thing helps lift her neurological fog: Katy Perry songs.
"Katy Perry is her absolute favorite," said her mother, Shelly Waterman, while Hannah's music therapist, Marcie Hernandez, stood in the center of their living room and tuned her acoustic guitar. Hernandez has many tools in her therapeutic toolbox, but on this particular afternoon, she chose one with proven effectiveness in reaching Hannah: Perry's "Roar."
Before she began playing, Hernandez enlisted the help of Hannah's 13-year-old sister, Hadley, and her friend. She instructed the girls to press a large elastic band into Hannah's clenched fists, then use it to help the girl stretch and exercise her arms.
"I'll give you the cue for stretching," Hernandez told the girls. "If you want to bounce it with her, too, that'd be great."
As Hernandez strummed her guitar and sang, she improvised some lyrics to appeal to the teen.
"Healthy now, I'm having fun, / I'm getting so much more done, / I'm traveling, bike riding and shopping around town," she sang, eliciting a rare smile from Hannah. "OK, girls, now we're going to do a little stretch ... Nice job, Hannah!"
Hernandez is a board-certified music therapist with Music Blooms Music Therapy of Burlington. She's worked with Hannah for about five years; during the school year, they meet weekly for about an hour at Burlington High School. The therapy is covered by Vermont's Pediatric Palliative Care, a statewide program for children with serious and life-threatening conditions.
When the song ended, Hernandez picked up a cabasa, a percussive instrument with steel chain looping around a metallic cylinder. She and Hannah's aide wrapped the teen's fingers around the instrument and helped her move it rhythmically while Hernandez strummed and sang the traditional folk song "Mama Don't Allow (No Music Playing Around Here)."
The choice seemed ironic, given that Hannah's mother couldn't feel more strongly about the benefits that her daughter reaps from music therapy. Five years ago, Waterman noted, Hannah couldn't grip a percussive egg shaker for three seconds without dropping it. On this afternoon, Hannah shook it rhythmically through an entire song.
What's more, the effects endure after the therapy sessions are over, Waterman noted. On the days when Hernandez works with her, Hannah wrings her hands less, relaxes more quickly and wakes less frequently during the night.
"Hannah loves music so much. It calms her; it engages her. She's focused," her mother added. "It's a way of bringing out her better self — her best self."
Music Blooms Music Therapy was founded in 2001 by Jennifer DeBedout, a board-certified music therapist and 25-year veteran of the profession. In addition to working with kids like Hannah, DeBedout and her team of three music therapists see children and teens with autism, seniors with Alzheimer's disease and other forms of dementia, and patients in hospice. Other music therapists in Vermont work with individuals who have mental illness, addictions and post-traumatic stress disorder.
For centuries, humans have marveled at music's unique ability to pierce the psychic noise of a troubled individual. "Rhythm and harmony," wrote Plato in Book III of The Republic, "find their way to the inmost soul and take strongest hold upon it ... imparting grace, if one is rightly trained."
The earliest clinical reference to music as therapy appeared in a 1789 article in Columbian Magazine titled "Music Physically Considered," according to a history of the profession on the American Music Therapy Association website. Benjamin Rush, an 18th-century physician and psychiatrist, was an early proponent of using music to treat physical maladies; two of his medical students published dissertations on the practice. The 19th century saw the first application of music therapy in an institutional setting — at Blackwell's Island Asylum in New York City, the country's first municipal psychiatric hospital.
James Buck
Marcie Hernandez (left) and Hannah Waterman
Music therapy gained wider recognition during the first and second world wars, as amateur and professional musicians visited veterans hospitals around the country and performed for patients recovering from the physical and psychological traumas of combat. Observation of the benefits that music provided these patients — as recreation, occupational therapy and physical reconditioning — led to the creation of a music therapy degree program at Michigan State University in 1944. But it wasn't until the National Association for Music Therapy formed in 1950 that the profession gained wider credibility and acceptance.
In Vermont, music therapy is still an uncommon profession. When DeBedout moved here in 2001, she was one of three certified music therapists in the state. Today, the Certification Board for Music Therapists lists just 14 statewide.
As a consequence, many myths prevail about the practice, DeBedout noted.
In 2014, the documentary Alive Inside: A Story of Music and Memory highlighted the power of music to reach patients with dementia, recover their lost memories and, in some cases, reanimate their ability to recognize and communicate with others. While caregivers and relatives of people with dementia hailed the film, DeBedout said many viewers incorrectly assumed what they were seeing on-screen was music therapy. The film reinforced the mistaken belief that music therapists merely sing songs or play recorded music on headphones for their clients, hoping they'll tap their feet or sing along.
In fact, DeBedout and her colleagues at Music Blooms are trained in the neuroscience of music. Through advanced neuroimaging, they've learned how different parts of the brain react and "entrain" to rhythms and melodies.
At times, those reactions are profound. DeBedout recounted her experience of working with a boy with autism who was nonverbal. For years his family tried, unsuccessfully, to teach him to count. One day, DeBedout slowed the rhythm of her music and counted along in tempo.
"Once I slowed it down to 35 beats per minute, which is pretty slow, he starting counting," DeBedout explained. "It made me realize that, in his brain, his internal rhythm may be a lot slower than his neurotypical peers."
How does music overcome such neurological barriers? According to Oliver Sacks, the late neurologist and author of the 2007 book Musicophilia: Tales of Music and the Brain, music engages many more areas of the brain than do spoken and written language. A patient who is, say, recovering from a stroke or traumatic brain injury can often sing before they can speak again, and can remember song lyrics even when they can't remember other details of their lives.
How do music therapists decide which music might best serve a given client's needs and goals? At Music Blooms, their priority is always client-preferred music, DeBedout explained. If they don't know that preference yet, typically they'll choose music based on the client's age, researching songs that were popular when the client was in their teens to mid-twenties, because the music of youth often is the most enduring.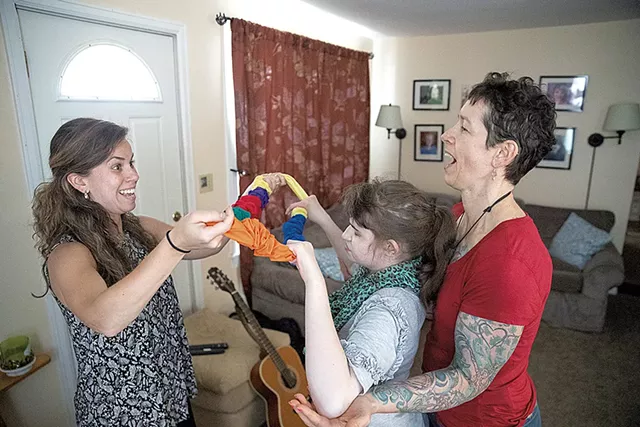 James Buck
From left: Marcie Hernandez, Hannah Waterman and Stephanie Shohet
In one case, DeBedout worked with an 11-year-old boy suffering from extreme behavior disorder, anxiety and loss-of-control issues related to the death of a family member. When DeBedout first met him, the boy identified his favorite music as '80s hair metal. She recalled telling him, "I graduated from high school in 1987, so I'm the right music therapist for you. We're gonna rock out!"
The first song DeBedout played for the client on guitar was Whitesnake's "Here I Go Again," which includes the line, "I don't know where I'm going / But I sure know where I've been."
"That song precipitated a really good discussion about managing stress," DeBedout recalled. The boy eventually progressed to the point where he wrote his own songs about grief and loss. "He set his feelings to music, and it was quite beautiful."
Often, the effects of music therapy are deeply personal. The week Hernandez was interviewed for this story, she'd just lost her own grandmother to Alzheimer's. In the final days, she said, she sang old Spanish songs to her grandmother, who was Puerto Rican.
"It would definitely brighten her mood, and it would also help my family see a different way to connect with her," Hernandez said. "I was thankful to have the background and knowledge that I have ... especially at the end, when language is lost and a lot of the communications had to be nonverbal."
Waterman said music therapy has helped not just her daughter but the entire family. Hannah is a medically fragile child, she said, who for years suffered life-threatening seizures. Sometimes, when Hernandez was present for a seizure, she would lie down beside Hannah and sing songs to keep mother and daughter calm.
"At the time, any seizure that Hannah had could have been her last," Waterman said. "[Music therapy is] really deep for families like mine. This isn't an on-the-surface kind of therapy.
"When Marcie comes into our home, I see a whole other side of my daughter that I don't get to see on a regular basis," she added. "That gives her an ability to express herself in a way that she's not able to express herself in day-to-day life. That's huge. And she's happy. Even bigger."