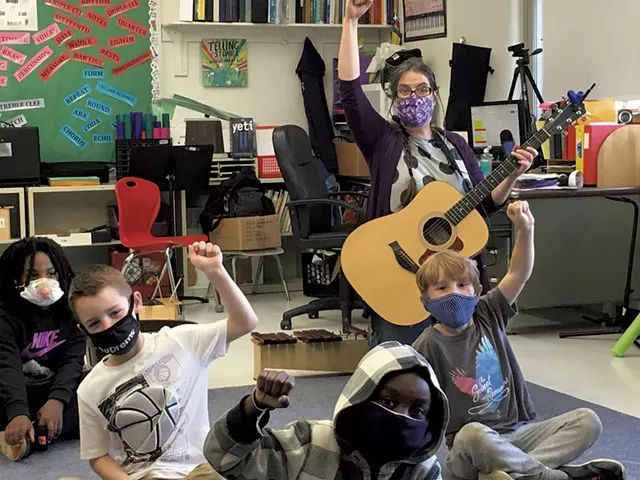 Courtesy of Betsy Nolan
Burlington music teacher Betsy Nolan
One likely outcome of the COVID-19 pandemic is that parents will never again take teachers for granted. As a father of two and a former teacher, it only took a couple of days of chaotic homeschooling in the spring before I was dreaming of the day when schools could reopen and teachers could get back to educating our kids.
Teachers of all subjects and grade levels are facing unprecedented challenges, but music teachers have an especially tricky job these days. With students unable to sing or play wind instruments indoors due to concerns about these activities creating airborne respiratory droplets, music teachers have had to completely rethink their teaching methods. I recently spoke with two Burlington educators about teaching music in the age of COVID-19 — and how they're still smiling through it all (even if it's hidden under a mask).
For Edmunds Elementary School music teacher Betsy Nolan, 2021 Vermont Teacher of the Year runner-up, teaching during the pandemic has required flexibility, creativity and teamwork. In the summer, she and other teachers took a course through Music-COMP, an online mentoring program for young composers, which helped inspire new methods for keeping music education fun and dynamic. She then developed virtual learning environments using Google Slides so students could access the full curriculum from home on their devices, as well as an online "farm," where she posts sing-along videos to farm-themed songs for younger students. To keep kids safe while strengthening their musical skills, she often has students recite poems and clap or stomp rather than sing during in-person instruction.
Her workload has increased, said Nolan, because she always develops two lesson plans — one for nice weather, when her classes can be held outside, and one for rain. And there are frustrating moments, like when she's not able to hear her students through their masks or has to deal with the "lack of half of my face to support kids with nonverbal reminders." But Nolan sees an upside, as well. The hybrid learning model means smaller in-person classes this fall, which she says is a huge benefit to students who need extra support.
Nolan also believes her job as a music educator is more important than ever right now.
"In times of great struggle, the arts give us needed language to express our experience," she said. "People of all ages are leaning into music to support them through this time of stress and anxiety about not only the pandemic but also the ongoing systemic racism and civil unrest in our country. Robust music education is the foundation upon which this support is built."
Burlington High School choral director Billy Ray Poli welcomed his students to the new school year with a song to the tune of You'll Be Back from Hamilton: An American Musical. His tongue-in-cheek performance, which displays his sense of humor and soaring voice, was even featured on "Good Morning America" in September.
When the high school was forced to close its doors and go entirely remote for at least the fall semester due to unsafe air quality in the building, Poli had to rethink his role.
"Try to teach choir 100 percent remotely, with everyone on mute but you at the piano singing every part and never hearing what your kids sound like!" Poli said. Choir is all about voices working together in nuanced, subtle ways, but online, he said, "there's no way for students to be able to balance, blend and hear other people's parts."
But Poli has found creative ways to keep learning rich and his students inspired. His choir has been staging pop-up concerts in the community so his students can still experience the thrill of live performance. "Now anyone passing by will be able to see and hear us," he said.
At the choir's first pop-up concert, which took place in the rain under a tent in front of the high school, all 50 choir students showed up. "That gives me so much hope that no matter what, music will always win the day," Poli said. Upcoming pop-up concerts will take place on the steps of City Hall Park and at Elley-Long Music Center.
What he misses the most is the sense of camaraderie and spirit that happens when people gather together to make music. "The normal humor and banter with my students is no longer there because there is no 'reading of the room.' As a person who feeds off my students' energy, to try and feed off of Zoom boxes is not the same."
As this school year progresses, Poli hopes that parents will be understanding about what teachers are going through. "Just as the students are trying to learn how to be students during this time, we as educators are learning how to be educators again."
Through it all, he said, "My students give me hope. They are being as resilient and understanding as we teachers are."