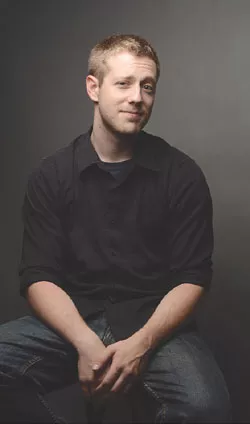 We're barely a month into 2013 and already one of my — admittedly tongue-in-cheek — predictions for the upcoming year in local music is destined for failure. Namely, that Mushpost founder Nick Concklin will develop a new fitness/EDM craze called Zoombahton. No, not because it's a seriously stupid idea, but because Concklin is moving on to greener pastures — either the West Coast or the UK.
Concklin has been a key figure in the explosion of EDM locally, both as a performer and promoter, working side by side with area vets such as Nexus Artists and 2K Deep, among others, to foster what has become a dynamic and vital scene. On a personal note, he's also been something of an EDM sherpa for yours truly, helping to guide this rockcentric scribe through the untamed wilderness that is electronic dance music. The dude is a walking encyclopedia of EDM, as passionate an academic as he is an artist. There's a reason his stage name is the Orator.
Fortunately for local audiences, Concklin and Mushpost have one last big hurrah in store. The bass music collective presents Portland, Ore.-based producer Emancipator at the Higher Ground Ballroom on Wednesday, January 30, with San Francisco's Random Rab and Vancouver's Tor. Of Emancipator, who is touring in support of a new album, Dusk to Dawn, Conklin writes that he makes "some of the most beautiful music around." Given that he's rarely steered me wrong in the past, I'm inclined to believe him. And judging by the free track Emancipator has available at the Loci Records Bandcamp page from that new album, you should, too. It's some surprisingly pretty and delicate stuff — bonus points for the nifty use of strings and banjo!
Conklin writes that his Mushpost cohorts will continue playing smaller shows at local clubs, at least until June, when he and fellow bass head John Moses (Thelonious X), attempt to bring the Mushpost brand to international audiences. Best of luck, Nick.
More on Moody
I gotta say, I'm intrigued by the notion of Mildred Moody's Full Moon Masquerade finding a new home at Signal Kitchen — see the article in this week's issue. Nothing against Nectar's, but the last version of the Masquerade I attended there in December was just missing a certain je ne sais quoi, for lack of a better — or English — term.
Part of what I loved about the original FMM parties at Parima was that they felt mysterious. There was something a little dangerous about them, some of which had to do with the setting, I think. And maybe the naked people. But I digress.
Nectar's is a great club and Burlington is lucky to have it. But it's hard to get that same sense of intrigue with pool tables and TVs in the mix. While the December Masquerade with Barika was a great show, it wasn't necessarily a great Masquerade. It felt like, well, a cool show at Nectar's. That's not a bad thing, but it's also not what makes the Masquerade the unique experience it is.
Given the innately cool environs of Signal Kitchen — I mean, there's not even a sign! — and the flexibility afforded by the studio's various rooms, nooks and crannies, I'm guessing the move will be a success and will restore some of the Masquerade's edginess. Moreover, I'm equally intrigued to see how the Alex Lalli-curated all-star band handles recreating Snoop's Doggystyle. And that reminds me of a joke.
Q: Why does Snoop Dogg carry an umbrella?
A: Fo' drizzle.
BiteTorrent
Another prediction from my aforementioned column was that the 2013 Burlington Discover Jazz Festival would name the fest's closing Sunday "Ed Bemis Day," after the local jazz guru who passed away last year. Bemis was a hugely important and pioneering figure for jazz in Vermont. For starters, he hosted the state's first jazz radio programs. He was also, ahem, instrumental in the development of the jazz studies program at UVM, as well as an influential member of the BDJF's advisory board. Well, as of this writing, the BDJF has yet to make good on my prediction — though there's still a good five months left to do so! However, they have announced the creation of the Ed Bemis Scholarship, a $2000 scholarship that will be awarded to a high school senior who has been accepted to college and plans to major or minor in music. Given Bemis' passion for educating the masses — including, at times, a certain local music writer — I can't think of a more fitting tribute. For more info, check out vmea.org.
You know who's awesome? Bruce Springsteen, that's who. (This, folks, is why they pay me the big bucks. To opine that one of rock's greatest performers is "awesome." Don't try this at home, bloggers.) Anyway, I'm not the only one who thinks so. This Friday, January 25, a slew of ace local talent will come together at the Monkey House for Darkness on the Edge of Winooski, a tribute to the Boss. Slated to appear are, among others, Swale, Blue Button, Parmaga, Paper Castles, Maryse Smith, Brett Hughes and Lowell Thompson. Personally, I'm curious to hear the collaboration between tooth ache. and Andre Welks from Lawrence Welks and Our Bear to Cross. I also really want to hear Swale's Amanda Gustafson begin a song with a rambling, 15-minute soliloquy about the old mill closing, the war and her father. "You know, my dad and I never really got along so good…"
In 2009, Seth Eames and Michael Chorney collaborated on a record called It Disappears. Recorded in two very late-night sessions, the album was a masterful, bleary-eyed rumination that remains one of my all-time local favorites. Eames is generally pretty busied up with his own band, the Eames Brothers, while Chorney is tied up in his various projects, most recently Dollar General. So the duo doesn't play together as often as one — OK, I — might like. That makes the occasions when they do get together especially noteworthy. For example, this Saturday, January 26, at the Cork Wine Bar in Stowe.
Congrats to local hip-hop/reggae/worldbeat/funk/insert slash here band ONE over ZERO, who were dubbed the 2011-2012 "Favorite New Band of New Hampshire and Vermont" by our compatriots at Cider Magazine at the music rag's awards show in Rutland last weekend. You can check 'em out at the Higher Ground Ballroom this Saturday, January 26, opening for John Brown's Body.
Last but not least, Jocelyn Mackenzie from NYC folk-pop outfit Pearl and the Beard, wrote and recorded a song in tribute to James Kochalka, who is retiring his "American Elf" comic strip (and will be debuting a new one in Seven Days). Titled "What's the Story?" Mackenzie recorded the song under the name of her side project, Dream Team Laser Beam. Appropriately, it's an off-kilter yet oddly sweet little pop song performed on ukulele and voice, with the occasional chime thrown in for good, innocent measure. I think this line pretty much sums it up: "Well, I know some things about you, that you'll never know about me. / I'm not sure if you'd take that as a compliment, or if you'd think I'm just creepy." Check it out at dreamteamlaserbeam.bandcamp.com.
Listening In
A peek at what was on my iPod, turntable, eight-track player, etc., this week.
Joe Pug, The Great Despiser
Lady Lazarus, All My Love in Half Light
Toro Y Moi, Anything in Return
Everything Everything, Arc
Cecil Taylor, Stereo Drive