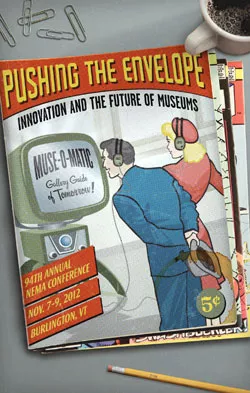 The New England Museum Association comes to Burlington this week for a three-day conference focused on, among other things, innovation. That's the buzzword du jour in just about every field on the planet, but is perhaps more commonly associated with business and technology. So what does innovation look like in a place devoted essentially to collecting, preserving and displaying artifacts from the past?
"Navigating and being savvy about communicating with social media," for one, suggests Janie Cohen, director of the University of Vermont's Fleming Museum of Art. "Time and money can be moved in that direction, but you have to be careful and smart about how you do it."
Cohen is co-chair of the NEMA conference, along with Phelan Fretz, executive director of ECHO Lake Aquarium and Science Center. Both sit on the NEMA board, and have talked together about ways their two institutions might collaborate. ECHO has from its start focused on interactivity and hands-on learning. The Fleming offers engaging and often highly creative exhibits, but they are generally in the do-not-touch category; by necessity, visitors are passive recipients. Yet Cohen and others in her field are looking at ways to foster greater community involvement; or, as she puts it, at "turning around the traditional flow of information and experience into something more participatory and interactive."
As an academic institution, the Fleming offers certain students opportunities not only to learn from the museum's collections but to curate exhibits — the current "Oceanic Art and the Performance of Life" show is one such example, researched and presented by the Museum Anthropology 250 class. This kind of "service learning" is a great experience for the students, Cohen says, and takes learning "to a new level."
That's just one of the considerations at a conference that also includes workshops on such topics as facility makeovers, effective programming and presenting in unconventional, off-site spaces. As befits the theme of innovation, NEMA invited Michael Jager — chief creative officer of the internationally renowned Burlington design and branding studio JDK Design — to deliver the keynote address. Typically creative and intriguing, Jager titled his talk "Set My Mind Ablaze: Creating a Manifesto for the Cause of Cultural Curiosity."
Welcome to Burlington, museum people.
NEMA Conference: "Pushing the Envelope: Innovation and the Future of Museums," Wednesday through Friday, November 7 to 9, at the University of Vermont and other locations around Burlington. Open to registered participants only. nemanet.org