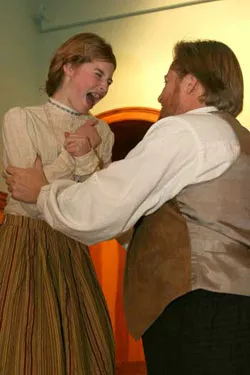 Molly Bombard and Jeff Tolbert
Roughly 60 years before Lizzie Borden "took an axe / And gave her mother 40 whacks," as the lyrical legend of Fall River, Massachusetts, goes, Vermonters saw their own murderess lurch from the shadows to kill one of her kin. Or at least that's what the record shows. In the Orange County courthouse in 1835, one Rebecca Peake was charged with murdering stepson Ephraim by poisoning his supper with arsenic. The judge sentenced her to hang, and she would have, had she not overdosed on opium in her jail cell on the eve of her execution.
Case closed?
Objection. Burlington playwright Maura Campbell's latest work, Self Evidence - opening this Thursday at Burlington's Waterfront Theatre - returns to the scene of the crime with a drama about a fictional family that took up residence in the Peake's erstwhile home 15 years after the alleged murder. A ghostly visitation by the convicted former denizen haunts the familial proceedings in a story written to illuminate, among other things, the status of women in the mid-19th century. Campbell suspects that status may have had something to do with why Rebecca Peake was so roundly condemned despite numerous ambiguities in the prosecution's case against her. "I'm not convinced she killed him at all," the playwright says.
Campbell, author of 2005's ethereal psychological drama Tying Up Sandima along with some 30 other plays, first encountered Rebecca Peake "as a footnote" in a book on the history of Chelsea, Vermont. But getting her hands on the transcript of Peake's trial was what sparked Campbell's speculations on the woman's innocence. "Little things bothered me," she says, citing the specifics of the case: Several people dined on, and became ill from, Rebecca's allegedly unheavenly hash on the night in question, but none of the others died. Indeed, some of them went on to live long, healthy lives. While no one disputes that Rebecca Peake purchased arsenic at a local store prior to Ephraim's death at the untimely age of 32, the poison was a fairly common household item in those days, particularly as a headache remedy; Rebecca was known to suffer from terrible migraines. What's more, Ephraim's autopsy results were more consistent with cholera - quite common in the August heat - than with arsenic poisoning.
So why accuse her? As Campbell explains, stepmother and stepson didn't get along well, and Rebecca reportedly visited a judge to secure her "thirds" - her share of the 300 acres belonging to husband Jonathan - out of fear that Ephraim might cut her out of the picture after he purchased the farm.
So Rebecca may have had a motive. But did the state have a case?
On opening night, February 8, theatergoers will hear Montpelier attorney Paul S. Gillies discourse on the subject, sharing his findings from reading the trial transcript and other sources. (Gillies has also prepared a short written piece for the program.) "I believe Rebecca got a fair trial, as that term was defined in her time," Gillies writes in an email. He adds, however, "Nobody would think this case would survive an appeal to the Vermont Supreme Court if that were done today, but times are different."
Gillies and Campbell were both struck by the general vehemence of popular opinion against Peake - "particularly the zeal," Gillies writes, "with which Rebecca's friends and neighbors worked to ensure her conviction, and the curious words of the chief judge [Charles K. Williams] upon sentencing her to hang, with their heavy Christian sermonizing and shaming tone."
In Campbell's view, the fact that a woman was being accused of killing a man - at a time when women had relatively few individual rights - stacked the deck against Rebecca Peake from the outset. She notes that part of the prosecution's case hinged on portraying Ephraim as a hard-working soul who'd "made good" by earning $1500 to buy the farm from his father. Digging more deeply into that claim, however, Campbell discovered that Jonathan had returned the sum to Ephraim that same day, raising questions about whether Ephraim had means of his own or if the transaction was just for show. Rebecca was painted a villainess, plain and simple, and an ingrate to boot in an age when women were more dependent on their menfolk. Given the implications of that power dynamic, Self Evidence becomes something of a costume drama with gender-political overtones.
The play's modern sensibility, including ample sexual tension and wry humor, helps to sound themes that resonate in the 21st century. "I do think women will rally around this story, because it wasn't so long ago," Campbell says. "And in some ways, I don't think things are terribly different now. They may be legally, but in terms of our attitudes - not just men to women but women to women - I think not that much has changed, really."
But Self Evidence is not a retrial. That might more accurately describe The Trial of Mrs. Rebecca Peake, which Campbell wrote, directed, and produced in 1997 before staging the play around the state into 2000. Aside from voiceover readings from the Peake trial transcript, the play takes place primarily in what has become the home of the fictional Dr. William Pember (played by Kevin Christopher) and his new bride, Fiona (Xana Wolf). No sooner has Fiona taken up residence than crises of varying magnitudes begin to flare.
William's brother Clayton (G. Richard Ames), a lush and lout visiting from New York City, is helping himself freely to his hosts' brandy. The Pember matriarch, played by Phyllis Powell, blusters about imperiously, finding almost nothing about her son's domicile to her liking. Add to the mix a creepy hired man named Tom Butterfield (Jeff Tolbert), who is most likely abusing the teenage Irish servant girl Helen O'Grady (Molly Bombard), and the stage is set for some rich family dysfunction.
The ghost of Rebecca Peake, an eerie, dark-eyed presence in the form of actor Mary Scripps, moves throughout the house. She appears most vividly to Helen as she acts out a defense that, presumably, she was never able to present at trial.
In this ghost story, however, the ghost is really a bit player; the Pembers and company make plenty of their own bumps in the night as they drag their psychic baggage from room to room. To amplify this effect, Campbell has made the bold staging choice of trying to simulate a house more realistically than one typically finds, with furniture positioned more in keeping with an authentic domestic space than with a theatrical space. She's aiming for an open look into the Pember home, with various rooms exposed to the audience so that action taking place throughout the dwelling can be experienced as it might organically unfold - even, at times, with dialogue overlapping. "That's what a house is like," Campbell says of her set. "And that's what it would've been like in Rebecca's time, or your house or my house."
The effect goes beyond the look and feel of the play, though. "We're on top of each other, but we're isolated from each other," Campbell adds. "And that's really what I think I'm exploring in this play, just how isolated we really are from one another, even in a family, and maybe especially in a family."