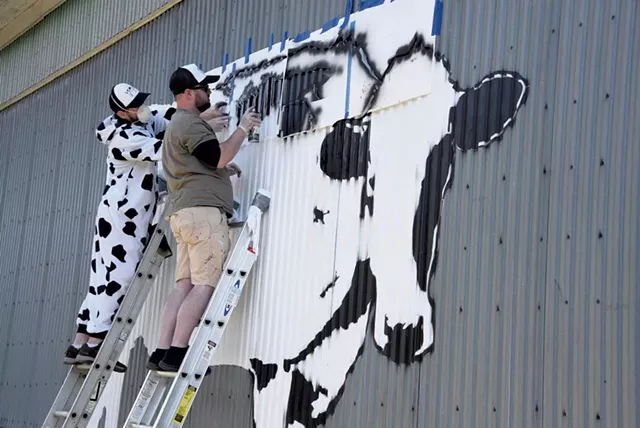 Jeb Wallace-brodeur
Middlesex artist DJ Barry (in cow suit) and New York City artist DJ Barry painting a World Cow in Montpelier
A new cow has come to Vermont's capital city — or Moo-ntpelier — and it's for a good cause. DJ Barry, a 34-year-old Middlesex artist, painted a massive cow on the back of a building at Allen Lumber, visible to drivers across the river on Route 2. He also raised more than $1,300 on GoFundMe for the Montpelier Rotary Club's Backpack Program, which sends food-filled backpacks home with underprivileged schoolchildren on the weekends.
Vermont is home to some 255,000 bovines, according to the U.S. Department of Agriculture, and they seem to play an outsize role in the state's art world. Middlebury's Woody Jackson has built a career around painting cows, including the Holsteins that adorn Ben & Jerry's containers and other merch. Online news site Vice wrote about Vermonter Sam Raines' impressionist cow paintings with a headline declaring, "Cows Are Our New Favorite Abstract Art Subject." Katie Runde, a multimedia artist from Bethel, creates hand-drawn cow decals and large chalk cow murals, among many other artworks.
Barry's cow is unique because of the arrangement of black spots on its white back. They outline the world's continents — hence the name of this particular design and the artist's projects surrounding it: World Cow.
"It seemed like the successful [street artists] had an image that they did all the time," Barry said. "And I thought, World Cow is definitely me. It's mine." (It belongs to him in more than a creative sense — he has trademarked the image.)
Barry started in art using acrylics about 12 years ago, but, following a memorial show in New York City on the 10th anniversary of 9/11 in which he had a painting, he felt like he had accomplished everything he wanted to in that medium, he said. About that time, he watched Exit Through the Gift Shop, a street art documentary directed by famed anonymous street artist Banksy.
"I saw everything he was doing, and it looked so simple," Barry said, referring to Banksy's characteristic stenciled works. "And so I went upstairs and printed off a picture of a barred owl. I cut it out with an X-Acto knife. I sprayed it on a canvas and peeled it away, and I was like, 'This is the next thing. This is amazing.'"
Barry began using this stencil method on canvases. He created a series of paintings of his coworkers at the Central Vermont Medical Center of the University of Vermont Health Network, which were displayed at the hospital. He sold other paintings to benefit nonprofits.
"It made it fun. I felt better about it, about selling my work," Barry said of his charitable causes. "I did a lot of different designs, but people really responded to the cow. I wore a cow suit to all these events, and it was [called] Cows for a Cause."
Barry was also experimenting with Photoshop at the time and had a eureka moment: Why not make the cow's spots resemble a map of the world?
"Someone was like, 'We're all spots on the same cow,'" Barry recalled. "I loved it. And then all [of a] sudden, the meaning and the message started coming out, after the fact ... It became more than just that painting. It started to really give people a sense of love, acceptance. It was unity."
People around the world have raised thousands of dollars for charity by encouraging donors to sponsor or celebrate their personal activities and feats, from running marathons to summiting mountains. Barry's project is a little like that, except that he raises money from community members through art. He finds a spot to paint a cow, funds the painting himself, chooses a local charity, and then posts a GoFundMe campaign encouraging people to give to a cause in celebration of the city's new mural. He's painted cows in five states, including one other in Vermont, on a barn in Middlesex. The Montpelier project is his biggest fundraiser so far.
"When people know World Cow's coming to town, [they know] we're doing good things for the world, especially in their communities," Barry said.
Barry spent nearly a week working on the Allen Lumber cow. He began by washing and priming the galvanized metal surface of the building. By Friday, September 20, the cow had taken shape, an 11-by-16-foot black-and-white Holstein looming over the river. Barry and his friend and fellow muralist, who, remarkably, is also named DJ Barry, were touching up the final details of the cow under the blazing sun.
The two met on Instagram, when the Vermont Barry realized the New York City Barry shared his name and preferred medium — spray paint and stencils. They started commenting on each other's posts, and then NYC Barry invited his Green Mountain counterpart to the city to work on a mural together. And so a partnership was born.
From his website, worldcow.earth, Vermont Barry also sells World Cow T-shirts, which he said have been worn all over the globe. He envisions eventually putting a World Cow mural in every state, but next on the list is one for Barre in the spring and potentially a Burlington cow even sooner.
"It's clear to me that we can do bigger and bigger and get more [donations]," Barry said. "We just need to make that splash on the national stage. And we're close. We're knocking on that door."