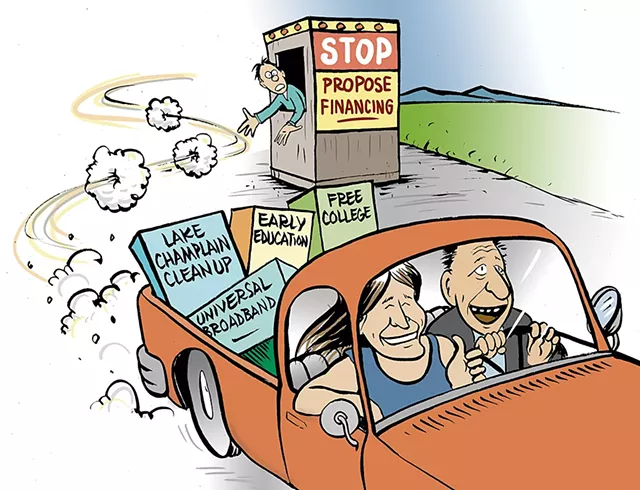 State Sen. Anthony Pollina (P/D-Washington) is a liberal stalwart. Rob Roper is president of the conservative think tank Ethan Allen Institute. And they share a concern about Vermont's 2018 race for governor. Republican incumbent Phil Scott and Democratic challenger Christine Hallquist have provided scant detail about what they plan to do — and how they intend to pay for it — if elected.
"My overall impression is that [the race] has been, for the most part, pretty light on substance when it comes to policy," Roper said.
Pollina sounded the same note. "I'm a big believer in putting out specific ideas that people can respond and react to, and I don't see either of them doing that at this point," he said.
The candidates have staked out positions on some of the top political issues. Scott opposes raising the minimum wage and instituting a mandatory paid family leave program; Hallquist supports both. Hallquist wants to set up a retail marijuana market right away; Scott doesn't think the state is ready. Scott adamantly opposes a tax on carbon emissions; Hallquist hasn't ruled it out.
But with fewer than six weeks until the election, the candidates have offered very little in the way of comprehensive policy proposals and even less information about how they would pay for initiatives they have identified.
Sloganeering may be the most effective campaign strategy, but some observers suggest that voters deserve more substance than they're getting. "It's as if they're trying to fool the voters that you can solve problems without taking action, and I think Vermonters know better than that," Pollina said.
Hallquist's keystone proposal is to provide universal access to broadband internet, a goal that has eluded past governors. Experts have said the basic concept she's described — to have utilities rather than telecom companies deliver fiber connections to homes — has potential. As the former CEO of the Vermont Electric Coop, Hallquist can talk knowingly and at length about how she'd execute it.
But during a September 25 interview at her Burlington campaign headquarters, Hallquist impatiently brushed aside questions about the total price tag.
"That's not the important piece," she said. "The important piece ... is that the way that I'm proposing we do it costs one quarter of the way it's done today." She also asserted that "it's not going to cost the taxpayers any money."
The cost of installing more fiber would likely appear in some customers' utility or internet bills.
Hallquist has put a dollar figure on her other major proposal, a program to cover college tuition costs for lower-income Vermonters. The program would be implemented in four phases, the first of which would cost about $15 million a year, according to her campaign. It would serve students with family incomes below the federal poverty line. In its second phase, the program would serve families with incomes of up to double the poverty line, for an annual cost of $40 million.
Funding for the initiative hinges on another proposal that has not yet been shown to be feasible: reducing Vermont's prison population.
Hallquist claimed that Attorney General T.J. Donovan has determined it's possible to reduce the population by 250 inmates, and she has concluded that the savings "more than funds the first phase."
Donovan's staff, however, clarified that the attorney general supports reducing the prison population but hasn't determined how many inmates could be released.
Hallquist has also suggested several possible sources of "bridge funding," including increases in taxes on tobacco and alcohol, an income-adjusted education property tax, and eliminating what her campaign described as unproven economic development programs.
"As we see the path for revenue for phase two, then we'll move to phase two," Hallquist said. "We're also going to grow Vermont's revenue in order to fund these things." She said that her broadband plan would spur economic growth, bringing more money to the state.
Pollina, who introduced a free-tuition bill in January, didn't sound particularly impressed with Hallquist's proposal. "I consider it a small step in the right direction," he said. "Again, I think she would be better off if she put it out in a comprehensive manner."
Meanwhile, the Republican Governors Association gleefully pounced on the plan, declaring on social media several days after Hallquist unveiled it that "Vermont Dem Gov Candidate Christine Hallquist Admits She Would Raise Taxes."
Hallquist has criticized Scott's no-new-taxes mantra as a "no-brain" approach. But she's also hedged considerably when it comes to her own stance on taxes, which has drawn criticism from the left as well as the right.
"She's gonna open herself up to criticism from Republicans," said liberal lobbyist Kevin Ellis. "She needs to not be afraid of that. She's got to not be afraid to talk about investments in the future of Vermont."
Pollina suggested that voters "would appreciate someone who is honest about the costs of things and comes up with ways to pay for things."
During the first general election debate, on September 14, Hallquist refused to say whether she'd support a tax to fund paid family leave.
Later, she told Seven Days that she would support the bill Scott vetoed in May, which relied on a payroll tax on employees. "It was so ridiculously small. It was like 0.0047 percent ... It's not anything people would really notice," she said of the tax. (The actual figure was about 0.14 percent.)
Hallquist was similarly untroubled about the cost of cleaning up Lake Champlain and Vermont's other polluted waterways. "It's not a big expense. It's $25 million a year out of almost a $6 billion budget," she said.
She has refused to say how she'd pay for it, however. "I would certainly work collaboratively with the legislature to identify where we would get those funds." When pressed, she responded, "I believe the leader's job is to set the top-level goal. But of course when it comes to funding, you know nobody likes to raise costs anywhere. That's why it has to be a group decision."
Sen. Randy Brock (R-Franklin) dismissed that explanation: "That sounds like a cop-out, doesn't it?"
Brock's preferred candidate hasn't been any more forthcoming on this subject.
During an interview last week, Scott said he has an idea about "an existing tax that might be able to be redirected to water quality." But he won't reveal it before the election. "I just want to be cautious. I want to make sure it will work," he said.
"A secret plan — they seem to be popular this year," Roper observed. Scott, he suggested, "should be excited to tell people what it is."
"It's just unfortunate to have this secret plan," agreed Lauren Hierl, executive director of the environmental organization Vermont Conservation Voters.
Hierl, whose organization has endorsed Hallquist, said she is less bothered by the Democratic candidate's lack of a funding plan, because Hallquist has shown "open-mindedness" to a number of options.
Scott has remained on message throughout the campaign, hitting the same three themes he's emphasized since his last election: making Vermont more affordable, growing the economy and protecting the vulnerable.
But he has offered remarkably little detail about his plan to address these challenges. In the 2016 election, his campaign issued a 40-page booklet describing economic development proposals in varying detail. This year, he hasn't published any policy documents. His campaign website doesn't even include an "issues" or "platform" page, a standard feature for most candidates.
"His proposal is just not to spend money," Pollina has concluded.
Actually, the governor has slightly, but perhaps significantly, altered his stance on raising and spending money. Scott, who opposed all increases in taxes and fees during his first term, said that barring a catastrophic event, he still "sees no reason at all" to raise taxes. He may have more tolerance when it comes to fees, however. "I'm open to consideration of fees, but it will be a high bar," he said.
Beyond keeping taxes and fees under control, it's true that the Berlin Republican has offered few specifics about what he'll do to make Vermont more affordable.
Scott suggested that pursuing his second goal, growing the economy, will help achieve his first goal by broadening the state's tax base. To spur growth, he's concluded that the state must expand its workforce. He pointed to several initiatives under way, including Stay to Stay weekend events held to entice tourists to put down roots and a program that will pay $10,000 to people moving to Vermont. (Hallquist has suggesting nixing both of these programs to pay for her college plan.) Scott also said he'd continue to invest in downtowns and bring more refugees and immigrants to Vermont.
The governor's other major focus has been education spending.
On the campaign trail, he's repeated calls to cut costs in the K-12 school system and reinvest that money in early and higher education — but hasn't offered a plan. Nor has he provided a ballpark estimate of how much money he wants to redirect.
"That's something that deserves more explanation," Roper said.
Asked what specific steps he's proposing, Scott said he first needs buy-in to change Vermont's education system, which is a major roadblock. "Some are just stuck in the policies of the past and not willing to do anything different," he said.
But the governor is unlikely to win converts without first putting viable proposals on the table. And Democratic lawmakers say Scott already has a poor track record in this regard.
"The Scott administration is remarkably policy-light," Sen. Phil Baruth (D/P-Chittenden) said. "You would expect, as most politicians, that [the Scott administration] would go lighter on policy during the campaign season because they don't want to be tagged on a particular issue." But, Baruth continued, "When you start from a position of policy-light, you end up with almost policy-nonexistent."
Scott contended that he offered a number of education-related proposals during his first term that Democratic lawmakers summarily dismissed.
The governor pledged to work with his new education secretary, Dan French, to "evaluate different proposals and new ideas that might have some merit."
Asked about the absence of new ideas, Scott said it's reasonable for him to advocate for staying his course, given Vermont's unusually short two-year election cycle. "I'm just trying to provide consistency," he said, adding, "I think voters know what they're getting."
Pollina is concerned voters will stick with the status quo unless Hallquist is able to articulate a more compelling alternative. "It's really incumbent upon her to put more ideas on the table, because he's not going to," he said.