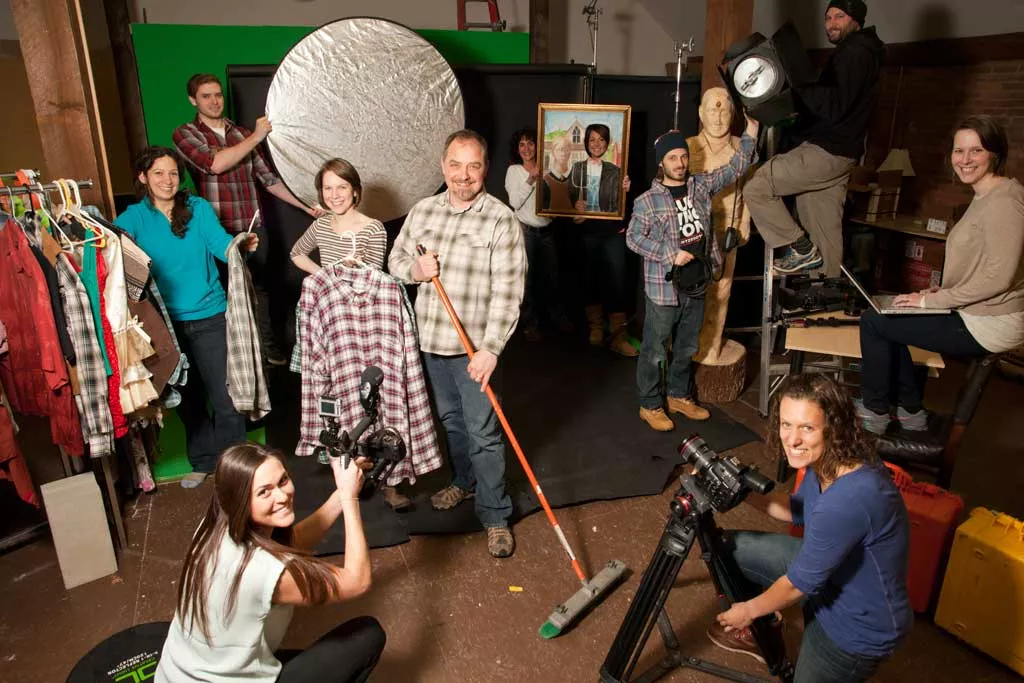 Matthew Thorsen
Abigail Shumway and Jake Cunavelis (center) with the crew at Mt. Mansfield Media
On a winter afternoon at Fletcher Allen Health Care, a buxom woman of a certain age lay wired to an EKG, seemingly unaware of a spat that was taking place across her prone form.
"You betrayed the mustache!" cried a tow-headed 10-year-old boy wearing a red shirt, khaki slacks and a false mustache. He brandished the keys to a Subaru.
"I'm not trying to hurt you!" protested a girl similarly attired — mustache and all.
Meanwhile, crowded into the small, sweltering room, a crew of three — director, shooter and soundman — captured the action on film.
Absurdist student short? Quirky indie? No, this was Mt. Mansfield Media's latest ad spot for White River Toyota. The soap-opera-esque spoof ended with the "patient" — played by celebrated local drag queen Marguerite LeMay — waking dramatically from her coma at the news that, yes, the car dealership also sells Subarus.
It was an amusingly wacked-out way to convey a simple message. And that's the Colchester advertising agency's specialty.
If you've seen a local commercial that was offbeat enough to lodge in your memory, there's a good chance Mt. Mansfield Media was responsible. The Rocky Horror Picture Show parody? The zombies shambling through a car dealership? Rusty "The Logger" DeWees chatting with his cat? The Jason Bourne clone rescuing car shoppers from sleazy salesmen? Mt. Mansfield made all those for Heritage Automotive Group.
Also from MMM: "World Flowering Champion Plants Armstrong" defending his diet of "all-natural compost and pesticides" from Guy's Farm and Yard. And the Von Bargen's spot where a woman "goes Gollum" for the sparkler her boyfriend gave her.
The list goes on. Mt. Mansfield's clients — about 80 percent of them in Vermont — include Bond Auto Parts, Vacutherm lumber-drying technology, Northfield Savings Bank, Clear Water Filtration and other nuts-and-bolts businesses that, like car dealerships, aren't exactly seen as sexy. How do you raise their brand awareness without putting the public to sleep?
By getting creative. "Everything we do ... is about connecting to the viewer," says founder and creative director Jake Cunavelis at the company's offices near Fort Ethan Allen. The ads, he explains, are "meant to stand out in a sea of bad advertising — predictable advertising, clichéd advertising."
Photos Courtesy Of Mt. Mansfield Media
Mt. Mansfield Media is a production company as well as an idea factory; several of its 12 full-time employees are informally known as "preditors" (producer-shooter-editors). While the quirky ad spots are its most visible work, the company has also created dozens of longer, more earnest videos, most of them underwritten by businesses and profiling community organizations. Mt. Mansfield and underwriter Bond Auto Parts are currently in negotiations with New England Sports Network about airing a documentary on Red Sox fans, and Cunavelis says he aspires to produce a feature film down the road.
In 2006, Cunavelis left a 15-year career at WCAX "that was really good for me," he says, to start his own agency. Mt. Mansfield's relationship with Heritage began "about six months in," when dealership president David Machavern "agreed to totally take a different tack than anybody else had," Cunavelis says.
The company's first ad for Heritage featured a guy standing in a field who "imagined a truck into existence. It was just a weird, tweaky ad," Cunavelis recalls — and one that drew criticism from the business community.
Machavern grants that some of the early commercials were "a little bit edgy." But "the majority of the feedback has been overwhelmingly positive," he says. "People love the commercials. I hear that all the time."
The "H-Team Origins" spots — which profile the dealership's technicians in the epic style of movie trailers — inspire customers to "come in and ask for them" by name, Machavern notes. "That's been tremendous, putting the human side to the business." And business has been good. In recent years, Machavern says, Heritage has risen to the rank of ninth among Boston-area dealerships, which he calls "a pretty big deal for a little Vermont dealer."
Both Cunavelis and Machavern are quick to point out that all the branding in the world won't help an internally ailing business. But for a healthy one, the most effective ads may not be the most expensive. Cunavelis says his strategy is "as simple as being really focused with your budget and not trying to do too much with it. When you're really focused with an audience and you can stay consistent with them over the long haul and be unpredictable, you're going to gain share of mind," he goes on. "If you can't grow with share of mind, there's a problem with your business."
The "coma" ad is a good example. It was shot by a crew of three (four or five is more typical for the company, says associate creative director Abigail Shumway, who directed the spot). It relies on the local audience's recognition of recurring characters (consistency), while adding a goofy new chapter to their saga (unpredictability). And it conveys information to potential customers ("you can buy a Subaru at White River Toyota"). More importantly, though, the spot helps brand the dealership according to Cunavelis' definition: "You create top-of-mind awareness and attach positive associations with it."
"'Forty years of service, selection and savings' doesn't mean anything to anybody," he says. "But the kid with a mustache?"
How on earth did the "kid with a mustache" come to represent White River Toyota? Shumway explains that the concept of "Mini-Pete" (as the character is called) came from "a really safe brainstorm space. We don't judge any idea. We let any idea fly."
The idea, in this case, started with an imaginary school play. A camera pans over a series of kids costumed as Founding Fathers. "What if the fourth kid was dressed like [general manager] Pete Stoddard from White River Toyota, 'cause that was his hero?" Shumway recalls someone suggesting. "A little kid in a mustache next to all these icons."
The idea became a commercial, and Mini-Pete became a thing. Over successive ads, he acquired his mustached love interest ("Lady Pete") and engaged her in a dance-off.
Nonprofits may not lend themselves to such out-there campaigns. But they're also hungry for "share of mind" — the visibility that generates donations and grants. And when a for-profit business underwrites a video profile of a nonprofit, "everybody wins," Cunavelis says.
Just ask the folks behind ReBuild Waterbury, one of the local recovery groups formed in the wake of Tropical Storm Irene. To publicize the group's fundraising, Heritage proposed and underwrote Mt. Mansfield's 14-minute documentary "Rebuilding Waterbury," which began airing in early 2012. About a year later, ReBuild Waterbury was the first Irene recovery group to announce its plans to disband, having raised a cool million.
Theresa Wood, former chair of RW's steering committee, recalls that initially, "We just thought, This is a nice thing Heritage Ford is doing, and won't that be nice for historical purposes. I don't think we knew how instrumental it was until we had the video and were able to use it as a tool."
Wood now credits the film, which spotlighted Waterbury's flood victims, with helping RW snag a $250,000 grant from the Stiller Family Foundation. "The reality is, it really helped us in our recovery," she says.
Mt. Mansfield's documentary business started with a series of short videos for the Burlington Business Association. Since then, "I've seen that grow into a really large and effective part of what we're offering people and what people want from us," Shumway says.
The brave new world of streaming video content could take Mt. Mansfield a long way from wacky ads — and from advertising, period. Cunavelis points proudly to the journalistic storytelling of the Red Sox doc, which profiles a young East Calais fan with cerebral palsy. He says he hopes to "grow the larger-scale video production ... and also stay grounded with our connections and marketing clients in Vermont."
But whether the company's work is sober or silly, promoting a cause or a product, it's all about getting eyes (and clicks) with fresh tactics.
"People ignore the official language of the world," Cunavelis says. "They've heard the politician and the advertiser say everything you want to hear for so long that they just ignore it. So to be unpredictable and to be refreshingly different is part of the formula [for us]." He looks for employees who have a "free-thinking ability to connect to human nature."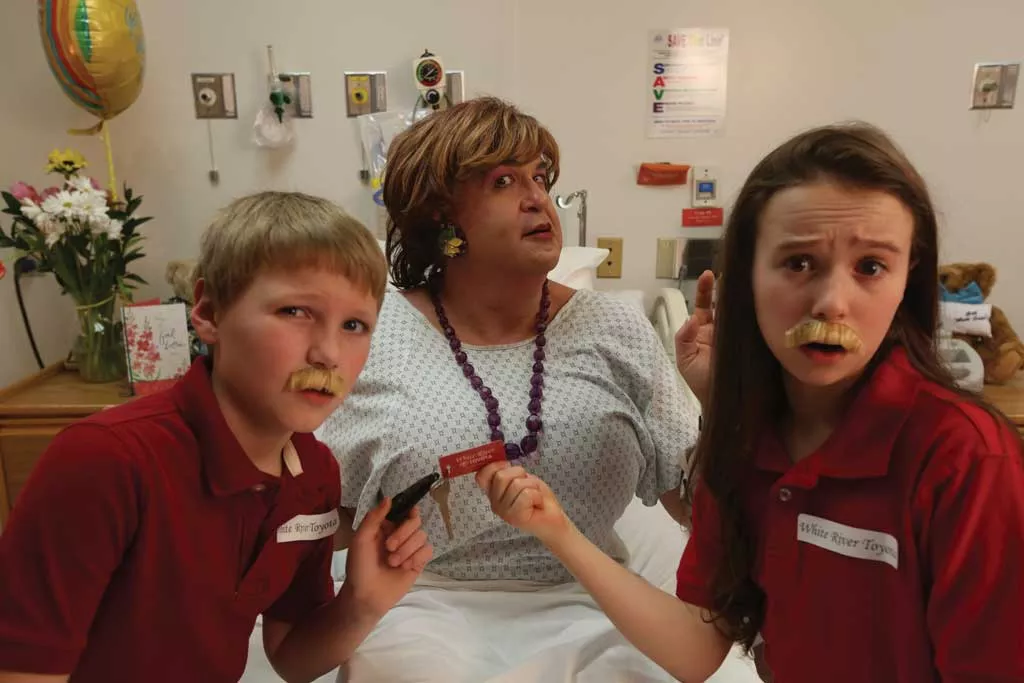 "And to pop culture and film and what's working in TV," Shumway adds. "Why is that so popular, and how can we bring that into an effective message for a client?"
Case in point: zombies, who star in several of Mt. Mansfield's Heritage ads, as well as a documentary about local zombie fans called "Green Mountain Z."
The commercials used the flesh eaters to illustrate the deadening atmosphere of car dealerships that aren't Heritage. Shumway argues it was a "solid creative metaphor" rather than a shock tactic. Even so, "We got complaints from people who thought zombies were too grotesque," Cunavelis says.
But controversy means visibility. "We know when the phone rings with lots of complaints that it's working," Cunavelis says of ads in general. Shumway agrees, "You can never, ever separate the two."
When people are bombarded with advertising, attention may be the sincerest form of flattery. Before a screening of Noah last weekend in South Burlington, this reporter watched a captive audience watch two Mt. Mansfield ads. The Heritage spot featured 102-year-old Bill James of Bristol croaking the words, "You nasty old used-car salesman." In the Von Bargen's ad, two male office workers sheepishly shared a romantic pirate fantasy.
"Weird ads," somebody muttered. And that's where "share of mind" starts.
The original print version of this article was headlined "Ad Libbing"