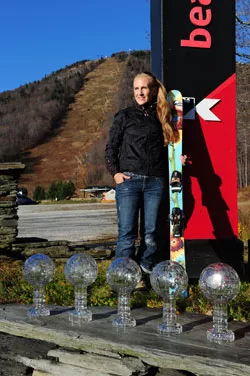 Donna Weinbrecht is the perfect advertisement for East Coast skiing. After teaching herself how to ski bumps on the vast mogul fields of Killington's brutal Outer Limits trail, Weinbrecht went on to win Olympic gold — the first ever given for freestyle skiing — at the 1992 games in Albertville, France. She competed in two more Olympic Games and, by the time her long competitive career came to a close in the late 1990s, Weinbrecht had racked up a World Championship win, seven U.S. championship titles and 46 World Cup victories. Not bad for a self-taught Jersey girl.
Weinbrecht's skiing career began in the mid-1970s when neighbors in New Jersey, a Canadian couple who had been ski instructors, introduced her family to the sport. The powder bug bit hard, and, on the weekends, the Weinbrechts would head over to tiny Hidden Valley Club in Vernon, N.J., a ski area with one lift and three trails. They soon outgrew their local ski hill and began visiting Killington. In 1979, Weinbrecht's father built the family a second home on Bear Mountain.
It wasn't long before Weinbrecht was competing and winning. Her first race was the Bear Mountain Mogul Challenge at Killington. Soon she was competing in races up and down the East Coast and beating her contemporaries, many of whom were students at elite ski schools.
Weinbrecht calls her path to Olympic gold a Cinderella story. She didn't have a coach until she landed on the U.S. ski team, and she had to waitress to pay her entry fees for races. But she did have a mountain with bone-shaking terrain and a growing legion of world-class mogul skiers.
Weinbrecht isn't the only Vermont-trained Olympic-gold-winning freestyle skier. In 2010, Hannah Kearney of Norwich nabbed the top spot on the podium at the Vancouver games. The elder medalist provided color commentary and analysis to the Vancouver freestyle competitions for Yahoo! Sports.
Weinbrecht, 46, still lives in New Jersey with her fiancé, a composer, though she also spends parts of the winter at her family's home in Killington. She is devoted to the mountain that gave her her start — Weinbrecht says she wouldn't be nearly so tough on the slopes were it not for the punishment she endured from Outer Limits' unforgiving bumps.
This season, for the first time, Weinbrecht will share a little of what she's learned over her long career with skiers at Killington. She'll teach two women's mogul weekends in December and February that will incorporate bump lessons, tree skiing, yoga, dining and, of course, some après. She'll also conduct clinics for corporate clients.
Seven Days sat down with Weinbrecht to talk about Killington, the Olympics and how in God's name she's still walking after all those years on the moguls.
SEVEN DAYS: What was it like being a self-taught Jersey girl going to the big game?
DONNA WEINBRECHT: I was in the right place at the right time for an emerging sport. The year I made the [U.S. ski] team, mogul skiing was demonstrating at the Calgary Olympics. I knew I was never going to get picked for that [demo] team, because they took one person from each country, and you kind of had to have world-cup points. I knew right away I wasn't going to be able to go, but I had a successful first year.
I got on the podium, and I was named rookie of the year by the international coaches. Then I won nationals. That spring we found out that moguls has been accepted to the Olympics. As a kid you always dream about going to the Olympics, and I never knew it was going to unfold in such a magical way for me. And my family couldn't believe it, either.
SD: The thing I always wonder when I watch freestyle skiing is, how can you do it for even a year, because it seems so hard on your knees?
DW: That was the biggest question we got asked. Every Olympic team gets invited to the White House, and I felt like I was cursed, because everyone came up to me and asked, How are your knees? How is your back? You're much more petite in person. Those were the three things people always said to me.
SD: Obviously, your body is conditioned to take the abuse of moguls.
DW: Yeah, and also it's that, once you learn how to absorb correctly, it lessens the load. But we've skied courses that are brutal, where you can feel it up into your neck. And because it was a competition, you had to ski it. And now I don't have to ski anything like that anymore if I don't want to.
SD: I have to think that you have days now when you wake up feeling a little creaky.
DW: Oh, yeah, at times. But I try to do lower-impact things. I think you always have to adjust to who you are and transition to that. So I swim and do yoga and warm up correctly. You just have to be smart. A lot of people fight age, but I'm becoming at peace with it.
SD: How did you come to work for Killington?
DW: Killington has always been there throughout my career. When I was competing, they were a sponsor. Back when I first started, mogul skiers were the crazy rogues of the mountain in the '80s. Now, when I do clinics, there are so many women who want to learn to be efficient in moguls. And it's so amazing for me, because it's so accepted now after all these years. People used to scoff at mogul skiing, and I realized it was because they couldn't do it very well. But now it's so accepted and so in the mainstream, and I find so many ladies want to learn how to be better.
I've helped out with Killington Mountain School, and I've had a lot of the mothers come up and say, "I want to ski with you." So I started talking to Killington about what I'm hearing out there. I think they're at a place where they've seen the work I've done with the U.S. ski team and believe a lot of their patrons want something like that. What we've put together is going to be quite a great women's experience. It's going to be a great Killington experience, as well.
SD: What will the clinics consist of?
DW: They'll come up Friday and then have a reception. Then the next day they're out on the hill, doing some drills. We'll learn how to navigate rollers; we'll talk about absorption versus the turns and break the whole process down. Then maybe we'll go out and find some natural moguls and maybe do some video. At the end of the day, they can do yoga if they want. I want it to be a safe, bonding, kind of supportive group. I think they'll get a unique experience. I'm really excited for it.
SD: Have you done programs like this before elsewhere?
DW: I've done my alumni work with the U.S. ski team. We do an event in Aspen called Powder Girls with myself and Picabo Street and Jonna Mendes to raise money for the team. That's when I saw that a lot of ladies wanted to learn how to ski the bumps and ski in the woods. Last year we started a men's version. And I did the moguls for that, too.
SD: How often do you get out and ski for fun?
DW: A lot! I'll go out for a couple hours in the morning and ski hard. I'll do 15 runs, then I'm good. You have to take advantage of what's right in your backyard.
For more information on Killington's women's clinics with Donna Weinbrecht, visit killington.com or call 800-923-9444.