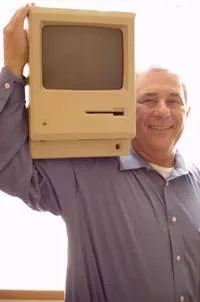 PC or Mac? PCs are nearly ubiquitous, but ask creative types which computer they prefer and it's a good bet they'll plug Apple's Macintosh line. Known for its intuitive interfaces, sleek designs and countercultural ad campaigns, Apple has inspired legions of devoted fans, all of whom are talking about the company's new iPhone, which debuts this Friday.
The touch-screen-controlled device — which lacks a numeric keypad — will function as a phone, a souped-up iPod music player and a web browser. Sadly, Vermonters won't be able to purchase it at launch. Only AT&T wireless customers can use the iPhone, and the company doesn't offer service in Vermont.
In lieu of the iPhone, Seven Days brings you an interview with Burlington designer and University of Vermont instructor Jerry Manock, who helped develop Apple's first Macintosh. We asked him to shed some light on the history of Apple's appeal.
Manock worked at Apple from 1977 to 1984, pivotal years in the history of personal computing. He oversaw the mechanical design of the Disk II and Apple III, then led the five-person Industrial Design Team in the company's Macintosh division in Cupertino, California. His bio at the Computer History Museum (in Mountain View, California) describes him as Apple employee number 246 — his boss was Mac division head Steve Jobs, who left the company but returned in the mid-'90s to reign as Apple's revered CEO.
Manock moved to Burlington with his wife and two daughters in 1985. He now runs Manock Comprehensive Design, a consulting firm headquartered on the second floor of the Wells-Richardson building on College Street.
The stocky 63-year-old recently relocated from an office on South Champlain, and he hasn't finished unpacking; the walls are bare, the floor strewn with boxes. But the shelves display artifacts from his career — books on statistics share the space with circuit boards, a radiometer and several Apple products, including an original Mac, with its now-obsolete embedded disk drive and a tiny, 9-inch monitor.
Manock sets the Mac on a table during the interview. The back of this hard-plastic relic bears a seal embossed with his name — he points out that every original Mac has the names of the division's employees inscribed inside its back cover.
"Steve Jobs thought that artists should sign their work," he explains.
SEVEN DAYS: The original Mac looks so old and clunky now, but it was innovative in 1984. Why?
JERRY MANOCK: With the Apple II, a lot of third-party vendors would supply boards that plugged in, and disk drives that plugged in, and monitors that they bought to go with it. Whenever there was any problem with any of those third-party pieces of equipment, [users] blamed it on Apple.
The impetus for the Macintosh was that it was totally self-contained. It had a disk drive, it had a screen, it had a keyboard. It would operate without any third-party equipment, so we could guarantee it would be successful.
The on/off switch is on the back because there were a lot of complaints about early PCs, where the on/off switch was on the front. If you were using it at home, there was a phone call, and the user would go out of the room, and their little kid would come in and [say], "What's that nice red button?" And they'd lose all their programs. So we put it on the back.
But we realized that people were hesitant in reaching around the back of an electronic product, so we put a little smooth piece of texturing right here along the edge. You can feel it with your hand. If you run your finger down the edge, you feel that, and then you go around, and that's where the switch is. So you don't have to worry about zapping yourself. There's a lot of little subtleties like that.
Grab [the handle on top] — there's texture inside there, so that your fingers are not going to slip if it's sweaty. And it's balanced so that it tips forward, and the center of gravity is under your hand, so there's no problem with it sliding off.
SD: I read somewhere that you suggested its screens have rounded corners, which is still a Mac feature today.
JM: We had a very open design group in the Macintosh division, where we would walk through the software people's area, and they would come by our area. So one day I was walking by and Andy Hertzfeld, the guy that was doing the user interface, had the screen lit up, and the edges were just sharp, naturally.
I said, "Andy, our bezel here is round. Instead of a sharp edge on that, could you put a radius on there that would match this radius, so it all looks like it goes together?" He reprogrammed it in about a minute and a half. And it looks really nice. This curve is sort of continuous.
We had all of our drawings hanging on the wall. At that time there were no electronic drawings. They were all on paper. We had them on poster racks with a red pencil dangling on a string. And we encouraged anybody, including the janitor, if they were walking by, if they had a suggestion or if they didn't like something, to circle it and put their name and phone number, so we could call them and get their input.
Everybody was kind of working toward the same goal.
SD: Is there anything else you helped design that's still in use today?
JM: Probably nothing. I haven't had a whole lot of contact with Apple since I left in 1984.
SD: Why did you leave?
JM: It was pretty clear the company was changing drastically. John Sculley was coming on as CEO. He and Steve Jobs were co-CEOs when I was there. It was very clear that his idea of Apple culture was different from Steve's. Shortly after I left, when the Macintosh came out, Sculley basically took the company over. I wouldn't have been happy working there under that organization. It wasn't very open.
SD: How did you end up in Vermont?
JM: I'm from California; my wife is from New Jersey. Her father had a camp in Vermont. So that's one connection.
There's a company over in Morrisville, Concept2, and I knew the two owners. When I'd come back East on business, I'd visit them in Morrisville.
Then my wife and I said, "Wouldn't it be neat to give our girls an East Coast education experience here for a year?"
After about three months, we said there's no possible way we can go back. There certainly are not [as many] consulting opportunities back here, but there are other things that make it important also.
SD: Like the opportunity to teach at UVM?
JM: I started a course 14 years ago at UVM called "Integrated Product Development." It's about everybody working together rather than serially.
I worked at Mattel Toy Company one summer. They did everything serially. The creative group would do a toy design; then they'd slide it under the door to engineering. You'd take whatever they gave you; then you obviously had to change it — it had to obey the laws of physics, and minor things like that.
Then you'd do your design, and slide yours under the door to the manufacturing group, and they'd change it because some parts couldn't be made the way they were designed.
And at the end of a nine-month or one-year period, there was a giant review meeting, where the creative group and the president of the company would all get together and see the physical product, and they'd look at it like, "What the hell is that?"
That's very inefficient, as you can imagine. It would be much better to have everybody working together in one big room, and creative people in daily interaction with the designers.
Our group that did the Macintosh had a tooling engineer assigned to our group. I'd come up with an idea on my drafting board, and I'd say, "Steve, can we make that? Is that possible? What's that going to add to the tooling costs?" And he would tell me, and I would go ahead with it or change it. That was very important — everybody sort of working concurrently in an integrated fashion. And that's what we've tried to teach at UVM.
It was a joint offering at first, with the mechanical engineering department and the business school. It's evolved into a capstone honors seminar now, for six students of the business school.
The final exam is a theoretical presentation to a board of directors that has to summarize everything — the physical product, the business plan. The charge is that the BOD will decide if they want to allocate money for further work on this project.
And that comes right out of my experience at Apple. We had people lined up out front to sell us something when we'd come into work. And if they got lucky enough to get an appointment with Steve Jobs, they'd have about five minutes. If they couldn't excite him in five minutes, he'd get up and walk out. And that was it.
SD: You still use Macs — I see two of them in your office here.
JM: Oh, yeah. That'll be forever. It's sort of in my blood. I break out in a rash if I'm too near an IBM computer.
SD: Will you get an iPhone?
JM: We can't get the service up here. I imagine that'll be fixed. If they start selling as many as they think they will, they'll be picked up by other people.
SD: I've seen the promos online, and they look really cool.
JM: It's a new paradigm in user interface. It's all done with your hands. That's what I've heard touted as the next user interface. It will not be with the mouse. That's kind of old. It'll be with touch screen and voice activation, voice recognition.
SD: Does that ever creep you out?
JM: It gets closer and closer to being magic, really. If you think about Merlin the Magician, and the experiments he was doing for King Arthur, I mean, it's getting pretty darn close to that now.