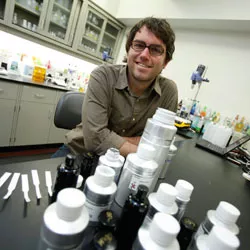 Jordan Silverman
Reed Doyle
Most of us don't think about what's in our household cleaning products. Reed Doyle does. As the director of global strategic sourcing at Seventh Generation, Doyle is the guy who puts the palm-kernel oil in your laundry detergent, the juniper in your toilet bowl cleaner and the wood pulp in your maxipads. And he does it sustainably and with an eye on cost and consumer satisfaction.
Before coming to Seventh Generation in 2005, 37-year-old Doyle spent six and a half years working in Germany for renowned green chemist Michael Braungart, helping business titans such as Unilever, Nike, and Johnson & Johnson design waste out of their products and processes. He worked with Braungart and William McDonough on their book Cradle to Cradle: Remaking the Way We Make Things, a manifesto calling for the transformation of human industry through ecologically sound design.
Doyle sat down to talk with Seven Days about the ingredients of Seventh Generation products, corporate stewardship and why people love lavender in laundry.
SEVEN DAYS: How did you get into what you do?
REED DOYLE: During college I got really interested in the whole idea of industrial ecology, which is basically about how can we create industry to mimic nature, because nature knows no waste. And that whole idea really fascinated me — how can we create a system that is abundant and wasteful and all these things, but all of the things actually produced in the system are nutrients for another system? Like, if you design a laundry detergent, how do you design it so that, when it returns back to the environment, it's benign to that environment — or, in the best-case scenario, it's actually a nutrient?
SD: Explain your job at Seventh Generation.
RD: I'm the director of global strategic sourcing, which entails sourcing, procuring and buying sustainable mineral- and plant-derived raw materials. I'm responsible for negotiating contracts with raw-materials suppliers, buying those raw materials, making sure they get delivered on time and in a cost-effective manner. That's the commercial side of it.
Then there's the whole sustainability side of it — what's the processing behind it; what's the source; where is it coming from; what sorts of risks are associated with this raw material? — both from a human health and environmental standpoint.
And then I work hand in hand with R&D to find more materials, or even to better understand what's inside the raw materials we already have.
SD: I'd imagine that, with raw materials, the less the average company knows about the provenance, the better. It's like knowing how sausage is made.
RD: For us, the question is, how do we actually dig deeper into our supply chain and understand completely the source of the raw materials? Are there small farmers involved? How can we best support them?
One good example is [that] the majority of the surfactants that we use — surface activation agents or detergents — come from palm-kernel oil, which is usually associated with a lot of bad environmental issues. It comes out of Malaysia and Indonesia, predominantly, and there's a lot of primary forest destruction going on. So, one of the things we've been doing to better understand the deep ecology of our products is [to] ask if there's a way we can positively influence or mitigate all this destruction.
We joined this thing called the Roundtable on Sustainable Palm Oil, which develops the principles and criteria for what defines "sustainable palm oil." One of the principles is, you can't destroy any primary forest. The reason is, Malaysia is now the second-largest emitter of CO2, and there's no industry there. This is all a result of forest destruction.
SD: I assume you source fragrances, as well?
RD: Yeah. With fragrances, one of the challenges we have as a company is, the majority of our stuff is plant derived. That means essential oils, which are expensive and come from all over the world. If you're using patchouli, which comes from Southeast Asia, there are tsunamis; there are droughts. When you're sourcing plant-derived things, you're depending on nature. And it's hard to depend on nature, since it's such a dynamic system.
SD: Who is deciding, for example, that you're going to have "blue eucalyptus and lavender"-scented laundry detergent?
RD: We work with the largest fragrance and flavor companies in the world, and there is a plethora of consumer research that says, for example, people love lavender in laundry. We data mine what's the best-selling scent. What sells best in Grocery [sections], what sells best in Naturals. We're now in Walmart and Target, and we want to have more of a broad appeal. But we still want to be authentic and real.
SD: What about products with vague fragrance names such as "blue ocean"? I can't tell you what that smells like. Well, I guess I could — it would be salty.
RD: Consumer research shows people want to be transported to another place, especially when they're cleaning. If you hate doing laundry, you wanted to be transported somewhere out of your mundane life, because you sit behind these four walls and are made to do laundry every day.
SD: Like, using something called "Tahitian sun" wood cleaner, I'll feel transported to the islands?
RD: That's exactly it. They're bringing you somewhere. People have found that actually works.