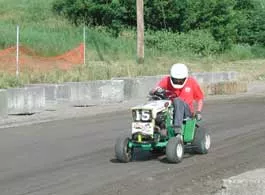 Look out, NASCAR — another four-wheeled activity just might be taking the lead as America's fastest growing sport, no flags down. Er, make that "fastest mowing." That's just one of the puns on the Web site of the 10-year-old U.S. Lawn Mower Racing Association — a truly grassroots organization whose current president likes to be called "Mr. Mow-It-All."
Such facile wordplay does not, however, fly off the tongues of the down-and-dirty members of the Redneck Lawnmower Racing Club in Bradford, Vermont. Aficionados like Bob Benjamin are taciturn about the appeal of the sport, whose origins can be traced back to some whimsical Brits 30 years ago. "I don't know, it's just… I like to do it," surmises Benjamin — and really, what better reason is there to do anything? Benjamin is the founder and a technical inspector for the club, which is actually not affiliated with the USLMRA; like two-thirds of Vermont's congressional delegates, the Red-necks are independent.
The owner of Benjamin's Garage in Bradford, and a stock-car racer since he was out of high school, Benjamin launched the Redneck Lawnmower Racing Club three years ago after seeing a similar outfit — based in Rome, New York — on television. He sent for information, such as the sport's official rules, created a kidney-shaped track down the road at Mickey Appleton's farm, and started revving local interest.
It didn't take long; after all, there's not a lot of competition for extracurricular activities in this Vermont village just a stone's throw from the New Hampshire border. Besides, lawn mower racing has got to be the most affordable sport around. Joining the club is a mere $20, and each race entry fee is $5 — funds which offset the $100-per-race insurance. The riding mowers, according to recent race winner Matthew Thurston, cost around two, three hundred bucks and are readily available in a rural region — including junkyards. And mowers are a heck of a lot easier than cars to modify, repair and maintain.
Some 20-odd guys, and occasionally gals, in the area now compete for points in the 10 biweekly races during the season. Though the scoring system is a bit arcane to the uninitiated, the goal shares its elegant simplicity with every game under the sun: The guy with the most points at the end is the champion until next year.
Racers must be at least 14 years old, and the Bradford competitors run the gamut from teens to older gents who, like 63-year-old Benjamin, have not quite exhausted their passion for piloting contraptions that make a lot of noise and go fast.
OK, fast is a relative term. These babies might go about 30 mph unimpeded, according to Thurston, but maintain a safer 20 to 25 mph on the curves. "You wouldn't want to mow grass at the speed these go," Benjamin offers. Even so, that velocity is school-zone modest compared to the 50, 70 and even 100 mph claimed in articles on the USLMRA Web site. But for the Rednecks — a moniker they tout with only a trace of irony — the foremost concern is safety.
That's what an official stresses at the race one recent hot July afternoon. "Use your head, use your head, use your goddamn head," he barks. "Don't put that in the paper!" he quickly adds to a nearby reporter, before turning back to the assembled racers with the gentler admonition: "Have fun and be safe."
Aside from a few harmless spills, Benjamin says he hasn't seen any real accidents among the Rednecks — no black flags in three years — and the racers are generally good sports. They wear helmets and goggles and have a handle to grab — no hanging on to the fender. Hand throttles on the mowers have been sacrificed for safer foot throttles. What's more, the mowing deck is removed altogether — these are not killer machines, they're eunuchs! — so there's no chance of getting, um, mowed down. Just in case, though, one of the officials is a paramedic, explains chief starter Rob Gallo, a Brad-ford resident who works in a bank in nearby Hanover. "I'm supposed to watch and make sure everyone obeys the rules," he says. He swishes flags at the drivers like it was something bankers do every day.
A far more likely mishap on the track is a pesky malfunction of the mower itself — most commonly the belt. "The motor turns the belt that makes the transmission go," Benjamin clarifies helpfully.
Though most races take place at Appleton's track, this one is in a field adjacent to amusement rides and horse-pulls at the Connecticut Valley Fair in downtown Bradford. Preceding the action, a sprinkling truck takes a few turns around the oval track. The effectiveness of this effort proves short-lived; straddling a grassy field and a packed-dirt lane, this track is not going to lie still while a bunch of lawn mowers tear around like turtles on steroids. Before long, dust is billowing like storm clouds, clinging to the sweat-soaked T-shirts of the racers and dispersing talcum-like grime over a couple dozen spectators.
No one seems to mind the heat, the dirt or the conversation-stopping roar — least of all Kevin Mason. The 12-year-old has come from Benson to see the fair and watch his grandfather's horses pull giant blocks of concrete. But he's lured by this motorized event, which he says he's seen on TV. Kevin gazes in wonder as more than a dozen men charge past again and again. In one round, a racer has to wrestle his disabled mower to the sidelines and fiddle with its innards. The others take corners on two wheels, like movie gangsters on the lam, passing each other repeatedly until it's impossible to tell who's in front. Gallo keeps up, though, and hands one driver the victor's flag at the end of each race.
After a dizzying sequence of qualifiers, semi-features and features over the next 75 minutes, Matthew Thurston is finally declared the winner. It is the second race he's won this year, and only his second season of racing, period. A 22-year-old employee of Bond Auto Parts in Woodville, N.H., he poses proudly next to his battered Gilson, wearing an FDNY cap and a big grin. The old man of the team, Bob Benjamin, has come in third. Along with second-place winner Dave Hayward, the triumphant trio graciously accepts backslaps from the young men now milling about the track. It's just a game — and arguably a silly one — but the intoxication of sport and camaraderie nonetheless lingers in the air, buoying the spirits of even a female reporter from Burlington.
"I guess we're just a bunch of gearheads," Thurston concedes unapologetically. He steals a fond glance at his bladeless mower that cannot cut grass but enables him, in brief, Sunday-afternoon spurts, to cut loose.