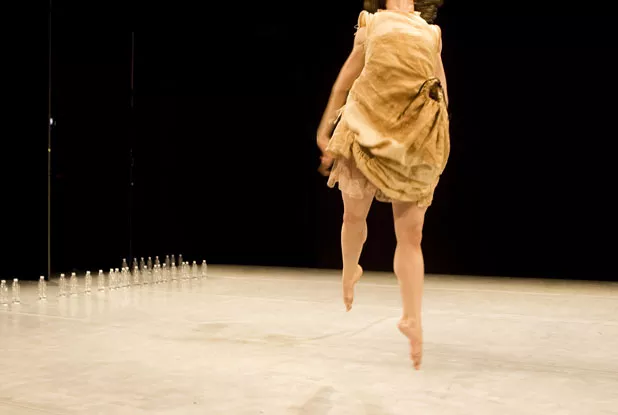 There are some basic human things we all understand. Reggie Wilson
For choreographer Reggie Wilson, the Good Book just wasn't enough.
Moved by his explorations over the past few years of African American communities in the Mississippi Delta and African communities in Cameroon, Gabon and Congo — where the body, not the Bible, is the primary spiritual touchstone — the Brooklyn-based choreographer set out to create something more: He calls it The Good Dance.
"I feel like there's a lot that's been lost that the human body has the potential to do," Wilson says. "There is some real value we have lost and continue to lose on a daily basis. And a lot of those things are hard to put into words."
So Wilson has put them into dance, in the hopes he'll communicate the physical and rhythmic wisdom he finds missing from contemporary Western culture.
The finished work, The Good Dance: dakar/brooklyn, is a collaboration of Wilson's Fist & Heel Performance Group and Andréya Ouamba's Compagnie 1er Temps in Senegal. It premiered in New York at the Brooklyn Academy of Music last December, to rave reviews. This Saturday, Wilson and co. bring the piece to the Flynn MainStage in Burlington.
Before the performance, Wilson and Ouamba will host two other events: On Thursday they'll hold a Community Shout, or sing-along, exploring traditional songs from the black church Wilson was raised in, as well as from the Caribbean and Zimbabwe. On Friday, they'll give a master class for intermediate to advanced teens and adults.
Wilson met Ouamba, a Congo-born choreographer, in 2002, and their troupes have been creating projects together ever since. It hasn't always been easy, but their cultural, linguistic and physical differences have informed every part of the pair's work.
Of the eight performers, only two are from the same country, and even they have vastly different backgrounds: a white Jewish woman from the Bronx and Wilson himself, a black man born in the Mississippi Delta and raised in Milwaukee. Others hail from French- and English-speaking countries in Africa and Central America. The challenge of communicating, both verbally and physically, has been central to the development of The Good Dance.
"We speak a kind of 'Franglais' in the studio," Wilson says. "Sometimes a word is kind of the same in French and English, but the meaning is very different."
The dancers' body language isn't always easy to interpret, either. "You can't understand everybody's movement language, just like you can't understand every spoken language," Wilson says. "But some languages just sound beautiful. And there are some basic human things we all understand."
Ouamba favors improvisation, while Wilson craves structure. In creating the piece, the dancers often stepped into one another's roles, taking ballet and modern dance classes together "to get their tongues on the same page," Wilson says, as well as improvising together. Sometimes the dancers found it easier to make up their own movement vocabulary, just as "sometimes we have to come up with a new physical actualization of something," Wilson says.
This happened during an improvisational exercise when Wilson asked the dancers to focus on entering and exiting.
"When everyone started, they were all really literal about it: coming into the space and going out," he says. "Then some people's brains got going, realized it was bigger than that — I can enter and exit myself, I can enter and exit smaller spaces, I can enter and exit somebody else's space. And you start to construct something new."
In the finished work, the dancers use repetition, returning again and again to certain movements and gestures as if they were teaching the audience a new language, or a new religion. This, Wilson says, gives the spectators a chance to recognize a gesture — a shape the body makes, an expression or motion — from a few different perspectives and find a place for it within themselves. And that, he adds, "is the crux of the whole damn thing."