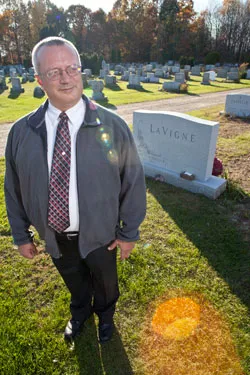 Matthew Thorsen
Tom LaVigne
Tom LaVigne will always remember two pieces of advice his late father gave him when Tom and his wife Kathryn took over the family business, LaVigne Funeral Home and Cremation Services of Winooski, in 1986. First, keep your feet on the ground. Second, don't ever let the dog bite you on the ankle.
The feet-on-the-ground bit makes metaphorical sense. Funeral directors see some gruesome stuff; even in the best of circumstances, they encounter people in the midst of enormous emotional upheaval. But LaVigne's father, Robert E. LaVigne, meant his canine caveat literally.
Old people often die at home, Tom LaVigne explains, and the family dog will occasionally wait beside the body to bar anyone's approach. A stranger who appears to be trying to disturb the dog's best friend can inadvertently provoke an aggressive reaction.
LaVigne, 53, is proud to say he's never been bitten, though he smiles as he remembers seeing his dad get nipped once. These days, LaVigne speaks often of his father, who died just two months ago. In fact, his dad's funeral license still hangs on a bulletin board in Tom's office. "It doesn't expire until 2015, even though he did already," LaVigne jokes.
LaVigne, like his father, is known for his wry sense of humor — a survival tool in an industry known more for provoking tears of sadness than joy, though he sheds the former, too. In a profession whose practitioners are often seen, justifiably or not, as ghoulish profiteers who fleece the bereaved in their most vulnerable hour, LaVigne seems to defy every stereotype. He's a gentle and jovial soul. He's never seen a single episode of HBO's "Six Feet Under." And he still cries at funerals, even those of strangers.
"My friends say, 'When you stop crying, get out of the business,'" he says. But LaVigne is in it for the long haul.
Like many Vermont funeral homes, LaVigne's goes back several generations. He is the fourth-generation LaVigne to become a mortician — and probably the last. His older brother, Arty, preferring a more lively career, founded Vermont's classic rock station, WIZN-FM, The Wizard. None of Tom LaVigne's three adult sons has any interest in carrying on the family business when their father's time comes, he says.
But funerals are the only business LaVigne has ever known. He started working for his dad when he was still a boy, washing the hearse, vacuuming the funeral parlor and filing death certificates at the local courthouse. Back then, LaVigne recalls, death seemed like no big deal. He assumed that all families had the same matter-of-fact conversations about dead bodies that he witnessed over his own dinner table.
The LaVigne funeral business dates back to 1888, when LaVigne's great-grandfather bought the operation from a Mr. Clemmons, who had opened a funeral parlor in the old Winooski Block building some years earlier. Today, an oil painting of that 19th-century building still hangs in the lobby of LaVigne's in its current location at 132 Main Street in Winooski, right next door to the Winooski Firehouse. LaVigne's parents bought the building in 1962 from J.G. Thabault, then a prominent Winooski doctor, who lived in the 11-bedroom house with his large family.
The evolution from physician's home to funeral home isn't as strange as it may seem. One of LaVigne's earliest memories is of riding with his father in the rumble seat of the hearse — which, in the days before modern rescue squads, doubled as Winooski's ambulance. Robert LaVigne would slap a flashing red light on its roof, then rush off to the scene of an illness or accident. His return destination depended on the state of the victim.
LaVigne has seen plenty of other changes in the funeral business since then, as well — the most obvious being the dramatic rise in the number of cremations. Back in 1979, when LaVigne got his mortuary science degree and went to work for his dad, Vermont had just one crematory, located in St. Johnsbury. (Today there are four.) In those days, LaVigne says, out of the 150 funerals he and his father performed in a year, he made the trip to St. Johnsbury maybe four times. Today, LaVigne might handle that many cremations in one week, most of them performed at Adirondack-Burlington Cremation Service in South Burlington. They account for about 70 percent of LaVigne's business.
A more subtle change LaVigne has observed is the deterioration of the family unit. While he has encountered one or two angry dogs, he says it's more common for him to see relatives bickering and sniping at one another over what dear old dad would have wanted for his final send-off.
"Sometimes what goes on around this conference table makes you cry worse than the death itself," LaVigne reports. "Today, it's just not the coherent family structure you used to have."
That said, LaVigne emphasizes that not all the shifts he's witnessed over the years have been for the worse. In his youth, funeral homes were invariably dark, gloomy places shrouded in maroon velvet and heavy curtains.
Today, Lavigne's funeral parlor is bright and airy, with green floral carpeting and wood paneling. Upstairs on the second floor the next of kin can browse a wide assortment of reasonably priced caskets, ranging from the $5200 "Embassy" — made of solid cherry, with a champagne velvet interior — all the way down to the corrugated cremation container, which is basically a big cardboard box, for $125. There's even a "rental" casket for $995, for use just during the wake or memorial service.
"I haven't raised my prices in four years," LaVigne announces. "How many businesses can say that?"
Like most funeral home owners, LaVigne has tried to modernize and personalize his services as much as possible. He offers both Boston Red Sox and New York Yankees urns ($699 each), as well as stylish cremains keepsake containers for $36 apiece.
On display in his showroom is a casket that features placards depicting a women's sun hat, gloves, seeds and gardening tools. Caskets can also be customized with images of sewing sets, golf bags, recipe books, ice skates, military insignia and a bass rising to grab a fly.
Those details may be new, but LaVigne says a more fundamental innovation is the public's improved attitude toward death and dying.
"Now that you've got death education, people talk about it more openly," he says, referring to the end-of-life care and counseling that have become much more commonplace. "People aren't as afraid of it as they used to be."
LaVigne's own candor has helped earn him rave reviews from Josh Slocum, executive director of the Funeral Consumers Alliance, who is often the industry's biggest critic.
"He's one of the nicest funeral directors I know. The whole operation is transparent and straightforward," says Slocum, who's also a Winooski neighbor of LaVigne's. "For at least 15 years, he and his staff have called on Funeral Consumers Alliance for advice on out-of-state questions about funeral consumer law. I've been on several tours of the funeral home Tommy used to arrange for the undergrads at one of UVM's death and dying courses. Nothing is hidden, and they answered questions thoroughly and candidly."
Winooski Mayor Michael O'Brien agrees. He's known "Tommy" since both were kids, when O'Brien's father was a local doctor and LaVigne's the undertaker. "You can just imagine the jokes," O'Brien says. "He's a great guy, he does a great job, very empathetic toward folks," the mayor adds.
LaVigne's openness is also reflected in the kinds of services LaVigne hosts. Whereas years ago, funerals and wakes were always hushed and solemn affairs, these days LaVigne is more than happy to help families create a celebration of the deceased's life.
To that end, LaVigne has installed a sound system and video monitors where families can play music and show slide shows. Illustrating the deceased's passions, he's displayed golf clubs, motorcycles, even a row of lawn mowers in his parlor.
When LaVigne's good friend Mike Sullivan died a few years ago, the Sullivan family held a Hawaiian-themed wake. In keeping with the theme, LaVigne dressed his entire staff in matching Hawaiian shirts and leis. Since then, other mourning families have adopted the luau send-off.
"The best part of [my job] is the trust people put in you," LaVigne says. "You might be friends with people your whole life ... or you might be complete strangers, and in three days you feel like family with them. Because it's a very intimate business."
Another exciting and positive development in the business, LaVigne says, is the increasing diversity of the death rituals he witnesses. Winooski was always a town of immigrants, he notes, but never to the extent it is now.
"We're still learning as we go," LaVigne says. "Vietnamese, Bosnians, Sudanese, Tibetans. We have to learn all their cultures and death rituals, many times with interpreters."
As a Catholic, LaVigne has always been familiar with the concept of the viaticum, Latin for "food for the journey," which takes the form of the final Eucharist in his religion. His work has taught him that many other cultures have similar practices, he says, such as laying out whole spreads of food for the journey to the next life.
LaVigne recalls one recent Asian funeral during which the family burned pieces of paper to help the spirit rise from the body. "It was a beautiful ceremony," he says. Unfortunately, no one had alerted his neighbors at the fire department, who saw smoke emanating from the funeral home. "I had the fire chief come by and say, 'We might not do that one inside again, will we?'"
When Robert LaVigne died on August 21 — at age 89, in his sleep beside his wife — his son called several of his close friends in the business to handle the arrangements and body preparation. LaVigne likens his profession to a closely knit fraternal organization, where people look out for each other rather than competing. Like many small businesses, funeral homes usually — though not always — respect each other's turf.
"My father always said he was thankful for the Winooski River," LaVigne says. "It kept us friends with all of them."
In keeping with his father's final wishes, LaVigne made sure the service, held in the family funeral parlor, was tasteful and not ostentatious. As he puts it, "His wishes were to not outdo anyone he'd ever worked for.
"My dad was the only boss I ever had ... and was the best friend I ever had," LaVigne adds with a wistful smile. "How many people can say that?"
It's good to know those values live on at a local business we're more likely to visit in hard times than in happy ones.