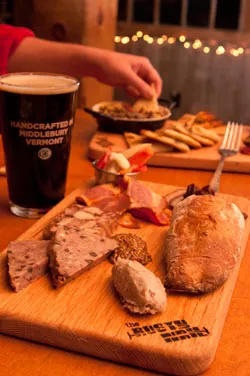 Matthew Thorsen
Butcher block at the Rusty Nail
Many business owners live by the adage "If it ain't broke, don't fix it." Thirteen years ago, a Boston Stock Exchange trader by the name of Charlie Shaffer purchased the Matterhorn Restaurant in Stowe and decided to buck that advice. Far from broken, the expansive nightspot had been a popular destination for music and après-ski beers since 1950. So why was Shaffer putting in a wood-fired pizza oven and introducing sushi?
"I just listened to everybody when they came. People said Stowe needed a sushi place," says Shaffer, as he serves up a boat filled with garlicky, peppery tuna carpaccio. "Certainly, it was a way of bringing in revenue that wasn't being exposed before."
The lusciously tender fish comes on a bed of sweet seaweed salad, with a side of housemade ponzu sauce. Shaffer says he's learned to prefer raw tuna to filet mignon. It suits his bottom line as well as his palate. Sushi and other foods rarely seen at pubs, such as blueberry-venison sausage with cheese fondue, account for 55 percent of Shaffer's sales year round and much more in the summer, when local families outnumber ski bums.
These days, Shaffer's take on the Stowe après-ski scene seems prescient. In an area long known for sports bars specializing in out-of-the-bag, into-the-fryer wings and burgers, more and more pubs are following the Matterhorn's lead with food that is sophisticated and handcrafted.
Some of this shift arises from a migration pattern of chefs who are dissatisfied with the conditions of cooking at lofty, white-tablecloth establishments. Jeffersonville's Brewster River Pub & Grill opened in the former Brewski space near Smugglers' Notch earlier this month. Two of its four owners, Chris Ferguson and Billy Mossinghoff — the general manager and chef, respectively — come from jobs at Solstice and Hourglass at Stowe Mountain Lodge. They spent last winter riding their snowmobiles over the Mountain Road from Jeffersonville to work.
One of Ferguson and Mossinghoff's former colleagues, Michael Werneke, also left the Stowe resort for a nightclub kitchen. He became executive chef at Stowe's Rusty Nail Bar & Grille in May. Manager Kate Wise says that when Werneke contacted her in April, "It was a miracle."
Wise started working at the tried-and-true music venue and bar when she was in high school and has filled every job at the Rusty Nail since, including running the long-defunct creemee stand at the side of the building. At the start of the 2011 season, Massachusetts-based owner Stan Swierzewski asked her to take over from another manager who had left operations in poor condition. Just reopening the restaurant was a struggle, recalls Wise — until Werneke asked for a job.
Since his arrival, the Rusty Nail has quickly become the crown jewel of the ski area's emerging gastropub scene. The food is comparable to that of Burlington's Farmhouse Tap & Grill and Bluebird Tavern, but it's still very much Werneke's own.
His passion for smoking shows on the butcher block. The wooden board, branded with the Rusty Nail logo, holds slices of buttered, toasted bread; homemade grainy mustard; and bright pickled celery, onions and peppers. Placed front and center, a slice of headcheese melts in the mouth in a gelatinous wave. House-cured ham betrays Werneke's Southern roots; smoked slices of duck breast have a saltiness counterbalanced by pickled cherries. Country pork pâté is dotted with pistachios and flavored with anise. But the pork rillettes are perhaps the most delicious. The spread is often bland, but Werneke's is creamy and salty, with tender chunks to remind the diner that this is indeed meat, not a decadent dessert.
Traditional main courses get a makeover at the Rusty Nail, too. The Rusty Nail burger is topped in warm, fatty house pastrami and Cabot cheddar. For an extra dollar, the kitchen adds ultra-crisp, rich duck-fat fries to the plate along with a homemade pickle spear.
Kate's Full Rack is a summer-only rib dish, but it's worth a trip until it leaves the menu for the season. A crust of sweet bark hides decadently moist pig flesh that clings to the bone, barbecue-competition style, until given a gentle tug.
The Rusty Nail will close for renovations on October 30 and reopen with its winter menu on November 17. While staples such as the butcher block and burgers will remain, Werneke's new bill of fare is more Eastern than Southern. One addition is homemade ramen with alkaline noodles from Vermont Fresh Pasta in Proctorsville and Werneke's own pastrami in the broth. Werneke is also planning to offer family meals that must be ordered a day ahead. One is a pork shoulder based on David Chang's recipe from New York restaurant Momofuku; another, a Vermont-style whole chicken with roasted fennel, beets and duck-fat mashed potatoes.
"The menu is kind of taking on a life of its own," the chef says. "I'm really excited with the stuff that's already there, and now I have to pick and choose. It's like picking one child over another to put in a pageant." One thing that won't change: "Sysco's not even allowed in our driveway," says Werneke of the food-distribution giant, without a hint of humor in his voice.
John Wykoff, who co-owns Rimrock's Mountain Tavern in Stowe with his brother, David, is learning a similar ethos. Wykoff moved to Stowe from Boston in 2008 to help with his brother's already four-year-old Adirondack-style pub. At the time, he had a four-year plan to transform it from a bar with limited food to a lounge and restaurant. If all goes well, that plan will come to fruition in December, when a new dining room separates families and serious diners from the sometimes-rowdy sports-bar crowd.
Before John Wykoff joined the business, a single pizza oven provided all the sustenance at Rimrock's. He wanted to add food as a new revenue source, without going too sophisticated: "Our stuff is pretty straightforward," Wykoff says. "We're not trying to wow people by frying French fries in different types of oils."
Instead, he's sticking to local, grass-fed burgers and making everything from scratch, from the raspberry-sage vinaigrette on the Vermont Salad to the freshly baked chocolate chip cookies he uses in ice cream sandwiches. A Jamaican cook prepares specials from his homeland and makes sure the wings are plenty hot.
Since Wykoff introduced the latest menu in July, he says, dinners are a hit, and the lunch crowd is growing. Reviews online are roundly positive. "The other night we served more food than we served alcohol or beer," Wykoff says. "We're not just a bar anymore; we're a locals' place with great food that's reasonably priced and a little different than all the competition. In terms of stacking up with Rusty Nail and the Matterhorn, we've done well. We're like the little engine that could."
Down the mountain at the Brewster River Pub & Grill, Ferguson and Mossinghoff also think they can — especially once the November closure of the top of the Mountain Road isolates the Smuggs area from Stowe. Mossinghoff, who's also cooked at the Hearth & Candle at Smuggs and One Federal in St. Albans, is serving house-smoked pork, mushroom risotto and red-curry mussels with local beers on tap. In six months he hopes to have the licensing to pour his own brews.
A longtime home brewer, Mossinghoff says those are "a little bit more eclectic" than your average suds. "Thick IPAs, porters and stouts. I do a pumpkin porter, vanilla-bourbon porter and some lagers in the winter," he adds. "I do a lot of experimentation."
With any luck, the eccentric beers will pair well with Mossinghoff's diverse burgers and sandwiches. The Godzilla Burger is named for his and Ferguson's favorite snowmobile trail. Like the rough ride, the burger throws everything at you: local beef, pastrami, pulled pork, smoked bacon, pork roll, a fried egg, and cheddar and pepper Jack cheeses — "basically, every protein we serve," says Mossinghoff. The chef foresees crafting an extra-large Godzilla and holding competitions to see who can down it the fastest.
Like Wykoff, Mossinghoff says he's not trying to establish a gourmet outpost: "All I want is to be a brewpub with good food and good beer." And good music. A Pulse Prophets CD-release party opened Brewster River, and Mossinghoff says booking future acts is a priority.
At the Rusty Nail, hot local music every weekend was the pub's original raison d'être, and manager Wise says that won't change. When she started at the Rusty Nail, "[Food] definitely wasn't the focus," Wise says. "Nor do I think it is now. It's a nightclub and bar — now we happen to serve some of the best food in the area."
Balancing change and continuity is the challenge for competing bars in these small ski towns that don't put a cap on liquor licenses. After keeping the Matterhorn busy for more than a decade, Shaffer thinks he's found the secret of success: Never stop improving and changing with the times, whether that means adding new sushi rolls or remodeling the entryway, as he's doing this year.
"When you're really doing a good job, it consumes you," Shaffer says. "I think all the time about how to make it better — constantly." It's a lesson his competitors have learned, as well.
Brewster River Pub & Grill, 4087 Route 108, Jeffersonville, 644-6366.
Matterhorn Restaurant, 4969 Mountain Road, Stowe, 253-8198.
Rimrock's Mountain Tavern, 394 Mountain Road, Suite 5, Stowe, 253-9593.
Rusty Nail Bar & Grille, 1190 Mountain Road, Stowe, 253-6245.