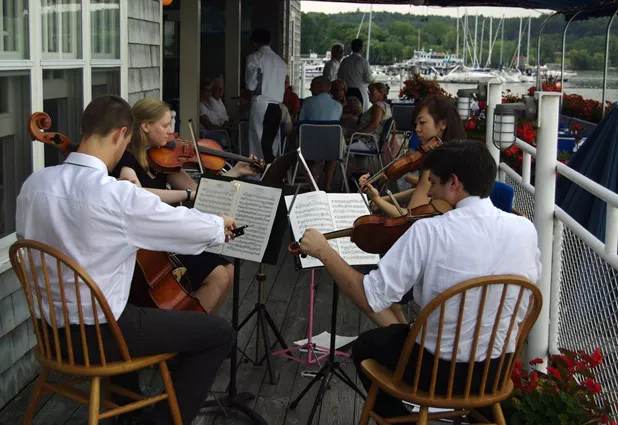 Meadowmouunt students performing
It's not often you can see world-class classical musicians play for the price of a burrito in Burlington. Typically, tickets to hear a touring soloist cost three or four burritos, or more if the musician is a superstar such as Hilary Hahn, Lang Lang or Hahn-Bin.
But at the Meadowmount School of Music in Westport, N.Y., $7 buys you a front-row seat to watch the world's up-and-coming young classical stars in action. The campers, who range from precocious 10-year-olds to seasoned college students, may not have scored major recording contracts or headlined their own shows yet, but they will. If you catch them at Meadowmount, you can say you saw them before they hit it big. That was my plan as I crossed Lake Champlain on the Essex-Charlotte ferry on a recent Wednesday, en route to watch one of the school's 18 summer concerts.
Meadowmount, founded in 1944 by Judith and Ivan Galamian, is a summer camp for the extremely talented. Classical string players and pianists from around the world descend on this Adirondack enclave every summer for intensive instruction, master classes with distinguished alums and chamber music training to prepare them for life as professional musicians.
Each summer, the school's top students are selected to give thrice-weekly public concerts in July and August. What may look like a standard Adirondack summer camp, with its wood-paneled cabins and giddy, braces-faced teenagers, is actually a proving ground for the next Yo-Yo Ma or Joshua Bell.
From the ferry dock, I drove the 14 miles to Meadowmount along winding roads, past overgrown farms, and through stands of pine and spruce. I arrived on the sprawling campus of white and forest-green buildings running alongside County Route 10, just minutes before the 7:30 p.m. show.
In the parking lot, I found cars with license plates from as far away as Illinois, Louisiana and Minnesota, most likely belonging to summer residents of the Adirondack Park who'd come for a dose of culture. Students milled about the grounds, looking smart in their dresses and ties. All Meadowmounters are officially required to comport themselves appropriately, not just in their attire but also their behavior. I didn't see one glowing cellphone while I was there, nor did I witness obnoxious gum snapping or even bored slouching.
I found a chair in the 500-seat Ed Lee and Jean Campe Memorial Concert Hall and settled in for an evening of spirited performances. Over the years, the venue has played host to many of the great contemporary classical musicians, including Ma and Bell, Itzhak Perlman, Pinchas Zukerman, Kyung-Wha Chung and Jaime Laredo, music director of the Vermont Symphony Orchestra. All are Meadowmount alumni.
Attendance at the concerts is mandatory for the young musicians, and seated behind me were three female students, gabbing about the program.
"Oh, man. It looks like it's gonna be a long show," one girl huffed.
"Yeah, but I love that Ravel piece," her friend replied, referring to "Pièce en forme de Habanera" by Maurice Ravel, which would be performed by cellist Genevieve Tabby. Teachers had selected the pieces their students would play.
Without introduction, the lights dimmed; when they came back up, the evening's first performer, 16-year-old cellist Emily Camras of Illinois, was ushered into the spotlight by her classmates' whoops and cheers. Camras, dressed in an emerald-green strapless gown and ballet flats, tucked right in to Sonata for Solo Cello, op. 25, no. 3, by mid-20th-century composer Paul Hindemith. The auditorium was so quiet, I could hear Camras inhale as she played.
The Hindemith piece was technically demanding and intense, and Camras' pinched face reflected its difficulty. When she finished the five-movement piece, the crowd — primarily students — leaped to its collective feet and gave her a rousing round of applause and a few shouts — an uncommon sound at classical-music venues. Admirers rewarded Camras with bouquets of flowers, homemade cookies and bags of M&M's, no doubt sent by parents in care packages.
Next up was Tabby, an undergraduate student at the Cleveland Institute of Music, who has been playing the cello since she was 9. In addition to the short Ravel piece, Tabby tackled Beethoven's Variations on a Theme From "The Magic Flute," WoO 46, and Niccolò Paganini's Variations on One String on a Theme by Rossini. Tomoko Kashiwagi accompanied her on the piano.
Wearing a red halter dress and heels, Tabby played with her eyes closed as she swayed to the music. Her touch on the airy Beethoven piece was so light, she hardly seemed to be bowing at all. Her fingers danced up and down the cello's neck with no apparent effort. The Paganini piece, a jaunty work full of firework flourishes, required a heavier hand. Tabby delivered, and her fellow campers responded again with a standing ovation and a bouquet of flowers.
I quickly came to realize that everyone gets a standing O at Meadowmount. While that may not be great training for the real world, it certainly illustrates the camaraderie of the place. For a group of elite students bound to compete with one another at some point for top spots at conservatories such as Juilliard or in renowned symphonies, these kids seemed pretty chummy.
Though I'd switched off my cellphone, I spent the concert unable to shake the racking fear that it would ring and ruin a performance. My anxiety stemmed from the observation that everyone in the concert hall — students, faculty, parents, community members — sat motionless, rapt by the playing. Even a sneeze, two of which I had to stifle, would have seemed uncivilized. It was easy to forget we were watching (mostly) children at a recital, such was the performers' level of talent.
Chelsea Smith, a towering Juilliard student in a cherry-red, Empire-waist frock, performed the last piece before intermission. She seemed confident and self-assured — no surprise, given her bio in the evening's program, which quoted a review calling one of her previous performances "elegant and poetic, with enchanting moods and engaging colors."
Smith dug into Jean Sibelius' Violin Concerto in D Minor, op. 47, with gusto, accompanied by Claire Mallory on piano. During the piano interludes, the violinist stretched her fingers and rocked gently to the music. The three-part piece seemed physically exhausting; Smith's bowing arm never ceased seesawing over the strings. At the end, she let out a sigh and clasped her chest. Again, the crowd rose to its feet. Fans pushed presents — which, curiously, included a piece of toast — into the soloist's arms.
Getting a spot on the summer performance roster isn't easy. Students — who have to audition to enter Meadowmount itself — must try out for the privilege. This year, roughly 45 were selected to give performances during the school's 18 public concerts. Regardless of how many summers students have spent at Meadowmount, they must audition every year for a turn in the spotlight, says Eric Larsen, the school's director.
Meadowmount bears similarities to Vermont's intensive preprofessional summer music programs, such as Adamant Music School, which focuses on piano tuition, and the Kinhaven Music School in Weston, which teaches a broad orchestral and chamber repertoire. But the school tucked in the Adirondacks is much bigger, more competitive and more expensive than its Green Mountain counterparts.
With full room and board, Meadowmount's program costs $6000 for seven weeks. For students and their parents, that is the cost of success. Competition is "fierce" in the professional music world, says Larsen, and Meadowmount exists to give students an advantage.
"We are known as a 'practice camp,' and our students come with the intention of practicing," he writes in an email. "They know, or will soon find out, that it is this intense practice and discipline that will give them the edge in school or orchestra auditions, competitions and, for the older students, job interviews."
My evening at Meadowmount finished with the somber Piano Trio no. 2 in E Minor, op. 67, by Dmitri Shostakovich, performed by Canadian violin virtuoso Shannon Lee and top Korean cellist Minji Choi, accompanied by pianist Yoana Kyurkchieva. The pair, true strings technicians, were less expressive but every bit as precise as their fellow campers. Choi's playing was aggressive and suspenseful; during one of the movements, she plucked at the cello's strings as if playing a guitar. Lee's work was liquid and elegant, despite the sometimes atonal arrangement.
Cheers and hollers followed their performance. The concertgoers filed out of the hall, and everyone returned to the quiet of the starlit Adirondack night.