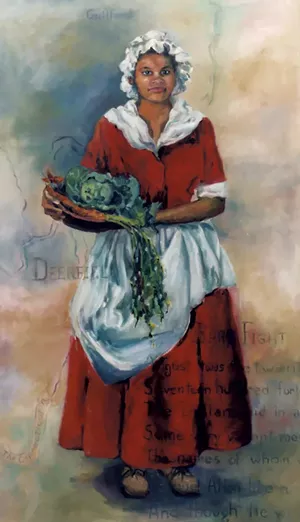 Courtesy Of Mount Island
Painting of Lucy Terry Prince by Louise Minks
Brattleboro-based Mount Island, founded by Desmond Peeples, is a literary magazine devoted to the voices of rural LGBTQ and people of color. This week, the online quarterly began accepting submissions for a new poetry prize that honors a "voice" from the past: that of Lucy Terry Prince, who is considered the first known African American poet in English literature.
Open to poets of color who are currently in, or from, a rural place, the competition aims not only to recognize underrepresented contemporary writers but to ensure that its namesake is not forgotten. Poet and University of Vermont professor Major Jackson — a multiple prize winner himself — will serve as judge.
Lucy Terry (1730-1821) was born in West Africa and brought to Rhode Island as a slave; when she was 5, her owner allowed her to be baptized as a Christian, a faith to which she devoted herself thereafter. In 1756, Abijah Prince bought Terry's freedom and married her. The couple later moved to Vermont and owned land in Guilford, says Shanta Lee Gander, managing and nonfiction editor of Mount Island.
Lucy Prince was highly respected as an orator and successfully petitioned for protection from the governor when white neighbors threatened her family. She was the first woman to argue a land case before the U.S. Supreme Court. And her three-hour address to the trustees of Williams College was remembered for its eloquence, though she failed to gain her son's admission to the school.
Prince's verbal skill extended to artistic expression. Her only extant poem, a ballad titled "Bars Fight," chronicles a deadly attack by Native Americans on two white families in 1746; it was transmitted solely by oral recitation until it was published in 1855.
Gander, 41, says she obtained a book about the Princes several years ago and was "embarrassed" not to have heard of them. Reading it was a revelation, she says, bringing to her attention not only an uncommonly gifted colonial-era African American woman, but also issues of black land ownership. And she wonders what else may have disappeared in Prince's — and Vermont's — history: "Might there be other things — is something hiding out there somewhere?"
Courtesy Photos
Shanta Lee Gander and Major Jackson
Like Prince, Gander is a woman of bold skills: writer, editor, performer, marketer, community leader, photographer. Born in Hartford, Conn., she studied women, gender and sexuality as an undergraduate at Trinity College and went on to earn an MBA at the University of Hartford. Since moving to Brattleboro, Gander has served on the selectboard, as head of the Arts Council of Windham County and in other leadership roles. She's now enrolled in the creative nonfiction master's program at the Vermont College of Fine Arts.
Gander says Peeples approached her to help with Mount Island. She's now focused on "distributing [prize] information far and wide." Competition submissions opened this week and extend through February 15. "Then Desmond and I will sift through them, pick the top 25 and hand it over to Major," Gander says. Results will be announced in May.
The grand-prize winner will receive $500, publication in Mount Island's 2020 print anthology and an opportunity to participate in a panel discussion next fall about race, art and rural life.
"I've always been involved in and passionate about the arts," Gander says. "Now I'm really passionate about spreading the word about Lucy Terry Prince."