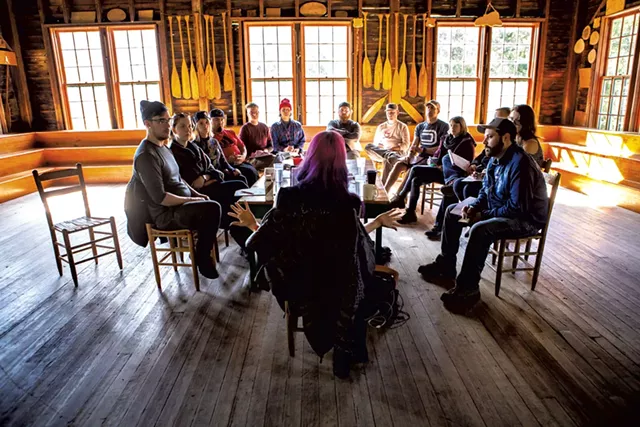 Luke Awtry
Satine Phoenix leads a seminar on storytelling at Camp Mograph in North Hero
To learn character design from Jax Jocson, apparently, you have to get out your crayons. The California-based concept artist sat at a table in the dining hall at the Camp Abnaki grounds in North Hero last weekend, surrounded by Crayola boxes and plastic bags full of dissected paper Pokémon figures. Jocson and her adult pupils mixed and matched the heads, limbs and torsos into new Pokémon characters. As she outlined one of them in crayon, Jocson doled out advice about building an animated character's persona, accepting criticism and finding good instruction in her field.
On the first weekend in October, Jocson — who designs characters and environments for video games and teaches at the Academy of Art University in San Francisco — was one of the instructors at Camp Mograph. Essex Junction-based Mark Cernosia conceived the new conference/sleepaway camp for professional motion designers and animators as an alternative to conferences more typical in the field.
More than 70 attendees from around the U.S. and beyond were instructed to step away from the screens where most of their work is made. Instead, they spent the weekend sculpting, making flipbooks and attending fireside chats with industry professionals that literally took place around a fire. And, yes, campers slept in bunk beds in cabins and ate meals in a dining hall.
"We're in front of the computer, in front of screens, so much. Even when we're quote-unquote 'relaxing,' we're watching Netflix on the TV or playing games on our phones," Jocson said. "[This] gets us back to touching things, back to the joy of tangible art. So much of what we are making in school, while we're learning to be craftspeople, and so much of what we're making ... in the production pipeline, we won't be able to touch."
Motion graphics combines animation and graphic design, often incorporating text and communicating information, for anything from a product to a movie to a lyric video. Think of the animated Marvel logo that appears at the beginning of the studio's superhero movies, in which flipping comic-book pages form the words; or the title sequence of the television show "True Detective"; or a Nike commercial with a disembodied tennis shoe running, stretching, dancing and generally looking lightning-fast and cool.
This field has become highly digitized in recent decades, as have many career paths. A study released in 2017 by the Brookings Institute, a public policy nonprofit, found that the U.S. workforce "is digitizing at an extremely rapid pace." Between 2002 and 2016, the share of jobs requiring at least "medium" digital skills jumped from 44 percent to 70 percent. The evidence can be found in just about any coffee shop — while working on this story at one of them, this reporter counted 23 other laptops.
The Camp Mograph scene was just the opposite.
Cernosia has been a motion designer for a decade and a full-time freelancer for more than a year. His recent creations include product videos for Darn Tough and Smith Optics, but designing is only half the hustle of freelance life; there's also doing taxes, creating invoices and the sometimes-dreaded networking.
"I look at myself as a small business," Cernosia said. "It's a lot harder than I thought, but it's a lot more interesting than I thought."
He found it remarkably easy to drop a few thousand dollars on a motion-graphics conference in New York City or Las Vegas but difficult to really connect with others in the industry once he was there.
"In a city, you might all come together for a class or a presentation, and then everyone disperses and you don't see them," he explained. "Here [at Camp Mograph], we're all contained and sharing ideas and just talking and really having more, like, heavy conversations, instead of the technical. Instead of 'How do you do this?' it's more like 'Why do you do this?'"
On a leaf-peeping drive through rural Vermont last fall, Cernosia had an idea: What if he invited several people he knew who worked in the field to hole up in an Airbnb in Vermont, unplug, appreciate the foliage and talk craft for a weekend?
The idea quickly ballooned as his colleagues and acquaintances across the country responded. In the end, "an Airbnb" turned into a rented YMCA camp in the woods, and "several friends" turned into 75 people who bought $425 to $525 tickets for the weekend event. They included motion designers, animators, illustrators and even sound designers. Cernosia — the only one based in Vermont — and friends Liam Clisham, Matt Milstead and Dave Koss all served as camp directors.
"I feel so restored, and it's been, like, one day," said Camp Mograph instructor Caitlin Cadieux of Troy, N.Y., over a lunch of pulled-pork sandwiches on Friday. "It's so gorgeous here."
Camp attendees at her table agreed that Camp Mograph was different from many of the conferences they attend, and they enjoyed the opportunity to unplug.
"I'm pretty sure it's unhealthy how much time we spend on the computer," said Israel-based motion designer Kenji Ito.
Cernosia, who floated in and out of classes, noted that while the invited instructors had come with rough syllabi, the lessons were quickly taking on a life of their own as students asked questions and steered discussions. He hopes to make Camp Mograph an annual event.
"It's back to your roots, in a way, when we're in such a fast-paced environment in our industry," Cernosia said. "Sometimes you don't have the time to just sit down and draw."