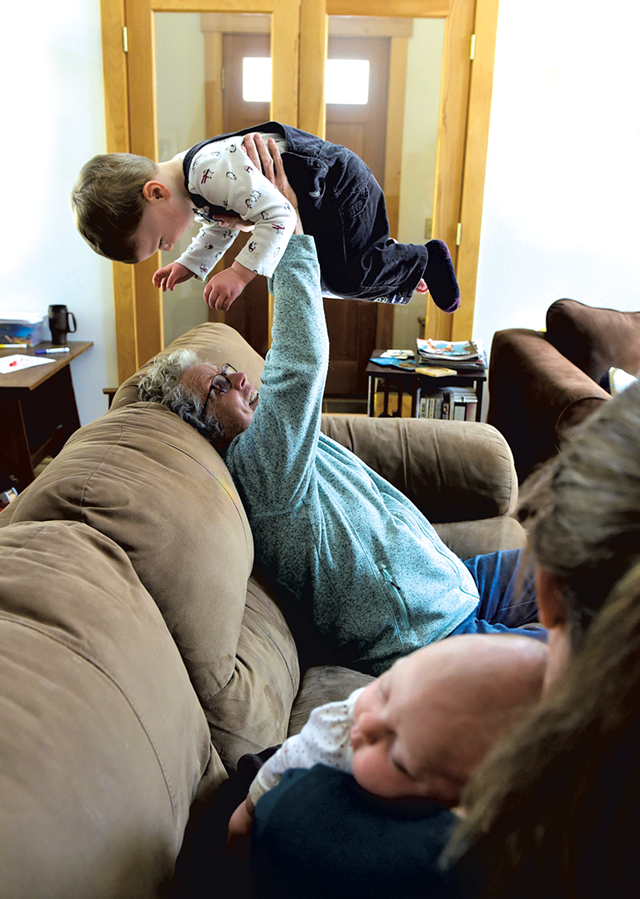 Jeb Wallace-Brodeur
Postpartum Angel Didi Brush plays with 2-year-old Eric while his mom, Helen Sullivan, holds 7-week-old daughter Vera
"Mothering has been the richest experience of my life," writes Anne Lamott. Her memoir of solo parenting an infant, Operating Instructions: A Journal of My Son's First Year, resonates with readers not because it paints a sentimental picture of motherhood, but because Lamott's humorous and heartfelt musings capture the joys and difficulties that accompany being a mom. Lamott writes about long nights with a crying baby and how pregnancy changed her body — experiences most mothers will likely understand, especially new mothers like Helen Sullivan.
On one of the first warm spring days in April, Sullivan sits on the couch in her East Montpelier living room, with her 7-week-old daughter, Vera, and 2-year-old son, Eric. The St. Johnsbury Academy social studies teacher is on maternity leave, while her husband, Zachary, has returned to work as a senior planning analyst at the University of Vermont Health Network.
Sullivan, however, isn't the only adult in the room. Didi Brush snuggles sleeping Vera against her chest while chatting with Eric about his overalls. The little boy happily points out a train engine with a snowplow on his front pocket.
Brush is a new volunteer with Good Beginnings of Central Vermont's Postpartum Angel Family Support program, which pairs community members with postpartum mothers for physical and emotional assistance.
After a background screening and training that included tips to soothe a baby, Brush committed to visiting a new mom for two to three hours weekly, for 12 weeks. Brush is the second helper Sullivan has had through the program. Before she became a mother, Sullivan says, she had driven by the Good Beginnings office in Montpelier, but hadn't thought much about what the organization did. When Eric was a newborn, she attended a babywearing group, discovered the postpartum support program, then requested — and received — an Angel.
Although babies figure prominently into the equation, the Postpartum Angel program focuses primarily on the "fourth trimester" of pregnancy, a term for the three months after birth when new mothers need to rest and nurture their own well-being. Good Beginnings program director Lauriana Capone describes the postpartum period as "the blueprint" for building the bond between mother and child, as well as the mother's foundation for confident parenting.
Nearly three decades old, the Postpartum Angel program, free to new moms, has served hundreds of families — with the help of a steady stream of volunteers — since its inception.
On this afternoon, Vermont Public Radio's classical music station streams through the Sullivans' sunny home. While Brush holds sleeping Vera, Sullivan puts away dishes and pours a sippy cup of milk for Eric, then kneels with him in his toy kitchen and accepts a wooden tomato. Neither she nor her husband have family nearby, so Brush's help is particularly valuable.
"Mostly, Didi just holds the baby, and I do things," says Sullivan. Those "things" include taking a shower or nap, tackling small household projects, washing dishes, or simply letting Eric jump on her.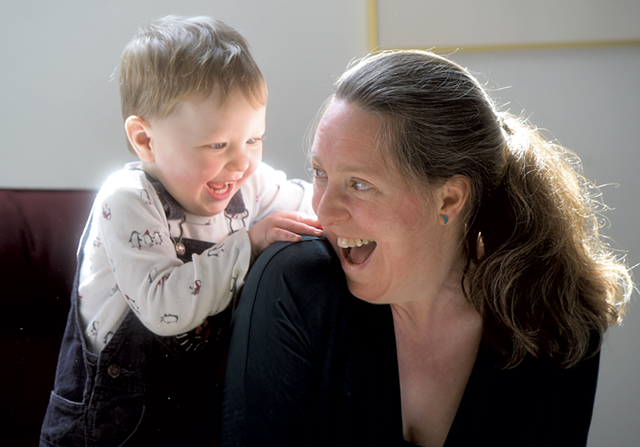 Jeb Wallace-Brodeur
Helen Sullivan plays with son Eric
A Montpelier resident since 1981, Brush acknowledges, "This is new for me." But the 69-year-old is no novice to baby care or community service. The mother of two grown children, Brush has been a board member for the Family Center of Washington County and currently serves on the design committee for Montpelier Alive, an organization devoted to deepening the capital city's vibrancy.
Connection lies at the heart of Good Beginnings' work: strengthening bonds between babies and parents, fostering friendships between new parents and growing a supportive social network in the community.
While the organization offers a range of programs — from parenting workshops to new mama social circles — the Postpartum Angel Family Support program is its centerpiece. Across cultures, new mothers are often embraced by an extended and supportive web of family and community members. The U.S., however, lacks a "model of complete rest and secure bonding for mothers," says Capone. Postpartum Angels help provide "a balm to the isolation a new mother may be feeling."
The program covers Washington and Orange counties and frequently serves moms across county lines. Families only need to ask for an Angel. Capone says that sometimes she must prioritize need — multiple births, single mothers and families with mental health concerns may receive services first — but the needs of all new mamas are recognized. If a volunteer isn't immediately available, Capone usually can fulfill requests within a few weeks.
Good Beginnings of Central Vermont was founded in 1991 by three Northfield mothers — Sara Nevin, Terry Howe and Maureen Larsen. As experienced parents, the women knew the importance of early attachment between newborns and parents, and recognized the challenges new mothers often experience after giving birth. They modeled the program on Good Beginnings of the Upper Valley in New Hampshire, which started in 1986. The organizations retain a sisterly collaboration, exchanging information about how to best serve families.
The Vermont organization now employs three part-time staff, with 60 to 70 volunteers (about 20-25 are active at any given time). In addition to private grants, an annual grant of approximately $10,000 from Vermont's Child Development Division of the Agency of Human Services provides about 10 percent of Good Beginnings' yearly budget. Twenty Washington and Orange county towns contribute funds yearly, and local businesses and approximately 100 individuals make donations.
From a comfortable seat in the Nest — Good Beginnings' drop-in parenting space, furnished with couches, toys, a lending library and a pile of baby carriers — Capone shares her thoughts about the program's importance. Lacking the polish of a professional office, the living room-like space, open 9 a.m.-3 p.m. Wednesday through Friday, invites new parents to slip off their shoes and relax with their babies.
"Maybe it's because women are so strong, we just take it for granted that they'll take care of themselves," says Capone, who also is a certified postpartum doula. "We want to be strong. And we are strong. But being a new mother is a time of our life when we need support."
American culture so highly prizes self-sufficiency that it's often difficult to ask for assistance, continues Capone. New England especially, she says, values that stiff upper lip and buck up attitude that "you have this beautiful baby and you should pull yourself together. You should be happy." Compounding the challenges is what Capone describes as the "not helpful messages" on social media and the pressure to become a supermom. At Good Beginnings, "what we're trying to do is ... talk about the realities of motherhood."
Postpartum Angels tailor their time to mothers' needs, from folding laundry or cooking a nourishing meal to entertaining older siblings, running errands, or meeting a mother at her therapist or health care provider's office to hold her baby there. Sometimes, says Capone, a new mother simply needs to be asked how she's doing, because no one has inquired about her physical or emotional health. "We need volunteers to be mom crazy," not baby crazy, says Capone, explaining that the mother's well-being is the program's focus.
Capone observes that, while need has remained a constant, self-referrals have been on the rise. The majority of mothers connect with the program through hospital referrals, but increasing awareness of postpartum depression and anxiety has imbued mothers with more knowledge and self-awareness of postpartum well-being. She also notes that an increase in family chaos spawned by opioid use and mental health issues, which are often linked, has altered the need for this kind of service.
On this sun-filled afternoon in the Sullivans' living room — in between admiring baby Vera and laughing with Eric — conversation winds around to the harder and often hidden aspects of motherhood: how isolating being at home with a baby can be and how families sometimes lack good role models or confront unexpected challenges related to economics or illness. "Sometimes people get in over their heads. I'm just one person, but it takes an army," Brush says.
But for these two hours, Brush is enough, as baby Vera sleeps peacefully in her arms.
Visit goodbeginningscentralvt.org for more information about the Postpartum Angel Family Support program and opportunities for new parents.