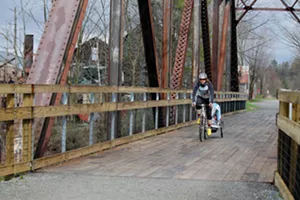 Sarah Galbraith
Tristan pulls Elise along the Morrisville section of the Lamoille Valley Rail Trail
I love the combination of bikes and beer. An exhilarating ride followed by a crisp refreshing beverage is my favorite pairing. So when it was time to celebrate my second Mother's Day, I knew just what I wanted to do.
That Sunday started with an epic downpour. The raindrops on our metal roof drowned out our conversation over coffee as we tried to hatch a plan. Fortunately, we could see on the weather radar that the rain was going to ease up in the afternoon, so we decided to head out to
Lost Nation Brewing
in Morrisville; the
Lamoille Valley Rail Trail
runs right past the brewery's tasting room.
We gathered all of the optimism we could find for a break in the weather. Then we packed what we needed for the ride, including warm layers and snacks for 18-month-old Elise, plus toys and books for her to amuse herself with while she rode in the trailer. We loaded our bikes onto the car and folded down the trailer so it would fit in our back hatch, then we were off.
In the brewery parking lot, we unloaded our bikes and hitched the trailer to Tristan's while getting Elise ready for the ride. We watched as other families came and went from the brewery, then walked down a steep hill onto the trail and headed off on our bikes.
The trail is currently under construction, though some sections, like this one in Morrisville, are already complete. When it's finished, it will run from St. Albans to St. Johnsbury. We've ridden finished sections in Danville and look forward to using the full trail for bike touring. But on this day, our trip was short. We ran into several other cyclists, one out for a casual ride with his dog and another fully clad in spandex and going for a longer distance.
[jump]
Sarah Galbraith
Elise helps eat a tempeh Reuben sandwich at Lost Nation Brewing
We pedaled along admiring the impressive bridges on the trail. First we rode into downtown Morrisville, which was about one mile from the brewery, just to check out the trail in that direction. We turned around at an intersection with a major road and went back in the direction we came from, past the brewery and beyond for several more miles. We pedaled through neighborhoods complete with kids and loose dogs, and then on longer stretches of quiet forests and a park. Because the leaves hadn't grown in yet, the long-range views were lovely.
After a few miles, Elise started to squeak and fuss, her way of letting us know she was getting bored. We stopped to make sure she could reach her books and toys, then turned around and headed back to the brewery. I was looking forward to seeing what was on the menu!
Back at the tasting room, we leaned our bikes against the railing and headed inside. We put Elise in a highchair, then ordered up beers. The menu had lots of great options and it was hard to pick just one, but I settled on a tempeh Reuben sandwich with a side of potato salad and Tristan went for the burger. Before we ate, we toasted to good times as parents.