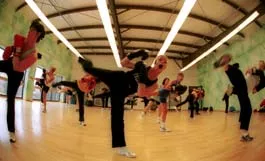 Jordan Silverman
BOXING DAY at Twin Oaks, Whislain Deis teaches the ladies to kick some... air
In general, there are three types of combat sports: aerobic-style, boxing or kickboxing and martial arts. The first tends to attract predominantly women, while classes with a lot of sparring have at least as many men as women. Nearly any town that has a health club probably offers at least one type of class.
How to choose? Kevin Hatin, director of health and fitness at the Burlington YMCA, advises, "If you're interested in the long haul, you should get into a martial arts class and move up through the belts. Some people just want the aerobic conditioning, though, and the aerobic-style classes really give you a good workout.
"Kickboxing classes," Hatin adds, "are somewhere in between aerobic-style combat and martial arts. There's some progression in the sport as you go along."
If you're interested in a martial arts class, do some research first, because you will be asked to pay several months up front. Gordon White, director of the Burlington Blue Wave Tae Kwon Do and a 19-year martial arts veteran, recommends visiting several schools and watching a class before signing up. "Some offer a free class, which can give you an idea of what to expect," he says. "Usually following the free class comes a pretty strong sales pitch. Don't sign until you have checked out all the schools that interest you. Avoid-long term contracts! Martial arts are not for everyone."
White also suggests avoiding schools that promise "you will be a black belt in two years. Everyone advances at their own pace; no one can promise when you will be ready to advance in rank."
Once you decide which sort of combat sport is right for you, check out the classes at your local gyms.
• Aerobic Style Kickboxing Classes: These often include the word "cardio" in the description. The classes are essentially moves from boxing and martial arts choreographed to music. Be prepared for a high-intensity workout and lots of perspiration.
• Kickboxing and Boxing: These classes tend to focus on learning good form through bag work and do not offer ring time. They are good for "interval training" — spurts of high-intensity activity followed by some recovery. Prepare to wrap your wrists and buy some gloves.
• Martial Arts: The workout involved can vary widely, depending on the focus of the school. "Traditional" training focuses on very formal movements, while others, often called "Olympic style," focus on sparring. The latter schools offer a much better aerobic workout, but any martial arts will increase strength, balance and flexibility.
— L.E.
By Laurie Essig
Picture a middle-aged, middle-class mother. She's driving a mini-van full of kids to soccer practice, right? As she rolls down the window at the stop light, she looks hot and tired and overwhelmed by the youthful mayhem in the backseat. She wearily rests her elbow on the window and, as the car accelerates, her flabby triceps flap in the breeze, a white flag of surrender to life.
Now think again — maybe that middle-aged mom isn't flabby at all. She's pumped. And she's not driving her kids anywhere; she's going to the gym, where she'll don boxing gloves and go a few rounds with another muscled matron.
In case you haven't noticed, quite a few women out there could kick your butt. They used to worry about being thin and nice, but they've traded in the Spandex for boxing gloves.
This should come as no surprise. After all, even middle-aged women grew up with a feminist paradigm that says girls can do anything boys can do — and Title IX gave them the legal wherewithal. Women have managed to enter most sports once the exclusive domain of men, even ice hockey, football and rugby. Using Hollywood as a cultural indicator, for every macho movie like Ali, there's a film like Crouching Tiger, Hidden Dragon or Charlie's Angels.
We seem to have become more comfortable with women being just as aggressive — even as violent — as men. That goes for moms, too. While middle-class — read "nice" — mothers in particular are still expected to put their children's needs first, to always model non-violent behavior, matriarchs are coming to combat sports in droves.
Classes in boxing, kickboxing and martial arts have been offered at nearly every health club in the area for several years. At Twin Oaks Sports and Fitness in South Burlington, General Exercise Director Michelle Rivard confirms the number of combat classes there has increased from two per week three years ago to about two per day now. Most of the "fighters" are female.
It works for me. Since age 12, running had always cleared my head and made me more relaxed. But after the birth of my second child, no amount of jogging alleviated the stress of having two small children. I still felt like screaming at the slightest provocation.
Then one day a large, extremely buff man approached me in the park and said, "Hey, you should box. I teach a boxing class." He handed me a flyer. Now, I'm not a religious person, but I believe that man was a messenger from on high, because I did try boxing, and it was a revelation to me. I — a peace-loving, conflict-avoiding, nurturing mother — love to hit things. I found wailing on a bag or sparring with a partner oh so pleasurable.
How do I tell my girls that I really like to fight? There must be a way to reconcile combat sports with mothering. And who better to do so than the very same women who like to put up their dukes?
Looking for answers, I roamed local gyms over the past four weeks, talking to mothers in combat sports classes. The 12 women I interviewed range in age from 31 to 62, and their involvement varies from aerobic-style classes that utilize boxing moves to fighting in martial arts competitions.
Most women I spoke with began the training for exercise. Calvin White, a 39-year-old mother of one and a second-degree black belt in Tae Kwon Do, took up the martial art for a fitness routine after a few years as a bicycle messenger in Boston. Marian Griffiths, 46 and the mother of two boys, and Ghislain Deis, the 47-year-old mother of two grown daughters, had both taught step classes. Bored after some 20 years of aerobics, Deis decided to try teaching kickboxing. Now there's no turning back. "It's the greatest thing ever; the hour goes like that," she says, snapping her fingers. It was love at first punch for Griffiths as well.
Both women are watching themselves, and the other women in their classes, get stronger, especially in their upper bodies. "Women in general see results in their arms pretty quickly," Griffiths says. "My arms are strong. I don't have to ask for help lifting a 40-pound bag of dog food or bringing wood in."
Increasingly, she finds that brawn is also considered beautiful. A Mary Kay sales director, Griffiths often attends national corporate events and wears sleeveless evening gowns. Her colleagues "really compliment me on my arms," she notes. "Most of the really successful directors are part of vigorous exercise programs, so we all mug it up for the cameras, make our muscles bulge in our sequined gowns."
Some of the women I spoke with came to combat sports to spend more time with their children, even working out in the same classes. Michelle Bullis, a 31-year-old Burlington mother of three, started Tae Kwon Do last summer with her 11-year-old son, D.J. Other than taking a few aerobic classes here and there, Bullis had never worked out regularly and is thrilled to be fighting.
"I was taught girls sports/boys sports — don't cross the line, stay in your norm," she says.
Participating in a combat sport has given Bullis a level of confidence she wouldn't have thought possible a few years ago. "I'm soft-spoken, an introvert," she concedes. "But there's a certain power to working out in [a martial arts] class, and I'm learning to be more outspoken and in charge."
But what about the violence? Most of the women see combat sports more as a way to be better, less-stressed mothers. White says she never studied martial arts to "do damage," but rather for "the beauty and art of the techniques." Fighting in competitions over the past 14 years, she has never been able to "really go for knocking someone unconscious," she says.
Karen George, a South Burlington mother of three, suggests kickboxing can help channel frustration. "It's a way for women, for mothers, to own that part of themselves that is aggressive," she offers. "As mothers, it's really important to express that frustration in a sane and controlled situation."
So, according to these women, all I have to do is explain to my two young daughters that combat sports are just a way of working out. It's not violence, it's aggression management. But I'm a little afraid of this second rationale; they both can already execute a really painful front kick.
White nails my dilemma when she says: "On the one hand I think I don't want [my daughter] to see me doing it. I don't want to model aggressive behavior and I want her to think of me as nurturing. On the other hand, I want her to know that women can be powerful."
I don't know whether this conflict between "fighting like a man" and being a "good mother" can be solved. But maybe it doesn't really have to be. After all, even though the women in my sample agreed they'd never use aggression to solve problems, their children think it's cool that mom knows how to fight.
At a recent Tae Kwon Do tournament, I found myself going up against a much more experienced fighter — a seemingly nice mother. I lost, badly. When I showed a video of the fight to my daughters, one of them shouted, "That other mom rocks. She kicked your butt."