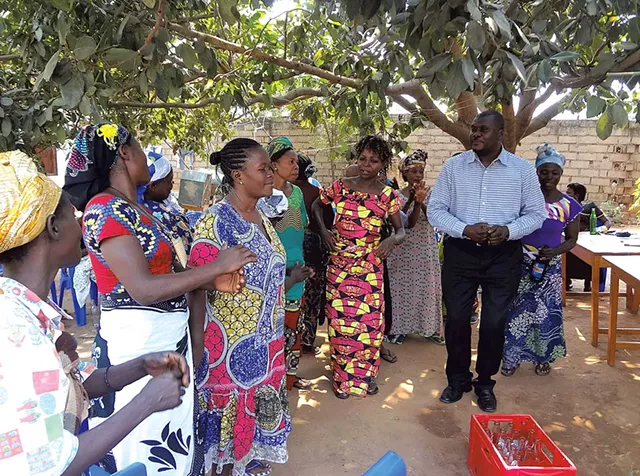 Courtesy Of Ibutwa
Cleophace Mukeba in the Congo
Cleophace Mukeba is a self-confessed "mother's boy" and feminist. Growing up in the South Kivu province of the Democratic Republic of the Congo, he helped his mother with household chores.
"I wanted her to let me do [them] so that she can rest," Mukeba said.
Today, the 49-year-old Vermonter lives in Burlington and works as an interpreter. He is also the founder and executive director of the nonprofit Vermont Ibutwa Initiative (VIBI). Mukeba established the organization in 2011 in memory of his mother, who was killed during civil unrest months before the First Congo War started in 1996. He is a New American looking to make a difference in his old home.
Other Vermont nonprofits working for global change
Ibutwa means "renaissance" in Lega, one of the dialects spoken in South Kivu. The nonprofit gives a new lease on life to Congolese women and girls who were victims of sexual violence during the country's protracted civil war.
"Women in Congo are living in a male-dominated culture," Mukeba said. "Nobody thinks that women deserve a second chance."
VIBI operates in Uvira and Kamanyola villages. It helps 33 families, including 110 children. Women head most of the households. Victims receive medical treatment and financial help to start small businesses. The nonprofit also pays for the children's schooling and uniforms.
VIBI receives most of its funding from churches and private donors in Vermont. "One hundred dollars can send a child to school for a year," Mukeba said.
The nonprofit employs three in-country Congolese. Kangele Bin Kazembe is the field coordinator. Pelagie Missasa runs the sustainable livelihood program, helping the women plan their budgets and manage their profits. Emmanuel Lwitela is the director of Ibutwa Clinic in Uvira.
Since its inception, Mukeba's nonprofit has faced challenges. Its medical supervisor died during childbirth last year. One of the women in Kamanyola was so successful in her pig-raising project, he noted, that a jealous villager poisoned her sow.
"It's tough because it consumes most of my time," Mukeba said of the work. But he remains undeterred because he's seen how women and children have been able to turn their lives around.
"I'm trying to do what I can do for them," Mukeba said. "We'll get to where we're supposed to be."