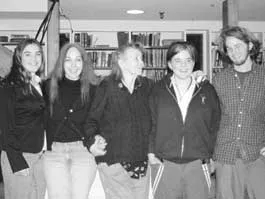 At the end of March, poet Ruth Stone experienced two firsts: She read in public with her daughter Abigail and Abigail's three children — Hillery, Walter and Bianca — and when she got up to read, she discovered that she couldn't. The 86-year-old writer's eyesight has been gradually deteriorating, and on that night at Burlington's Rock Point School, she was unable to see her poems.
As the elder Stone began to falter, a chorus of encouragement erupted from her progeny. "Gramma, you can do it!" "You know your poems!" "You're doing fine!" "Don't give up!"
Her daughter, novelist Abigail Stone, quickly went to her side and began whispering the lines in her ear so she could repeat them. But eventually Ruth, irritated and discouraged, sat back down. Her grandchildren enveloped her in a group hug, while Abigail stayed at the podium to read her mother's poems herself.
For the fiery, independent author of 12 books of poetry, it was a frustrating and emotionally charged moment.
When the Rock Point reading was over, Ruth Stone seemed embarrassed to have been caught in a moment of weakness. Her granddaughter Hillery knelt before her, grasped her hand and stroked her knee. "Oh, Gramma, you did fine," she said. "These are beautiful poems. Everybody's eyes fill with tears when you read them."
"These?" asked Ruth, suddenly uncertain. "These are old poems."
Though Stone can be self-effacing and dismissive of her own work, her accomplishments tell a different story. In the 43 years since she published her first book of poems, Stone has collected an impressive array of awards, including a Book Critics Circle Award, two Guggenheim Fellowships, The Delmore Schwartz Award and the Shelley Memorial Award. She also was given a Cerf Lifetime Achievement Award from the Vermont Arts Council several years ago.
Sharon Olds, winner of the Lamont Award and the National Book Critics Circle Award, writes in This House Is Made of Poetry: The Art of Ruth Stone: "She is a poet of great humor — mockery, even — and a bold eye, not obedient. There is a disrespect in her poems, a taken freedom, that feels to me like a strength of the disenfranchised."
Vermont author Grace Paley is also a Stone fan. "Ruth Stone is a wonderful poet, really one of the finest poets in our country," she raves. "There's no forced feeling in her work. It's always clear. It's sort of very clear water out of a deep well."
The Oxford Companion to Women's Writing in the United States describes Stone as a "'mother poet' to many contemporary women writers." But never mind them — she's literally a mother, and a grandmother, to her own illustrative family of writers, artists and musicians.
---
That practically the entire family participates in some right-brain endeavor doesn't surprise Ruth Stone. "There have always been a lot of writers and artists in my family — my grandmother, my aunts and uncles," she explains over the phone from her house in Goshen. "I really think some of it is genetic."
Abigail, 48, is best known for her novel, Recipes from the Dump — Vermont author Julia Alvarez calls her voice "refreshing, zany and fun." Phoebe, 54, an artist and children's book author/illustrator, has published several volumes, including What Night Do the Angels Wander? and When the Wind Bears Go Dancing. Their sister Marcia, 60, chose psychology over art, but one of her daughters is a writer attending graduate school in Wisconsin. And Abigail's three children, featured in the March reading, are actively exploring their artistic leanings as well.
Ruth's daughters cite other influences besides DNA, including their unconventional childhoods. Growing up with two writer parents — Walter Stone was also a poet and a college professor — the girls encountered numerous literary figures in their father's academic circle. For a while the family lived in Pough-keepsie, where Walter had a teaching position at Vassar College. But while on sabbatical in England in 1959, Walter Stone committed suicide.
It was a devastating blow to the family, and they were forced to vacate their Vassar-provided housing. Though Ruth is now celebrated as a pioneering feminist poet — she retired last year as a full professor from SUNY Bing-hamton — at the time of her husband's death she was virtually unknown. Consequently, Ruth carted her two youngest daughters around the country for years as she chased short-term teaching jobs. During the summers they lived at the house in Goshen, which Ruth had purchased in 1957 with money she received from a Kenyon Review fellowship.
Phoebe Stone addresses that unstable period of her life in her young-adult novel, All the Blue Moons at the Wallace Hotel. The main characters, Fiona and her little sister Wallace, live with their mostly absent mother in a mostly empty, sprawling mansion. The girls struggle to fit in with their more "normal" peers after their father is murdered.
A marvelous dancer, Fiona longs "to have the kind of name that when you go to buy one of those license plates for your bike with kids' names on them, your name would be right there." She fervently wishes to trade houses with the boy in the trailer next door. At least it's warm, and everything works right.
Though much of Abigail's writing focuses on her experiences as a mother, she shows up as a child in her sister's and mother's work. When asked about Phoebe's book, Abigail admits to being Wallace, the more eccentric of the girls, who sometimes wears two dresses at once and befriends an elderly woman with a penchant for exotic birds.
Abigail also appears in Ruth Stone's poem "Madison in the Mid-Sixties," cited in Mary Ann Wehler's essay, "Ruth Stone: Voice From Society's Margins." In it, Ruth directly addresses the adversity she faced as a feminist poet before that designation was popular or profitable. The family is driving from the East to Madison, Wisconsin, and the chairman of the university's English department can't be bothered to find them housing. "Find a motel," he advises.
"Before my father died," says Abigail, "their friends were literary figures, some of whom were on the verge of great success. We had been at the top of the literary ladder, and we fell to the bottom. None of their friends would have anything to do with us."
Like her mother, Abigail has taught at SUNY Bing-hamton — she just finished a two-week residency there — and will be at the Green Mountain Writers' Conference this summer. Also like her mother, she has a sharp wit and a willingness to speak about her struggles with poverty and parenthood. In her faux-culinary novel, Recipes from the Dump, she offers formulations such as "Dignity Divinity," with ingredients like "1 father, deserted, 1/2 cup sugar, 2 cups flour, 2 heaping tablespoons children, 1 father disappeared, 1 indulgent or disinterested town, 1 woman with a weight problem, shabbily dressed, 1 or more public embarrassments."
"I'm a single mother," Abigail notes. "I chose to live in pretty poor conditions and be with my kids more. And I'm glad I did that. I wish I had done that more." She's had a variety of jobs, including a brief stint doing radio.
"She's the glue that holds the family together," declares Hillery, 25. "She's a fabulous writer, and a fantastic mother and role model and person."
She and her twin siblings say their experiences growing up with Abigail influenced their development as artists. Each cites, for instance, the lack of a television. "I spent a lot of time growing up locked in my head," says Hillery. "We didn't really have any outside stimulation."
Abigail clarifies that the family actually did have a TV; it just didn't get any channels. Eventually she bought a VCR and "We watched a lot of foreign films."
Walter, 18, who shares his grandfather's name, notes another source of literary stimulation. At family gatherings everyone — aunts, uncles, cousins and kids — plays the poetry game. One person offers a few words, and the rest write a poem including those words. "All the poems are kind of similar," Walter concedes, "but it makes the uniqueness of each writer obvious."
Not all their creative pastimes — dress-up clothes, books and musical instruments — were so organized. But it was significant that the adult Stones valued creativity as much as the kids did. "When I hear parents say, 'That's good, but try this,' or 'That's not the right color for a face,' I think you're knocking the creativity right out of them." complains Abigail. "I had one rule," she declares, "which is that if someone is creating, you cannot bother them, you can't ask them to stop."
She laughs and reflects, "You don't know noise until your 11-year-old son takes up the drums and plays them for five hours a night in the living room."
Abigail admits this "wild and very unstructured and unconventional and messy" environment was not always easy. But, she muses, "I think it worked."
---
Three young Stone authors now trace their literary lineage to Abigail, and through her to Ruth. "We all just grew up under the umbrella of my grandmother," explains Hillery over the phone from her Manhattan apartment.
Like her grandmother, Hillery has won several literary prizes, including two for young Vermonters, one of which was judged by former Vermont state poet Galway Kinnell. Recently she received Honorable Mention in the Allen Ginsberg Award competition.
Hillery graduated from the University of Vermont, where English professor and novelist David Huddle says, "She was one of the best writing students we've had at UVM." "I think she carries the burden of being a writer in a family of writers with considerable grace."
After graduation Hillery moved to New York City, where she works for a publishing company. She starts an MFA program at New York University in the fall.
"I've been writing my whole life," Hillery says, describing her creative process. "I think in poems. I dream in poems. When I'm at work, and someone walks by, and someone else is ordering lunch, I'm thinking about those things in poetic form."
Walter and Bianca are more eclectic. Both play guitar and Walter also plays drums. Like his older sister, he has won a Vermont poetry competition. He also followed Hillery to Rock Point, then left after his junior year to attend Eugene Lang College at New School University in New York. "I used to be in rock bands," he recalls over the phone from his dorm room. "Now I do electronica-slash-rock-slash-I-don't-know. It's my own kind of genre I'm creating." He's also writing a play.
Bianca still lives in Middle-bury, but this year she'll graduate from Red Cedar Academy in Bristol and leave for Antioch College. Two summers ago, Bianca went on a reading tour with her grandmother. She's also a sculptor and performs in a band called Speed Smear. "It means when your car is going really fast, and it's the blur on the side of your car, outside the window," she explains. "We learned about it in driver's ed and thought it was cool. It's a feminist rock group." So far the band has three original songs — "The Third Reich," "Quaker" and "I Lost My Clash Pin."
As writers, the Stones share some stylistic similarities, especially Abigail's offspring. They're confident in their ability to experiment with different styles and forms in the search for their own voices. And they seem to possess an innate facility with language. For instance, Hillery sets the scene in her poem "St. Petersburg" by describing the "dirty steam" with a layered intensity: "the metallic odor is the inside of a gun, a dizzying, relentless/copper in my hair that falls and falls against my face."
Walter demonstrates this lyrical gift in "The Vapor in My Flashbacks" when he speaks of flashbacks as an estate where "antique sleep settles much like a curtain/over layers of baked and crumbling air."
The youngest Stones exhibit another remarkable skill for their ages: knowing how and when to end a poem. Consider the conclusion of Bianca's political "Route Through Bristol":
"I think of my grandmother, wiping the sink,/and washing out water jugs. I think of some/sand slipping slowly from an eyelid, on some/third world ground./ Faceless fears, in an old devious country."
In Hillery's poem about St. Petersburg, she leads the reader to Dostoyevsky's grave and issues a warning:
" …Be careful/of the dark; the elegant knees stretching under a stone skirt/at his grave; the old woman who will slide lovingly against you/and take everything."
Emily Skoler, a former editor of the Boston-based Sojourner, who was featured in the recent anthology, Onion River: Six Vermont Poets, worked with both Walter and Hillery while they were students at Rock Point School. "Their work is incredibly imaginative," she observes. "I first saw their writing when they were 16 years old, and it was emotionally perceptive and complex. It was refreshingly different from the confessional, 'here's my angst' poetry.
"Not that they were strangers to angst," Skoler adds, "but they're able to tap into some universal chaos and beauty in an emotion. I think they have a gift for and a need to express the beautiful and painful aspects of being human."
While it offered listeners a rare opportunity to hear three generations of Stone writers at once, the family reading in March also provided a glimpse into the unbridled way the five writers interact. When Abigail read a line from her current project, Old War Wounds: American History, about the speaker's teen-age daughter who listens to Korn, Bianca interjected from behind her, "I don't like Korn!"
Hillery suggests Bianca might not like being written about because she still lives at home. But relinquishing personal privacy seems to come with the territory. "It's an unspoken thing in our family, we allow each other to say whatever we need to say," Hillery notes. "We have to be careful, because we each know what it feels like to have someone write about us."
Despite any resentment such literary exposure might stir up, the Stones seem a close-knit bunch. "We have a very fierce, intense love for each other," Hillery concurs, growing increasingly animated. "There's a lot of respect and admiration."
When Ruth Stone stumbled over her poems, the family's protective response was no surprise. Her grandchildren put their arms around each other as they watched Abigail read Ruth's words. Despite the presence of the audience, the spontaneous display of affection and camaraderie was neither awkward nor false. Like their mutual artistic passions, the embrace seemed like just a natural consequence of being the family Stone. m
Ruth Stone's 12th book of poems, In the Next Galaxy, is due out this month from Copper Canyon Press.