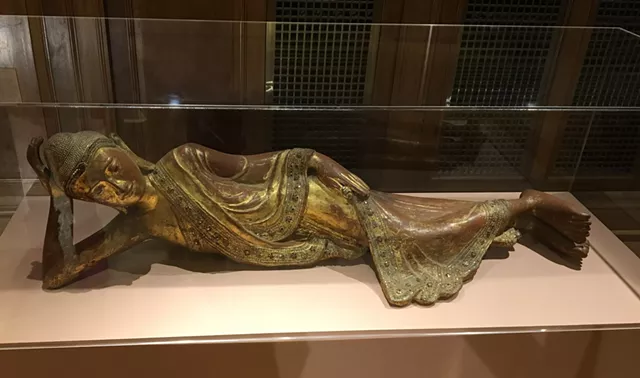 Sarah Tuff Dunn
A reclining Buddha
My 10-year-old daughter, Dillon, and I are the odd couple in our family. I'm a neat freak; she's, well, a slob. I could barely play "Chopsticks" as a kid, while she's playing Chopin. And when it comes to our artistic skills, it's the same story. Dillon can paint like Chagall while my stick figures wouldn't pass muster in kindergarten.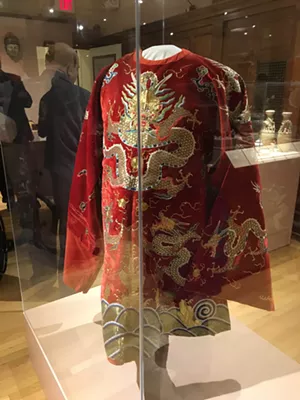 Sarah Tuff Dunn
A Chinese robe
So it was with some mixed feelings that we jointly ventured to the opening reception of the spring exhibitions at the University of Vermont's Fleming Museum of Art. At Middlebury College more than 20 years ago, my favorite course (though I was an English major) was art history, so I was looking forward to seeing the museum's just-opened
Gallery of Asian Art
along with "Catherine Jansen: 1008", a photography exhibit focused on India, and "Imbibe: Drinking in Culture," devoted to the ways that humans shape and share the beverages they drink.
Dillon and I walked in the front entrance from the cold, her purple pom-pom hat squarely on her head. She took one look around the crowd of adults and looked at me forlornly. "When will we go home?" she asked. "We just got here!" I said. Clearly, she needed a little direction, so I armed her with one of her favorite things — a spiral notebook — and a pencil and asked her to wander through the exhibits and write down which pieces were most special to her.
Sarah Tuff Dunn
Decanter set
Less than 10 minutes later, she was back with her list. Inwardly, I rolled my eyes. How could she appreciate art in that amount of time? But as she led me through the Gallery of Asian Art and pointed out her choices — a bright-red dragon robe from the Qing Dynasty in the 1700s and the reclining Parinirvana Buddha from Burma in the 1800s — I found that they were the exact two that I would have chosen. The same was true as Dillon pointed out a surreal photo that she called "Big Rock" from "Catherine Jansen: 1008" and a delicate, sage-green decanter set displayed in the "Imbibe" exhibit.
Amazingly, through art, our odd couple had synergized. I was buoyed by the moment of connection.
"Why did you like all those pieces?" I asked Dillon.
"They are old, they are cool," she said. And I was cool with that.



The Gallery of Asian Art is permanent, while Catherine Jansen: 1008 and Imbibe: Drinking in Culture will be at the Fleming Museum through May 21. Find more information here.