Jeb Wallace-Brodeur
Peter and Dick Dreissigacker
After 40 years of selling one of the world's most popular indoor rowing machines, brothers Peter and Dick Dreissigacker had a solid handle on the demand for their product. Or so they thought.
In 2021, a year into the global pandemic, stir-crazy masses snapped up all kinds of fitness equipment. Sales of the Dreissigackers' RowErg machine soared — nearly doubling from pre-COVID-19 levels in 2019. Their Morrisville-based company, Concept2, could barely keep up. At one point, the wait for orders stretched to 10 weeks.
"It was crazy," Dick said of the increase. "If we had had the product, it would have been higher than that. It would have been three times" normal sales.
Even amid heavy competition from the likes of the membership-driven home-workout phenomenon Peloton, which sells its own equipment, the RowErg has held its own. Concept2's machine remains the indoor trainer of choice for casual users and serious rowers alike.
Continuing a long tradition of supporting indoor races, in February the Vermont company will again sponsor and provide all the equipment for the World Rowing Indoor Championships. The sport's premier competitive event takes place this year in Toronto. For the first time, the championships are hybrid, with competitors joining the action in person and virtually, in real time, on their Concept2 machines from all over the world.
At $990, the RowErg qualifies as one of the more affordable indoor rowing machines. The Peloton version, by comparison, costs about $3,200, and few others come in under $1,000. Many competing rowing machines use electromagnetic resistance, which the Dreissigackers said produces less consistent outcomes than their air-resistance model. The RowErg uses a flywheel with an internal fan to increase resistance as rowing picks up speed, for an experience similar to rowing on water.
"When you pull, you add energy, and then when you recover, it just free coasts; it coasts by itself," Dick explained. "By measuring the drop in rpm during that coast, you can determine the resistance on that flywheel."
The latest version of the RowErg, Model D, has custom-made components and better technology to improve the look, size and feel. A cast-aluminum flywheel has replaced the bicycle wheel of the original, at half the diameter. Users can connect via Bluetooth to a performance monitor with their phones and upload their own apps or race with preloaded ones against friends anywhere in the world.
"It really is the industry standard," said Liz Soutter, indoor rowing sport manager for World Rowing, host of the indoor championships and the governing body of 157 national rowing federations.
She described the Concept2 as a "robust" and high-quality machine that belies its affordability. "You can row the same workout 20 times, and you know that the score you're getting is reliable," she said.
Along with a "dynamic" indoor rower for intense competitors, Concept2 also offers the SkiErg indoor cross-country trainer and the stationary BikeErg. Many of the machine parts are fabricated by Vermont companies, and all of them are assembled at nearby Manufacturing Solutions, founded in Morrisville by a former Concept2 production manager.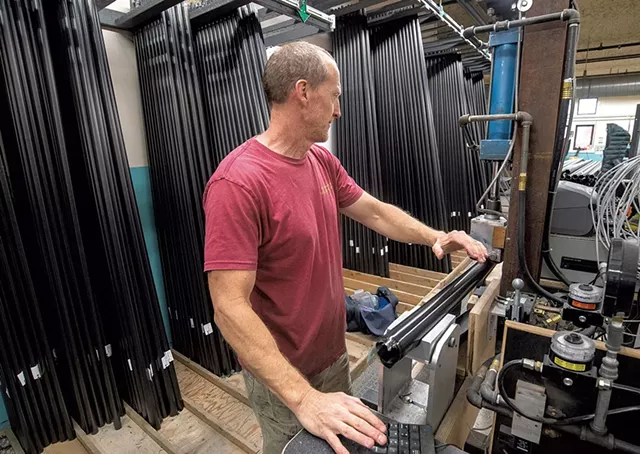 Jeb Wallace-Brodeur
Bill Cleary testing oars
On-site, Concept2 still crafts the synthetic-material oars on which the Dreissigackers built their business 50 years ago. Their sprawling building sits in an industrial park wedged between factories that manufacture two quintessential Vermont products: Butternut Mountain Farm maple syrup and Turtle Fur warm headwear. There, Concept2 churns out oars in a variety of lengths, widths and blade styles for both sculling (rowing with two oars, one in each hand) and sweeping (rowing one oar with two hands). Their hollow carbon poles are lightweight but strong, and the carbon-fiber blades come in different oblong shapes to slice through the water. On a recent afternoon, racks of finished oars and long cardboard boxes of them awaited shipment to Chile, the Netherlands, China and France.
The company is privately held by its founders, who declined to provide sales figures. But it holds a significant chunk of the global market for rowing machines, valued at $1.47 billion in 2021, according to Data Bridge Market Research, which studies the industry and ranks Concept2 at the top of its list of major players.
With the exception of the pandemic years, which included a six-week shutdown in 2020, the company has had average annual revenue growth of 5 to 10 percent since its founding, the brothers said. "Our whole goal was to be gradual and sustainable and steady," Dick said.
The brothers still get out on the water to row when they can, at their property on Great Hosmer Pond in Craftsbury. Dick's wife, Judy Geer, and Peter's wife, Bari, both help out with marketing, employee relations and other roles for Concept2. In 2008, the Dreissigackers took over and created a nonprofit to run the Craftsbury Outdoor Center, which has become renowned for its summer rowing schools.
As Dick described a good sculling team strategy, he could have been talking about his and Peter's approach to their business.
"If you go out fast and you get a little bit in front, you can see your competition behind you," he said. "So you want to try to get a pretty fast start, and then you kind of settle into something that you can maintain, and then you sprint at the end with whatever you have left."
The Dreissigackers grew up outside New Haven, Conn. Dick, now 75, played high school football but grew intrigued by rowing. As a first-year, he joined the rowing team at Brown University, where he earned an engineering degree.
Peter, 71, received his engineering bachelor's and master's degrees at Stanford University, and Dick moved to California to pursue a master's while coaching the Stanford rowing team. In 1972, Dick competed with the U.S. Rowing team in the Summer Olympic Games in Munich. Four years later, he and Peter made their first reinforced wooden oar with a fiberglass and wooden blade in the oven of their Palo Alto apartment. Wooden rowing oars are heavy and warp over time, and the brothers thought they could do better.
They were right. Their oar business quickly picked up speed. That summer, they traveled to Princeton, N.J., to compete in the 1976 Olympic trials in pair rowing. They didn't make the team, but their East Coast trajectory led them to a defunct dairy farm for sale on Route 100 in Morrisville, which they bought for their oar production.
In 1981, the Dreissigackers created the Rowing Ergometer — a device that measures energy expended during physical exercise — with a bicycle wheel spun by a chain that buzzed when yanked with a wooden pull. Rowers sat on a tiny seat that slid back and forth along a steel track to mimic the motion of rowing. A mechanical sensor, similar to a bike odometer, recorded the revolutions of the wheel.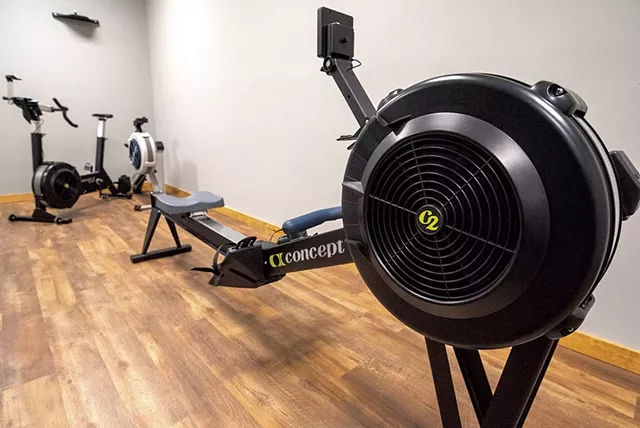 Jeb Wallace-Brodeur
Concept2 rowing machines
The first version cost $450. Most machines at that time ran $3,000 to $4,000, a price that only big rowing clubs tended to pay.
Soon after Concept2 launched the Rowing Ergometer, a bunch of Harvard University rowers in Boston decided to hold an indoor race using "the Erg," as enthusiasts dubbed it. The racers had six of them, and Concept2 brought T-shirts as prizes.
It was the first indoor rowing competition that Concept2 sponsored — and one of the first ever, the brothers recalled. They brought a Commodore 64 computer to track scores. "You could see on a screen how you were doing against other people," Dick said.
"We had wires everywhere," Peter added.
In 1984, Concept2 expanded from the farm to its current site. Over the next two decades, colleges across the country put more money into women's rowing teams in response to federal Title IX legislation mandating equal access for women in collegiate sports. High schools created rowing clubs to help girls tap into the opportunities for college scholarships. Many of those institutions added the RowErg to their gyms, and Concept2 sales surged.
"Your 2K score on the Erg became almost like your SAT score," Dick said, referring to the common performance measure of four 500-meter rows.
For years, the Dreissigackers heard that school ski teams were mounting the rowing machine vertically against the wall to use for off-season cross-country training. It wasn't ideal, Dick pointed out, because the chain pulling the upside-down wheel hung over users' faces. So, they created the SkiErg, which came out in 2009.
The Dreissigackers said they hesitated to enter the exercise bike market, which was saturated with existing players at all price ranges. But their customers clamored for it, including owners of fitness centers that housed Concept2's other machines. In 2017, the BikeErg joined the product line.
The RowErg accounts for about 75 percent of the company's workout machine sales, while the BikeErg and SkiErg together tally about 25 percent. Oars still represent a small but significant part of the business, the Dreissigackers said.
Concept2 provides parts and service for repairs of its products, which are known to last for decades. The company has staked its success on its reputation for making machines that deliver consistent performance and for standing behind its products, Peter said.
"It's a reputation that we protect," Dick added, "that we work on diligently in terms of the production and how the machines need to be made in order to maintain that kind of trust."
Correction, February 2, 2023: This story has been updated to reflect that the global market for rowing machines in 2021 was $1.47 billion.