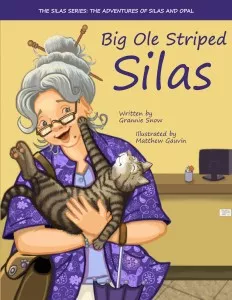 Brenda "Grannie" Snow had only one book in her house when she was growing up in Morrisville — a story about a bunny. She can't remember its title, but she does remember clinging fiercely to the book. "I was a late reader and once I started reading I was just struck by the eloquence of writing," she says.
Snow, now the human resources director for headwear company Turtle Fur and still living in Morrisville, has always dreamed about being a writer but it wasn't until she became a grandmother that she decided to go for it.
"I'm going to be 60 this year and I thought, 'If I don't do it now I probably never will,'" she says.
Big Ole Striped Silas
, which Snow self-published in January, tells the story of an older woman whose beloved cat, Ninnie, has died. She goes to the shelter in search of a new companion and comes home with Silas. The picture book tells the story in playful rhyme accompanied by colorful pictures by East Burke illustrator, Matthew Gauvin.
It's the first book in a five-part series, based on Snow's own experiences, that chronicles the adventures of Silas and a Siamese cat named Miss Opal. The second installment,
Silas Gets a Sister
, is slated to go to press early next month.
Independent bookstores across the state carry the book. Snow has also visited elementary schools in Twinfield, Milton, Essex, South Burlington, and Swanton, among others, to read
Big Ole Striped Silas
to kindergarten through fourth grade audiences. That's been "the cherry on the sundae" of the whole experience, she says.
She recalls one experience reading at a school where she had pegged a boy as someone who might not be interested in the story, then watched him come alive as she read. "That's a really, really, really good book!'" she recalls him saying at the end of the story.
"I shared something with this boy that really made an impact on him," she says. "It just feels good."

Snow is available to read her book at libraries, farmer's markets, animal shelters and schools. You can contact her at granniesnow@gmail.com Learn more about Big Ole Striped Silas and Snow's other upcoming books by visiting her website.