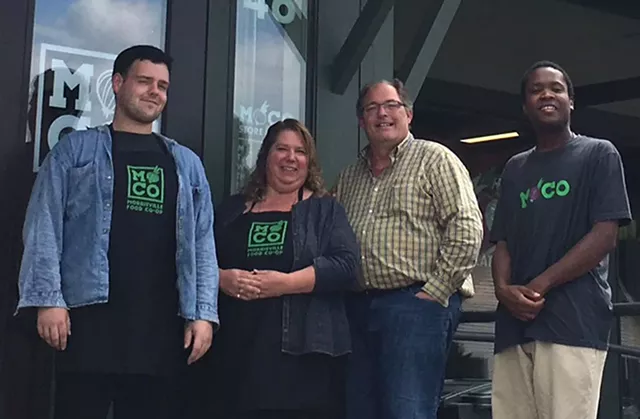 Courtesy of MoCo
Elizabeth Casparian with other MoCo staff
The new Morrisville Food Co-op will open by the end of September and possibly as early as this weekend, said communications director Elizabeth Casparian.
Known as MoCo, the member-owned co-op at 46 Pleasant Street occupies a 3,000-square-foot space in the center of town. Its location will offer residents without cars easier access to local produce, grocery staples, olive oil, pet food, cleaning supplies and more, said Casparian. She spoke by telephone with Seven Days, taking a break from stocking co-op shelves.
"It's a relative food desert for people who do not have cars and live in the town of Morrisville," Casparian said. "When we started having conversations about what would be a good thing to have here, a food co-op was one of the highest items on the list."
MoCo is a natural foods store focused on working with local producers and vendors. When the co-op opens, it will carry products from about 150 local farmers, cheesemakers, sugarmakers and others.
"That number will continue to grow," Casparian added.
MoCo has a kitchen and a café and will offer a selection of prepared foods including coffee, pastries, soups, and grab-and-go foods. Casparian expects these aspects of the store to expand over time, too.
The co-op had 804 members as of this Monday. Nonmembers may shop at the co-op, and people may become members at any time. A lifetime membership is $200.