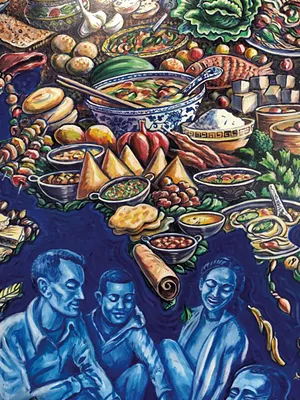 Sadie Williams
A Tara Goreau mural at the South End City Market
Last week, Seven Days reported on the continuing controversy surrounding the "Everyone Loves a Parade!" mural just off of Burlington's Church Street Marketplace. The task force charged with delivering recommendations to the city council is still working on it, but meanwhile there are other mural updates in the Queen City.
The new City Market, Onion River Co-op got a fresh coat of paint earlier this summer. Tara Goreau, the Burlington artist who painted the foliage-dense mural at the downtown City Market in 2013, recently created three murals at the South End location. Each contains subtle messages.
The largest mural — 15 by 60 feet — looms high on the wall above the checkout lanes. A large tree sprawls from its center, a woman's face emerging from the trunk. More faces are hidden in the hills and sky. Goreau, 29, explained with a laugh that she hoped to convince viewers to care about the environment by anthropomorphizing it.
The left side of the mural depicts "things that were here before," she said. It includes animals and Native Americans; a sugaring scene is based on a picture of an Abenaki man.
"I didn't want to pander too much, but I did want to [acknowledge that] their blood is still here," Goreau said. "Their methods of doing things are still here. They were the first ones to tap trees."
A second mural, in the entryway, pays tribute to the South End. Trains deliver oversize fruits and vegetables. Familiar buildings peek from between broccoli trees. A milk carton is emblazoned with Champ's visage and the words "Have you seen me?" (Hint: You can if you look hard enough.)
A third mural, in the store's breezeway, depicts a world map composed of people and food. The United States is covered with pies and waffles, with a large pretzel over New York. Mexico gets tamales and chiles; South America consists of empanadas, mangoes and other regional foods. It's hard to decipher all of the global delicacies without a legend, but the effect is mouthwatering.
In the water portion of the world mural, a young girl painted blue, who appears to be part of the ocean, eats a bright orange mango. Mangoes are the most eaten fruit in the world, Goreau said as she mimed taking a bite out of an imaginary orb.
Meanwhile, in downtown Burlington, the Cherry Street wall of Outdoor Gear Exchange is about to get a major makeover. Artist Jess Graham began painting a natural landscape dotted with outdoorsy people on the 16-by-180-foot wall on Monday.
Graham is the art director at the Alchemist in Stowe and an avid mountain biker and snowboarder. Contract curator Jill Badolato said the artist's athletic tendencies factored into OGE's decision to hire her.
Badolato, the former director of corporate social responsibility at Dealer.com, has been assisting OGE owner Marc Sherman in the mural process. She declined to disclose the budget but described it as better than fair.
A main concern in the design process was ensuring that the mural won't resemble an advertisement, Badolato said. "We couldn't have any words. We were very conscious of that." Incorporating the company's logo, or any other text, would bring the mural closer to the status of a billboard, making it potentially illegal in Vermont.
OGE and Badolato also took into account the divisiveness of "Everyone Loves a Parade!"
"We've really put into consideration having a design that was inclusive," Badolato said. "There's diversity in the people represented in terms of race, ethnicity and gender."
Graham's mural will feature rock climbers, snowboarders, hikers and other outdoor enthusiasts among colorful hills and mountains. All four seasons will be showcased.
Badolato noted that the artist's design is based on Japanese woodblock prints. "I love that it tells the story of our seasons," she said, "and how people choose to play in this place that we have, Vermont. It's our playground.
"We have this landscape, we have these mountains, we have this lake," Badolato continued. "It's a big reason why people live here."