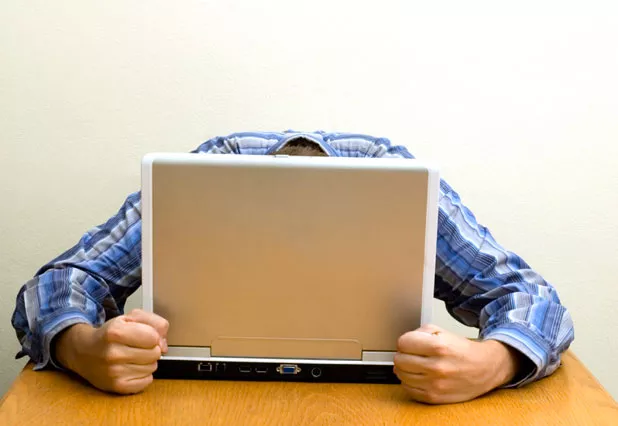 A switchover from Verizon's Internet servers to those of FairPoint Communications left an as-yet-undetermined number of Vermont businesses and consumers without Internet or email access for up to several days last week, a FairPoint spokesperson confirmed Friday.
On June 1, the day Verizon cut over its so-called DNS servers to FairPoint's, scores of FairPoint customers were left without Internet access — primarily small businesses and more sophisticated home-Internet users, such as online gamers who use static IP addresses.
The DNS, or domain name system, converts a domain name, such as google.com, into a numerical code so that the computer can find and communicate with other devices around the world, much the way a phone book translates a person's name into an area code and telephone number. FairPoint customers with static IP addresses — meaning those who manually set their DNS information into their computers — would have been unable to access the Internet if their equipment settings hadn't been changed beforehand to reflect FairPoint's new settings. Although the cutover was a scheduled event, and FairPoint says it notified its customers via phone and email, many customers reported they never got the message.
"We were expecting that some of our customers might have a service interruption," said FairPoint spokesperson Beth Fastiggi. "I suspect that any of them that did would have resolved those [problems] by now because they would have called the appropriate technical support number."
Fastiggi couldn't say how many customers lost service, or for how long; nor would she disclose how many static IP customers FairPoint has in Vermont, calling that "proprietary information." (A spokesperson for the Vermont Department of Public Service estimated the number at about 5000.)
Fastiggi also downplayed the severity of the problem, noting that, except for a small bump in call volume to FairPoint's technical support center on June 1, most of the week's call volume appeared normal. "Any customer should be fixed right now, because, basically, it's an easy fix," she added.
But for some Burlington-area businesses, the fix was neither quick nor easy. Dave Rose is owner of Rose Computer Technology Services in South Burlington, a "managed service provider" that offers mostly small business IT services. According to Rose, a number of his clients began losing Internet service early last week and didn't know why. While some of the problems could be fixed remotely or over the phone, others required more extensive troubleshooting. As late as Friday, Rose had to send a technician to a client's business in St. Albans to correct the problem. Rose wouldn't disclose how many of his customers were affected overall, though he pointed out that none had been notified in advance by FairPoint.
Zoltan Keve, vice president of sales at Caleidoscope Communications in Burlington, reported similar Internet outages from his clients. According to Keve, "dozens of customers" lost their Internet system beginning June 2. "There were various levels of annoyance," he said. "Some people's Internet was impacted a lot. Some people just couldn't browse for the afternoon … It would be as if your phone company changed your phone number without telling you."
Keve, whose company essentially acts as a telecommunications agent for various businesses, echoed Rose's experiences, noting that some customers' problems were quickly rectified over the phone, while others required more significant troubleshooting.
"When companies like FairPoint and Verizon decide they're going to transition major numbers of customers from one DNS address to another, that should be a planned event that's publicized," Keve said. "Notifications should go out. Instructions should be provided. None of that happened."
Caleidoscope filed a lawsuit against FairPoint earlier this year, claiming the company stole clients from Caleidoscope and engaged in deceptive and unfair trade practices; FairPoint denies the allegation. The case is pending.
Apparently, neither FairPoint nor Verizon notified the state that the recent cutover was scheduled to occur. "We didn't receive any heads-up that it was going to happen," said Tamera Pariseau, coordinator of consumer affairs for the Vermont Department of Public Service. When, after receiving numerous consumer complaints last week, DPS finally contacted FairPoint, "Their response was, they were not really sure what was happening, either."
Last week's problems were unrelated to an outage that occurred Monday, when as many as 12,000 Vermont FairPoint customers lost internet and email service for most of the day due to a router failure. Also on Monday, the South Burlington Police Department, Fire Department and city administrative offices lost the use of their phone lines for nearly six hours following an outage caused by a FairPoint circuit failure.
Although emergency 911 operators were able to maintain continual contact with police and fire agencies throughout the outage due to redundancies built into the communications network, at one point South Burlington's administrative offices were down to just two operable phone lines. A police spokesperson described the incident as "a significant inconvenience" to city operations.
Clearly, state officials are losing patience with FairPoint's ongoing troubles. Following Monday's widespread telecom outage, Pariseau noted that there's a Public Service Board workshop scheduled for June 16, during which they'll be "really looking at what our options are and what we can do, if anything, to try to better protect the consumers from these types of incidents.
"I would hate to say it's just a bad week, because it's just one thing after another," Pariseau added. "They really have some challenges that seem very difficult for them to overcome."
This week's technical glitches are just the latest in a series of aggravations FairPoint customers have endured over the last year since the Charlotte, North Carolina-based company took over the landlines and Internet network from Verizon throughout Vermont, Maine and New Hampshire. The most serious of those problems occurred on September 3, when customers in northern Vermont were unable to access the emergency 911 system for approximately 90 minutes. DPS Commissioner David O'Brien called that outage "preventable" and "absolutely unacceptable."