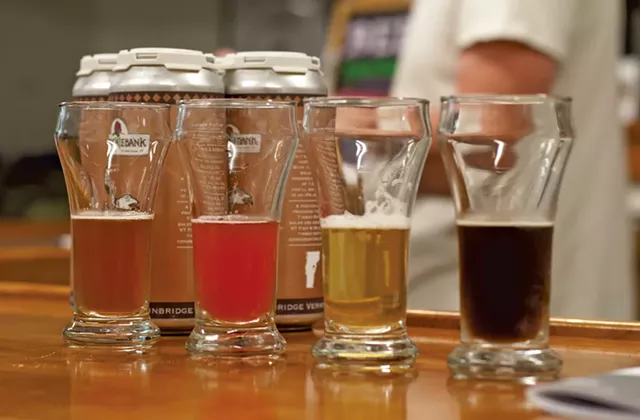 Hannah Palmer Egan
Beer at Tunbridge's Brocklebank Craft Brewing
Hey, hey, the Vermont Brewers Festival is this weekend. It's news to exactly no one that in the past few years, Vermont's beer scene has ballooned in scope and size. Since 2014, Vermont Brewers Association membership (only a partial accounting of the state's brewers) has increased from 40 to 51; according to a 2016 study, the industry generates nearly $400 million in statewide economic output each year.
A handful of the newish breweries, such as Hinesburg's Frost Beer Works, Williston's Burlington Beer and Burlington's Queen City Brewery, sell most of their beer in cans and kegs at retail outlets and restaurants. But the majority of newcomers operate on a community scale, transacting the bulk of their sales face-to-face with visitors right in their tasting rooms.
Their customers? Mostly folks from nearby. In some remote areas, a neighborhood brewery represents one of the only places in town to grab a beer.
Over the past two weeks, Seven Days reporters have beaten the pavement — or, in many cases, bumped over dirt roads — to get a sense of what these DIY spaces are all about. Often situated in the brewers' backyards, these breweries offer an intimate, zoomed-in drinking experience. Usually, it's the brewers — or their spouses, family members or neighbors — behind the bar pouring pints. They know if they haven't seen you before — or if they have — and tend to deliver sips with a hearty side of friendly chatter.
As for the beers, from robust stouts and porters to ales, lagers and IPAs, they tend to reflect the brewers' personal tastes and those of their regular customers. That nuance distinguishes them from beers emanating from sales-driven production breweries, which necessarily pander to popular tastes to some degree.
"I think there's a lot of room for these community-oriented breweries that are focused on serving a very local area," said Sean Lawson, who founded Lawson's Finest Liquids in Warren in 2008.
Hannah Palmer Egan
Allan MacDonald (right) of Next Trick Brewing with daughter Ann
At Next Trick Brewing in West Burke, brewer Allan MacDonald went even further. "The über-local brewery is the future," he said, standing behind his bar last Thursday, "because people can come in and talk with — and influence, at times — the brewer."
At Four Quarters Brewing in Winooski, Nic Dacey from Fairfield, Conn., stopped for a brew with friends after playing in an ultimate frisbee tournament. "I wish this existed where I live," Dacey, 28, told a reporter. "It's small. It's rustic. It's garage-pail brewing."
Read on for tales and tasting notes from seven stops along a winding back-road Vermont beer trail.
Brocklebank Craft Brewing
357 Dickerman Hill Road, Tunbridge, 685-4838, brocklebankvt.com
Hannah Palmer Egan
Ben Linehan of Brocklebank Craft Brewing
When Ben Linehan opened his brewery in May 2015, in an old dairy tucked in the steep topography between Tunbridge and Randolph, he didn't know who would wander in. "I had no idea what to expect," he recalled, peering into a steaming brew kettle last Friday.
But, since opening Brocklebank Craft Brewing, Ben and his wife and co-owner, Anne, have been pleasantly surprised that customers are willing to come to them. "We've got great locals here," Ben said. "Probably 10 regulars come in every weekend."
They come for the friendly, laid-back setting and, of course, for the beers, which Ben brews in 1.5-barrel double batches. On any given Saturday, visitors might encounter a glass of bitter but quaffable Stack O' Lee pilsner, honoring the Linehans' trusty shepherd-retriever, who was a fixture on the brewery floor until he went to doggie heaven in May.
Last week, a pour of rosé-tinted Holy Saturday pale ale was bright and tart like lemonade. Ben brewed it with a full pound of berries per gallon of wort, he said. Meanwhile, Brocklebank's popular Timber Rattler double IPA packed all the intense hop aroma and heady alcohol content many drinkers now expect from Vermont's strong ales.
Notably, that beer was available in cans, thanks to Mike Czok at Bent Hill Brewery in Braintree, who recently bought a canning line.* Every few months, the Linehans schlep a few kegs to Bent Hill and stream them into cans, which they sell at the brewery and at a few beer stores along Route 110 and in the White River valley.
While such occasional canning runs sometimes signal an oncoming expansion, Ben said he plans to stay small. "We've got a great scene here and a great vibe," he said, spraying the kettle with cool water as it threatened to boil over. "I've made a lot of new friends that I'd never have known otherwise. And," he added, "the free beer is pretty great, too."

— H.P.E.
Cousins Brewing
9 Route 17, Waitsfield, 496-5623
Jeb Wallace-Brodeur
John Morris in the Cousin's Brewery which recently opened in the basement of Waitsfield BBQ joint, Localfolks Smokehouse.
The basement of Localfolk Smokehouse in Waitsfield holds a small brewing operation called Cousins Brewing. The brewery, which opened in the spring, produces six kegs of beer a week and expects to increase that number to 10.
John Morris, owner of the restaurant, had space for a start-up project and decided to start a small brewery. He was initially licensed more than three years ago, Morris said, but regulatory issues involving his wastewater treatment system stalled the process.
The business is a partnership run by Morris, his brother, George Morris, and their cousin, Paul Noglows. The brewer is Josh Wedel, who left his job as a brewer at Idletyme Brewing in Stowe to run the Waitsfield operation.
Wedel said his grandfather told him 20 years ago he should be a brewer. "He thought it was a great art form," Wedel said. "And I think he thought it was a great trade to learn." He came to Cousins for the opportunity to develop his own recipes and make his own beers, Wedel said.
Wedel's down-to-earth approach is evident in some of the names he's given his beers, including Adequate Maple Amber and Tolerable Pale Ale. His brewing kettle and mash tun are retrofitted soup kettles from a school cafeteria. He wants to keep things simple — and produce "awesome" brews from the basics.
"You can make a really good beer using basic ingredients," Wedel said. "We don't have a slogan for the beer. I'm not trying to be fancy or anything like that. I just wanted to make beer that I like to drink."
Wedel said he's learned from Sean Lawson, founder/brewer of Lawson's Finest Liquids, whom he has helped with packaging. (Lawson, based in Warren, is building a production facility in Waitsfield that he projects will open in the fall of 2018.)
The inspiration for Wedel's maple beer was a farmer's gift of five gallons of syrup. The beer goes down easy, yet it's not too sweet. It's on tap upstairs at Localfolk, where four of 25 tap lines are dedicated to Cousins Brewing.
"We're not going after our buddies in the double IPA business," Morris said. "To have something that you can drink a handful of and not be blacked out, if you're a bar, is a good thing."

— S.P.
Next Trick Brewing
Allan MacDonald stood behind the bar at Next Trick Brewing, just south of the village of West Burke. "I've been resisting talking to reporters," he said, warily eyeing a journalist, "because I didn't want to jinx myself." He feared the impact a few misprinted words in the paper might have on his fledgling business.
To be fair, the Montréal native has invested heavily in the leased space on Route 5 where he began selling beer over Memorial Day weekend. He spent two years converting the building into a brewery. "If I were to compare [the cost] to a sports car," he said, "I'd figure I'm up to a Lamborghini."
MacDonald's first career was as a chemical engineer, but brewing his first batch of beer, in 1989, immediately hooked him on the process. After 30 years working in biotech and big pharma, he decided to make a business of his passion.
"I like lagers," he said. His brewery's small size and local focus enable him to produce the slow-fermented styles, he added, which can jam up production schedules at busier breweries. "[Making lager requires] a lot of time and temperature control," he said, "which equates to money."
On the whole, Next Trick's beers — lagers and ales alike — have the clean, dry qualities of brews fermented for longer at cooler temps. Most lack that dewy density that characterizes many of Vermont's heavily dry-hopped modern ales.
Last week, a sample of Sugarhouse Road Ale was golden amber, delicate and crisp. The malt bill carried a touch of caramel toast from the pale crystal malts, while a splash of maple syrup added late in the boil yielded a smooth finish. The Manchester Brown Ale expertly mimicked the old English style, with its mid-weight, roasty malts and molasses undertones, while a pint of Willoughby White was an airy, easy-drinking spin on a classic weissbier.
Though MacDonald brews on a seven-barrel system (larger than those of many breweries listed here), he's more interested in serving locals and Burke's summer pedal pushers than in selling kegs to restaurants, he said.
A good thing, too: As dusk darkened the clean white tasting room, three families who were camping nearby walked in. The teenage children sat down with hand puzzles that MacDonald has hung on the wall near the door, as their parents sidled up to the bar and ordered flights.

— H.P.E.
Red Barn Brewing
Hannah Palmer Egan
Peter McAlenney (center) talking with patrons at Red Barn Brewing
Getting to Red Barn Brewing, which is located on a dirt road — as many old barns are — near the Peacham-Danville town line, feels like a small adventure. The road is steep and hemmed in on both sides by old maple trees. Breaks in the thicket reveal sweeping views of the surrounding hills, which, depending on the time of year, might be veiled in trailing mist or blanketed in snow. And beware mud season, when mud and ruts render the road nearly impassible.
But once you pull into the gravel parking lot across the road from Erin and Jeremy McMullen's 1840s barn, the McMullens themselves — or brewer Peter McAlenney and his wife, Judi — will welcome you into their brewery with smiles, fresh brews and a warm atmosphere. After spending many months prepping the space with structural improvements and brewing equipment, the two couples opened their brewery in June 2016.
You might sip a flight: Last weekend's pours included Little Devil, a bright IPA made with blended light malts and lots of juicy-fruit Mosaic hops; clove-and-banana-tinged Whiplash Wheat hefeweizen; clean and crisp Orion kölsch; and McAlenney's smooth and chocolatey Black Dog porter.
Most Fridays and Saturdays, a food vendor is on hand; Farm to Fire pizza, Back Road BBQ, Su Thai and Genuine Jamaican have all made recent appearances. Some weekends, you might find a local bluegrass band picking tunes in a corner of the gorgeous post-and-beam barn that abuts the addition, which holds the brewhouse and wood-paneled tasting room.
Inside the tasting room, locals crowd around the curved bar, sipping multicolored pints. As they chat about neighborhood goings-on, their gardens and the weather — you know, the usual stuff — their kids play in the grass outside.
They fill up growlers before heading home for bedtime.

— H.P.E.
Simple Roots Brewing
1127 North Avenue, Suite 8, Burlington, 399-2658, simplerootsbrewing.com.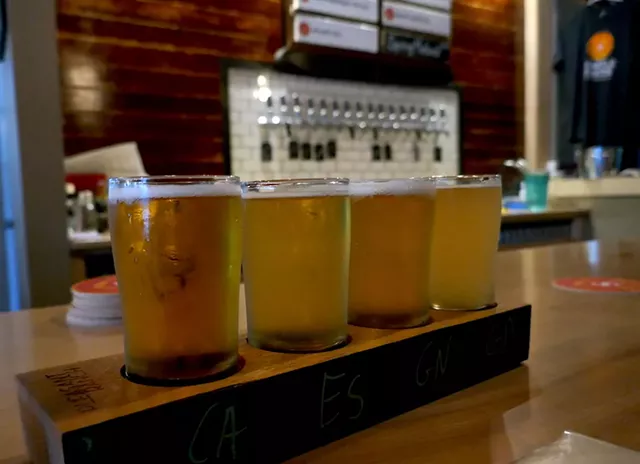 Andrea Suozzo
A flight of beer at Simple Roots
Early on a recent Thursday evening at the New North End's only brewery, a family sipped beers as their young daughter chattered and ate a grilled cheese. A woman scrolled through her phone while waiting for a friend, and another chatted with the bartender over a pint.
One regular picked up the tab for a couple that was there for the first time. "Maybe it'll bring 'em back," he said with a smile.
Owners Dan Ukolowicz and Kara Pawlusiak started Simple Roots in their garage three years ago, selling the beer at farmers markets and stores. Last summer, they opened the small tasting room in a corner spot in the Ethan Allen Shopping Center. Weathered wood panels cover the wall behind the taps, and a window offers a glimpse of metal tanks in the brewing area. A tall garage door opens for outdoor seating on warm days.
That Thursday, the tap list offered eight summer brews, including a hoppy pale ale with grapefruit notes, three floral saisons, a gose and a kölsch. The Sunny Days saison, a summery ale with hints of peach and mango, was a popular order. So was the $3.50 grilled-cheese sandwich with a pickle — it's the only food item on the menu most days, though the bar is stocked with takeout menus from nearby restaurants. Food trucks visit the brewery most Saturdays this summer.
As the evening drew on, people trickled through the door in twos and threes and staked out tables for a trivia contest, which happens every other Thursday through August. By 7 p.m., teams were huddled around tables, filling out trivia sheets and sipping beers. Nearly all the seats in the tasting room and on the patio were full.
"It's nice to have a neighborhood pub now," remarked one guest as he got up to go.

— A.S.
Stone Corral Brewery
83 Huntington Road, Richmond, 434-5787
Brent Harrewyn
Stone Corral Brewery
The evening before the opening of his exhibition "Bridging Worlds" at the Vermont Supreme Court Gallery, painter Hunter Eddy stopped at Stone Corral Brewery in Richmond to pick up growlers and four-packs for the reception. The beer run turned into a meal and a beer at the brewery for Eddy and his wife, who live in Essex.
"We got here and found out it was Taco Tuesday," Eddy said. "So that was perfect."
Stone Corral itself bridges worlds, serving as a hub for beer, food, live music and local socializing. The brewery opened in August 2013 on the Huntington horse farm of owners Bret and Melissa Hamilton. On weekends, the tack room became a tasting room. Two years later, the Hamiltons established a 15-barrel brewery with a western-themed taproom that recalls its horse-farm origins.
Stone Corral draws families who arrive by bicycle for supper at outdoor picnic tables, neighbors who walk to the taproom and commuters who stop in for a beer after work.
"Our specialty is in bringing local flair to traditional European styles," Bret Hamilton said. "We focus on balance and drinkability over extreme flavors."
The range of beers made at Stone Corral includes Stampede, a double IPA; High Noon Kölsch, a bright, German-style ale; and Raspberry Black, a fruit-infused dark lager.
For dinner, specials such as Taco Tuesday and Burger Thursday supplement a brewpub menu. New chef Billy Jenkerson, formerly of the Blue Stone in Waterbury, took charge of the kitchen this week. He plans to add Fish Friday and Picnic Sunday, serving "simple and approachable bar food with a Vermont influence."
"I want to create a menu that brings people in who want to stand around and drink good beer and eat good food," Jenkerson said.
Richmonders are getting into that groove. "We joke that you can barhop in Richmond now," said resident Molly Dugan, enjoying a Trailblazer lager with her husband on the Stone Corral porch.

— S.P.
Ten Bends Beer
590 East Main Street, Hyde Park, 521-7139, tenbendsbeer.com
Courtesy of Danielle Visco
Mike Scarlata (left) and J Powell
By day, J Powell is a website designer and Mike Scarlata is an assistant director of finance. Unless it's a Friday, when Powell arrives at Ten Bends Beer in Hyde Park at sunrise to start brewing. Or a Saturday, when Scarlata drives to a restaurant or bar in Chittenden County with a mission: to get Ten Bends on tap. (He's gotten yeses from Farmhouse Tap & Grill in Burlington and Mule Bar and Waterworks Food + Drink in Winooski, among other places.)
The two friends opened Ten Bends — named for the winding of the Lamoille River — last August. Having won a couple of homebrew contests at Burlington's ArtsRiot, they decided to start a business together.
The duo rented space in a former slaughterhouse on the edge of Hyde Park and built a three-barrel brewery and tasting room with a front deck. The men did most of the work themselves as they raised money and practiced making beer.
"We started this brewery intentionally small," Powell said. "We didn't want to dive into something we couldn't handle." In addition to the experience he gained from homebrewing on his front porch using old coffee kettles as equipment, Powell said he learned from his stepfather, who owns a brewery in Kalamazoo, Mich.
Recently, Ten Bends hired an assistant brewer, Steve Merrill, who attended the brewing school at Drop-In Brewing in Middlebury. The Hyde Park brewery produces about 25 barrels of beer a month in various styles, each reflecting the partners' commitment to making "Vermont-centric" products.
Their IPAs are "hazy, hoppy, cloudy and juicy," Scarlata said. A dark beer called Fargone Lullaby, recently bottled, is brewed with maple sap in place of water and conditioned on blueberries. The sap comes from Scarlata's father-in-law's farm in Dummerston. This is a delicious beer — a treat to drink — whose flavor belies its alcohol content (9.7 ABV). Equally enjoyable is an ale called Ava Amber, named for Powell's old dog.
Last week at the brewery, a middle school science teacher from Lynn, Mass., sipped a beer while his 2-and-a-half-month-old son napped. It was the baby's third brewery of the day, and sixth in his lifetime. The father, Rob Dunn, is a graduate of Johnson State College with a family home in Wolcott. With plans to open a brewery in Massachusetts, Dunn was on a kind of scouting trip.
"It's called supporting the industry," he said. "They make good-quality beer here."

—S.P.
*Correction: July 19, 2017: An earlier version of this story misstated the current owners of Bent Hill Brewery.

*Correction: July 21, 2017: Due to an editorial error, an earlier version of this story misstated Nic Dacey's quote "It's garage-pail brewing" as "It's garbage-pail brewing."