Mary Zompetti
Photo by Mary Zompetti for @quarantine_scene
Artists typically have websites and Instagram accounts these days. But most of them still rely on in-person interactions to facilitate connections with their work: exhibiting in galleries, selling at artists' markets, hosting studio visits, teaching classes. During this period of social distancing, though, the internet is the only answer. And so artists and gallerists keep dreaming up more ways to share art with homebound Vermonters.
For Grand Isle photographer Mary Zompetti, it started with a photo of a red dress hanging in the corner of her living room. It was Zompetti's wedding dress. She picked it up from David's Bridal on the same day she had to cancel her wedding celebration, scheduled for March 28. Instead, Zompetti got married a week earlier in a ceremony with no witnesses. When she posted the photo of the dress, she did so under a new Instagram account she created: @quarantine_scene.
Zompetti then asked other artists to share photos and words showing how their lives had been disrupted. She called it a "spontaneous coping mechanism."
"A lot of artists may be feeling pressure to produce," Zompetti said. "But it's really hard to focus right now."
She said that artists can send her images of work they're currently making, along with written insights into how the pandemic is affecting their creative processes.
"It's a way to not only feel less alone but also feel inspired by how other people are adapting," Zompetti said.
At Burlington gallery Soapbox Arts, owner Patricia Trafton is engaging another sense: She's begun to link artists' Spotify playlists with images of their work on the gallery's Instagram page. Artists who have solo exhibits at Soapbox, such as Vermont collagist Vanessa Compton, can make their own playlists for their receptions, she explained. Trafton thought that now was the perfect time to share them.
"I think people like that insight. I think everybody wants to know what's happening in the studio, and it's kind of a cool, curious place for people to peek into," Trafton said. "At the same time, I think being creative is a coping mechanism for a lot of us ... and having music that this other creative person found inspiration in, to be there with you, is really cool."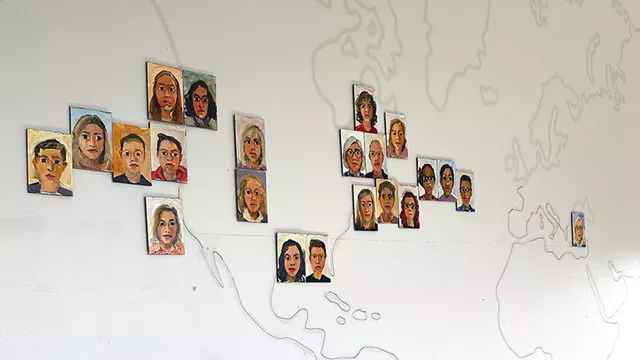 Rebecca Kinkead
A map display of Rebecca Kinkead's virtual portrait series
Art making is often a lonely pursuit, and that's certainly true for painter Rebecca Kinkead, who lives in the woods in Cornwall. But since last August, she's been painting portraits both at her home and around Vermont for a series she calls "Neighbor." Kinkead was painting daily in downtown Middlebury until the COVID-19 pandemic brought in-person sittings to an abrupt halt. She quickly realized that going days without seeing anyone wasn't going to work for her.
"I could just tell, I'm gonna be in trouble," Kinkead said. "Say this goes on for four or five months? It was just too easy to lose track of the days and feel like I'm totally untethered."
So she turned to FaceTime. Friends and fans of Kinkead's from around the world have signed up for virtual portrait sessions; the artist hangs the resulting portraits on a studio wall.
"People are home, and they're on their computers and hungry to connect," Kinkead said. Painting from a computer screen isn't exactly the same as painting someone who's sitting in front of you, but it's still way better than working from a photo, she said. Kinkead talks to subjects about their anxieties but also tries to steer the conversation in other directions, she said, offering a brief respite from the current situation.
Her virtual project has only made Kinkead more eager to embrace human connection again. "I can already taste how good it's going to feel to hug my friends," she said.