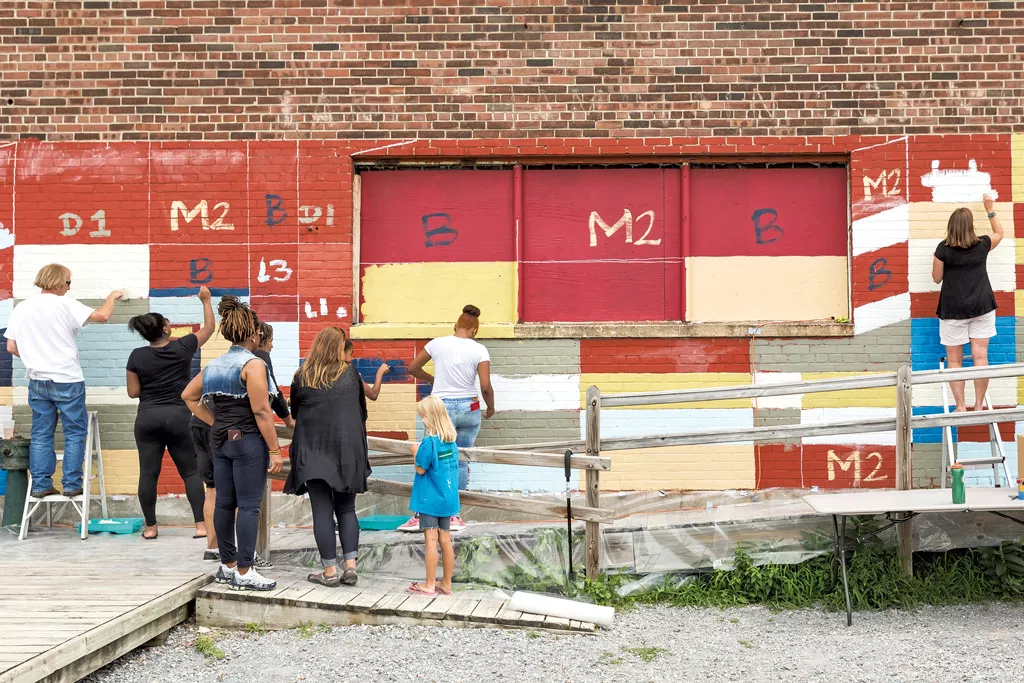 Last Saturday, just around the corner from the bustle of the Lake Champlain Maritime Festival, a 16-by-90-foot mural took shape on the lakefront side of Burlington's Moran Plant. Under the direction of artist Clark Derbes, 10 kids from the King Street Center, their mentors, and 40-odd community members covered the faded brick with large blocks of pre-mixed colors in a geometric pattern that echoes those of Derbes' smaller-scale works.
Derbes has coordinated two similar "Street Quiltz" (#streetquiltz on Instagram) projects in his native Louisiana over the past year, and he said he was excited to bring the collaborative public art project to Burlington. "I'm totally psyched with how it turned out," he said in a later phone call. "There were some really great people from [King Street], some random people that knew about it. We had really healthy snacks and a DJ spinning records all day."
Those attractions came courtesy of the Intervale Food Hub and Fork in the Road food truck (the latter sponsored by Dealer.com); and WRUV 90.1, respectively.
Tad Cooke and Erick Crockenberg of New Moran, the nonprofit that's gradually transforming the former power plant into a cultural center, were on-site to help out with the mural all day, along with Christopher Norris and Jasmine Parsia. "Chris and Jasmine are our creative team for the Moran Project," Cooke said via email. "They connected us with Clark initially." Local photographer Daniel J. Cardon and videographer John Churcher, a junior at Champlain College, documented the event.
With Derbes as the creative director and his wife and fellow artist, Wylie Sofia Garcia, acting as "people director," the event went off without a hitch. "The kids that came out were happy to be there, worked hard, and their mentors were right there working next to them," Derbes said. "It did what it was supposed to do, and I think the kids that were there will maintain a sense of ownership over that project."