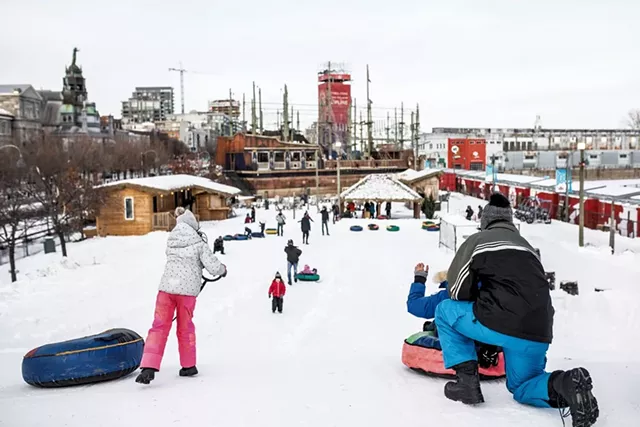 courtesy of voiles en voiles
Snow tubing in Montréal's Old Port
In December, Voiles en Voiles — a pirate-themed ropes course in the Old Port of Montréal — transforms into a winter adventure park, with 12 fun, family-oriented activities for all ages. Revelers can slip and slide on four 20-foot-high snow tubing courses, covered with 2,400 cubic meters of artificial snow. A groomed trail provides a course for snow scooters — wooden chairs with two skis attached. Also on offer: inflatable games, two aerial obstacle courses, a giant game of Jenga, archery with foam-tipped arrows, and quadricycle tours of the Old Port. At 4 p.m. each day, classic holiday films — in French, with English subtitles — will play on an outdoor screen. Fearful of freezing? Wood fires, blankets, coffee and hot chocolate will help visitors warm up.
Voiles en Voiles is open Saturdays and Sundays in December and every day January 1-5. Hours are 1 p.m.-6 p.m. or 1 p.m.-9 p.m. A day pass is $15 Canadian for ages 3 and up; $49.95 Canadian for a family of four. Learn more at voilesenvoiles.com.