Courtesy of Agrikol/Melika Dez
Chef Paul Toussaint
Mardi Gras beads hang from chandeliers. Peach-colored walls are painted with palm fronds. The décor encourages visitors to Montréal's Agrikol to feel that they've exited the city and landed in the Caribbean. An island environment is exactly what chef Paul Toussaint intends for his Haitian restaurant in the Gay Village neighborhood.
"We want [customers] to have a voyage," said Toussaint, pronouncing the word the French way. "What we offer here is not only the food; it's more like a destination. When you come to Agrikol, it's like you are in Haiti."
Toussaint, 30, grew up in Jacmel, in the southern part of the island, and has spent the past 11 years in both his home country and Canada. He moved to Ottawa with his father when he was 19, then attended college in Montréal. After Haiti's devastating 2010 earthquake, Toussaint returned to help his community. After about a year, he came back to Montréal and worked at restaurants Laïka (now closed) and Kitchen Galerie; then moved back to Haiti in 2014.
Last year, when Toussaint was working as executive chef at Karibe Hotel in a suburb of Port-au-Prince, then-Agrikol co-owner Roland Jean asked if he'd be interested in becoming Agrikol's next chef. Toussaint agreed, and he started in August 2017.
The restaurant had opened to acclaim in February 2016, in part because it filled a previously empty niche in the Montréal dining scene. Other Haitian restaurants exist in the city, but most are casual, order-at-the-counter places, while Agrikol is hip and slightly upscale.
No doubt the restaurant's rock-star connection has helped attract attention: Win Butler and Régine Chassagne, the married cofounders of Montréal-based indie-rock band Arcade Fire, have co-owned Agrikol since its beginning and are now the sole owners. Actively involved in the restaurant, the musicians procured Agrikol's art collection and decorations from Haiti and New Orleans.
Chassagne, whose parents emigrated from Haiti, manages the décor. (She also cofounded the KANPE Foundation, which benefits vulnerable Haitian families.) In an interview at Agrikol, Toussaint described Butler as "in love with Haitian culture and Haitian food" and said the singer focuses on the music at Agrikol's sister bar next door, Ti-Agrikol.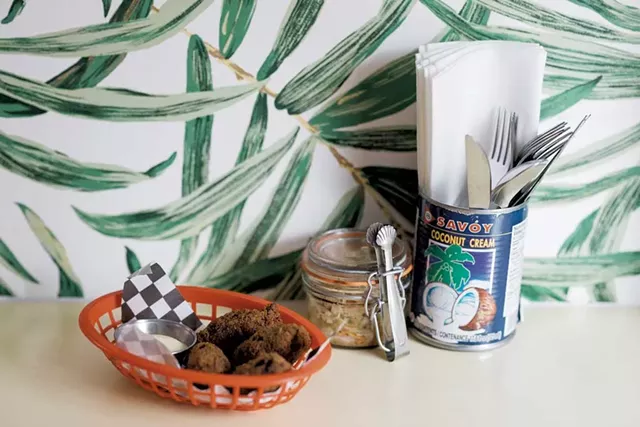 Courtesy of Agrikol/Melika Dez
Deep-fried accras at Agrikol
Connected to the restaurant by an outdoor patio, Ti-Agrikol plays a variety of music from the Caribbean and Africa and regularly features live DJs. Agrikol doesn't accept reservations, but patrons can wait at Ti-Agrikol or on the patio if the restaurant bar is full. (The patio reopens for the season on May 23.)
On a recent Friday just before 7 p.m., Agrikol's bar did have seats free. Two friends and I began there with cocktails while we waited for a table and took in the lush décor. The restaurant's namesake is rhum agricol — a style of rum, white or dark, that's distilled from cane juice. Each of the 13 drinks listed on the cocktail menu is made with agricol or another type of Caribbean rum.
Ti Ponch ($12) is a traditional Haitian drink made with agricol, fresh-pressed cane juice and lime. It can be made with white agricol, but I followed the host's suggestion and tried the cocktail with Barbancourt 3 Star, a dark Haitian agricol. The cane juice made it refreshing, almost vegetal, and the agricol was fort. My friend's Damballa ($14), made with the same Barbancourt, Aperol and Chartreuse, tasted herbaceous.
Agrikol, the restaurant, looks very different in daylight than at night. During the day, the restaurant is filled with natural light, and its high ceilings and stained-glass windows make it feel expansive. Rows of bottled rum, musical instruments and gourds line the bar back, and fabulous glass chandeliers — offering only faint illumination at night — hang from the ceiling. Colorful, original paintings and sculptures decorate the walls, and a mural of a zydeco accordionist, painted by Jean, graces the stairwell.
Once our meals began, our two starters complemented — and buffered — the drinks. A quintessential Haitian dish, the griot ($13) consisted of cubes of local fried pork accompanied by small plantain pancakes. Toussaint said that while griot in Haiti tends to be on the dryer side, he's adapted his version to accommodate the palates of Montréalers, who are accustomed to more tender meat. He marinates the pork with hot Scotch bonnet peppers for 48 hours before cooking it with bitter orange and then frying it crisp.
The deep-fried accras ($7) were fritters made from Haitian malanga root and fresh herbs, with a side of mild mayo. Tender on the inside, the accras paired nicely with the spicy pickles, a fermented, sauerkraut-like condiment.
As we ate, darkness settled into the restaurant like nightfall on a beach, with strings of lights and candles glowing faintly.
"Haitians don't like the light," Toussaint explained. "It's the Caribbean. During the day, the light's OK, but when it's night, they want dark."
Tea lights on the tables illuminated the faces around us, as nearly everyone leaned in to talk to their dinner dates over the somewhat loud, mid-tempo Caribbean music. The feel of nighttime encouraged a sense of ease and coziness, balanced by the subtly energizing soundtrack.
Molly Zapp
The décor of Montréal's Agrikol
Toussaint said his food is about "Caribbean soul" and that he plays with the texture, flavor and spice of Haitian cuisine. Such an approach was evident in the queue de boeuf ($20), a braised local oxtail with rice and sauce pois, made from black beans and pepper.
With limited visibility at our table, it took careful maneuvering to cut the meat off the bone, but it was worth the effort. Savory and gelatinous, the beef was stick-to-your-ribs satisfying. Even its accompanying white rice was decadent, because it was cooked Jacmel style with coconut milk.
Pleasantly lighter was the lambi ($23), or braised conch. Imported from Haiti and a bit clam-like in texture, the mollusk was simmered in a briny broth with red peppers, peas, vinegar and herbs. It came with a side of dirty rice, spiced with a hint of clove.
The meal didn't seem finished without dessert and a fruity cocktail, so we split the large Zanana pour deux ($20), made with Appleton rum, Chartreuse, and fresh coconut and pineapple. Once we'd finished the liquor, we scraped out the rest of the frothy coconut with spoons, the rich cream doubling as lip moisturizer. The pain patate ($9) was a slice of gooey sweet potato cake, baked with cinnamon and nutmeg, drenched in a sugar sauce, and topped with whipped cream. Speckled with raisins, it was light in texture but deep in flavor.
Agrikol's service throughout the night was top-notch. Attentive but never intrusive, our waitress was a champ at refilling water glasses. We ate and drank for three hours, and other customers appeared to dine at their leisure, as well.
In our trio of women, it was perhaps no surprise that talk turned to the topics of gender and relationship politics. One friend remarked that now is probably the best time in history to be a single woman, at least in North America. A hundred years ago, our group of white divorcées and single ladies dining and drinking at a restaurant — one run by a black immigrant, no less — might have been scandalous. Relaxed in the candlelight, we raised our glasses to the present, and the future.