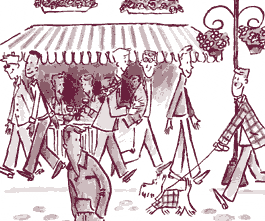 As one who subscribes to the maxim, "You only feel as good as you look," I find hanging out in Montréal can be an ego-deflating experience. When I head out the door in small-town Vermont — my usual home — there's at least a reasonable chance I'll feel as fashionably put-together as the next guy. The competition is, shall we say, underwhelming. Now that I'm living temporarily in Montréal, however, I suddenly feel like an L.L. Bean advertisement crudely Scotch-taped into Vogue Hommes International. And I don't even shop at L.L. Bean.
Not all Montréal men are fashion plates, of course. But the ones who aren't tend to stay off my radar screen, and the ones who are sit next to me in restaurants. I'm convinced Montréalers have a special gene that allows them to look perfectly groomed at all times, no matter how heinous the weather. While I dab Kleenexes at my nose and try to pretend my hair doesn't look like an illustration for static electricity, they look like they've been immaculately air-dropped from a Gucci party.
You know you're not in Vermont anymore when straight men who aren't rock stars don leather pants as blithely as Vermont men do chinos. North of the border, flannel is an endangered species. And black most definitely rules, except when canary yellow or fire-engine red will do just as nicely. That's one of the first things you notice about Montréal style: It has a certain schizophrenic leniency. Hit the streets and you'll encounter a sea of black, but also surprising splashes of color, oftentimes on the same person. Imagine The Cure meets Jimmy Buffett.
My first encounter with French-Canadian male fashion sensibility was, oddly enough, at the ocean in Maine when I was a kid. The Quebec men were easy to spot because they had no discernible asses and wore the type of tight bikini — a.k.a. Speedo — swimsuit in which your average American Joe wouldn't be caught dead. To my already puritanical New England eyes, the look epitomized tackiness and certainly wasn't one I planned to emulate.
When I got older and began making weekend visits to Montréal, I quickly realized that Quebec men don't generally parade down the streets in Speedos — even if they're not afraid to flaunt their bodies — and that the guys who stood out as tacky were American tourists like myself. There's no law against wearing oversized Bermuda shorts and T-shirts everywhere you go, but perhaps there should be.
Ever since I was the first in my sixth-grade class to wear plaid velour bell-bottoms with cuffs, I've had certain fashion aspirations, but, let's face it, your typical men's store in Vermont doesn't exactly encourage boldness. Montréal clothing stores, on the other hand, inspire reckless regard for practicality. For one thing, all the salespeople appear runway-ready and are eager to persuade you that you are, too. Then there's the ubiquitous thumping dance music that immediately puts you in a nightlife state of mind. Finally, there are the garments themselves. Cotton gives way to materials you've never quite imagined, at least on clothes, and the male-female divide gets liberatingly fuzzy. Next thing you know, you're in a changing booth with a stack of androgynous outfits inappropriate for all occasions back in Vermont.
I remember waking up to the inappropriateness problem a couple of years ago when a gorgeous saleswoman encouraged me to try on a wild shirt cut from some startlingly unnatural fabric. "Parfait pour les clubs!" she enthused. Flattered that she'd pegged me as a Montréal club-goer, I almost forgot that in my actual hometown les clubs n'existent pas.
I wisely rejected the shimmering chemise in favor of a pair of contour-hugging, polyester-rayon-spandex pants designed to expand and contract with my every movement — if only I dared to move in them. Lesson learned: Think twice about pants that should come with a snap-on fig leaf.
Now that Montréal is my home for a spell, I figure it's time for a complete image overhaul, one that will allow me to feel très chic in the city, yet not très absurde when I head back to Vermont. In other words, a style that will translate on both sides of the border. This is easier said than done.
Since fashion extends from head to toe, the first step was to try an adventurous new hairstyle. By the time my boyfriend and I made appointments at Coupe Bizzarre, we'd managed to go three months without any cuts, so our coiffes resembled Beck's on a bad day.
While Veronique tended to my boyfriend, my stylist introduced himself as Phil — an alarmingly pale young fellow with a bleached-blond shag and tattoos snaking up his arms. For a brief, electrifying moment I imagined he might transform me into a This Is Spinal Tap replica of himself. Instead, recognizing he only had so much to work with, Phil snipped away like an overcaffeinated gardener attacking an unruly shrub.
A few seconds later he was picking at the fringe atop my head, explaining how he'd created texture so "it can be a new style every day!" He demonstrated the myriad possibilities by plastering the sparse remains over my forehead, then elaborately gelling them upwards and sideways into what he termed le bedhead. So far the only styles I've mastered are le hathead and le roosterhead, but it may be the most striking haircut I've had since that modified mullet back in 1982.
Meanwhile, my boyfriend's cut was also a fait accompli. For an instant I suspected someone else's hairdo had blown from afar onto his head and landed backwards. Then I saw it was indeed his hair, albeit reconfigured in a manner I would have thought structurally impossible. "Wow!" I exclaimed, otherwise speechless.
To complement my coupe bizarre, and because all the hip boys in Montréal sport some creative variation on the goatee, I've been undergoing an exhaustive series of facial hair experiments. Thus far, unfortunately, they've all made me look like one of the less stable members of the van Gogh family.
Next stop, la lunetterie. Besides cigarettes, eyewear has to be the most beloved Montréaler accessory. As a part-time glasses wearer whose frames resemble Harry Potter's, I knew it was high time for an update. But with enough choices to overstimulate even Elton John, how would I ever hunt down the perfect pair? A few thousand needed to be eliminated. As much as I admired the many resembling miniature Calder sculptures, I had to admit they definitely didn't belong on my face. Ditto the ones that turned me into a scary hybrid of exotic insect and Sally Jesse Raphael.
Plastic, not wire-rimmed. Funky, but not too funky. What I need are frames to suit a guy who spends his days contemplating poetry in elegant yet disreputable cafés — the type of guy I'm not but could be someday.
With hairdo done and glasses in progress, it was time to move on to clothing. Fortunately, the semi-annual sales here seem to continue year-round, so there's never a shortage of bargains. In Bedo, which has several stores around Montréal, I was disappointed to discover that two subtly see-through Ricky Martinesque sweaters I'd bought last year were now — like Ricky's career, perhaps — on the double-discount rack. Lesson learned: Be wary of fashion trends inspired by overhyped Latin pop stars.
On St-Denis we stopped in any store with Soldes in the window, forgoing those with minimalist displays set in vast, gleaming spaces — always a sure sign of exorbitant prices. Tie-dye, particularly in multiple hues of powder blue, is very big in Montréal this spring, though not for me, since I believe tie-dye is best avoided by those of us who were alive for the original Woodstock.
Bowling shirt knock-offs in unexpected color combinations are also all the rage. I might have bought one if the sight hadn't brought on an unpleasant flashback: a high school outing to the local lanes hadn't concluded with my date vomiting spectacularly in the back seat of the car. Once you reach a certain age, retro tends to recall the very least fashionable periods of your past.
Then there were the intriguing sweaters at Le Château, which looked and felt like macramé plant-hangers sewn together, and the shirts with vertigo- producing op-art patterns.
Ultimately, what I left on the racks is far more interesting than what I actually purchased. Besides a few items in foolproof black, the new additions to my closet include one stretchy shirt with — hang on! — a zipper down the front; one sweater form-fitting enough to ensure I maintain a strict gym regimen; and, yes, one swimsuit that's Speedo-ish but not, I assure you, tacky. The leather pants, I'm afraid, will have to wait. The Vermontréal homme du monde wasn't built in a day.