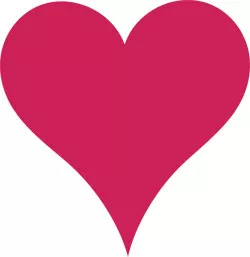 What's red and white and seen all over? The 4000-some hearts that were plastered all over Vermont's capital in the wee hours of February 14. Actually, it's been happening every year for the past six or so, and no one knows who does it or why.
One imagines a stealthy crew spreading across the city under cover of night, delivering these simple symbols of love. In the morning, as people swarm into downtown Montpelier on their way to work and errands, they find the hearts — simple, bright-red valentines printed on 8 1/2-by-11-inch white paper — affixed to store and office windows, doors, traffic signs, fire hydrants, benches. The rogue Cupids appear to skip over national chain stores — perhaps they've learned the gesture is unwelcome there? Ditto for federal buildings, though postal boxes are not spared. For those who forgot the previous year's caper, or wondered whether the hearts would appear again, seeing the new batch is a reassuring reminder.
As one local woman was overheard telling an out-of-towner in La Brioche Bakery, "It's a tradition." Actually, it's a fairly new one: The wild venture began around 2002, when an estimated 1000 red hearts were taped onto nearly every tape-able surface downtown. Last year the pranksters got even bolder, wrapping huge 6-by-8-foot canvas banners — also red hearts on white — around each of the pillars of the State Capitol. And, although the Department of Grounds and Buildings was required to remove them, along with the army of heart signs staked in the front lawn, it's rumored that all the hearts were returned to . . . someone.
The initiator, who calls him/herself the "Valentine Phantom," wrote in to correct a Times Argus reference to the "Valentine Bandit." "Bandit" denotes thief; these folks do not steal hearts, they give them. Whatever the name, the group — it has to be more than one person — is obviously well organized and prepared. They'd have to be, on what can be one of the coldest nights of the year. Think facemasks or balaclavas, waterproof and insulated hand- and foot gear, instant hot packs jammed into mittens or boots — whatever it takes to keep feet unfrozen and hands nimble for their furtive task.
Who are the Valentine phantoms? Who cares? For the most part, Montpelierites love the hearts and the mystery — and, for once, they seem willing to suspend the need to know. Some are bummed to be left out. "I was disappointed," says Auto Union owner Bill Smith, "not to get some hearts on my shop window this year."
There's always next time.