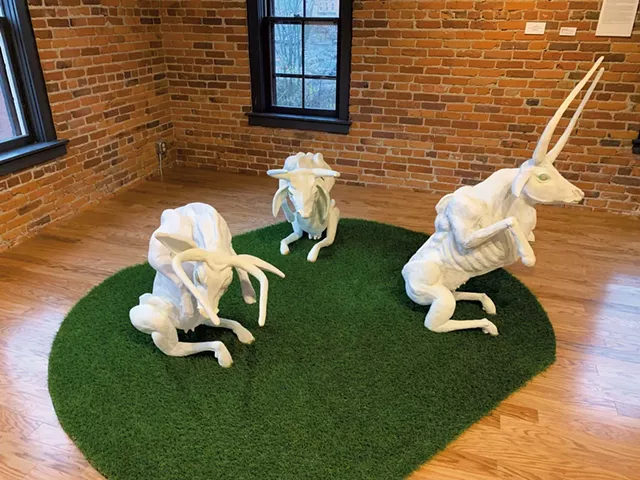 Amy Lilly
"Sitting Pretty" by Amber Geneva
The Garage Cultural Center, Montpelier's newest arts-and-culture venue, opened with a bang last Friday. Three hundred people were expected at its inaugural event, a sculpture show called "UNbound! 4 Women Sculptors Let Loose!" Five hundred showed, according to Jodi Kelly, the visionary behind the space.
Some of the community buzz arose from seeing a handsome industrial brick building, built as a family-owned automobile garage in 1910, restored to use after sitting empty for 10 years.
The Garage's size and location also appeal. At 1,500 square feet with 14-foot ceilings, its second-story multipurpose space is far bigger than the handful of other venues where art is exhibited in the Capital City. And the building is centrally located just off State Street, between the farmers market corridor and the North Branch of the Winooski River, which a rebuilt side deck with café tables overlooks.
Jodi and her husband, Dan Kelly, who split their time between Plainfield and Norwich, spotted the building five years ago. The couple owns the successful Stonecliff Animal Clinic of New Hampshire in Lebanon, where Dan is the vet and Jodi is the practice manager. They were looking to open a second office. At the same time, Jodi, a professional photographer and amateur potter and chef, imagined creating a cultural space that would accommodate her interests and more.
The Garage was the perfect solution. The Kellys took on a long-term lease and renovated the building at their own expense, remaking the first floor as a veterinary clinic and the second as an arts center. In the middle of the latter is a sleek, full-size industrial kitchen, where Jodi plans to hold culinary pop-up events and chef classes.
"It's my dream kitchen — in fact, I want to move in," she joked during a recent tour.
Other planned uses for the space include book signings, photography seminars, performance-art events and a talk about another successful repurposing of a historic building: the Kent Museum in nearby Calais. The floor is also rentable for private events.
Amy Lilly
"Afloat #2" by Hasso Ewing in front of the space's industrial kitchen
On view through the end of May, "UNbound!" features sculptures by Sande French-Stockwell of Vershire, Hasso Ewing of Calais and Amber Geneva of North Pomfret on a scale that few other local spaces could accommodate.
It's an unusually cohesive group show, owing to the three artists' collaboration over the past year. The women participated in an arts study program called "Art Matters: Narratives of Authenticity" with Dr. S. Cooper, an artist who teaches at the Mud Studio in Middlesex. Cooper, aka SXC, who developed the course to help artists explore and better articulate their visions, is the fourth artist of the show's title, though her work is not on view.
Over a year, the four met regularly in their studios to share critical analysis of admired artists' and one another's approaches. The result was a new clarity of expression for each. As French-Stockwell noted during a phone conversation, "Hasso and I had been making small work, and Amber had had an artist's block for 10 years."
All three women's work in the show is near-life-size or larger, displaying thematic crosscurrents that include women's strength and an affinity with animals.
The show begins outside with French-Stockwell's enormous black spider suspended from a tree beside the river. The realistic creature's body bears a gray-haired woman's smiling face — that of the late sculptor Louise Bourgeois, who is famous for her large-scale metal sculptures of spiders, created in honor of her mother's protective strength and creativity. French-Stockwell titled her tribute "Mother and Child," suggesting the elderly sculptor is also the child.
Her work continues in the first-floor entry with a bust of Hillary Clinton as a Celtic warrior queen ("Warriors, Boudica to Hillary"). Upstairs, she depicts Frida Kahlo as an antlered deer pierced with arrows ("Power Thru Pain") and U.S. Supreme Court Justice Ruth Bader Ginsburg as a cape-wearing superheroine toppling the Greek column of patriarchy ("Our Wonder Woman").
French-Stockwell agreed with the suggestion that her work is not ambiguous. "That's me!" she declared with a laugh, noting that she has purple hair just like her own larger-than-life bust. "Sande" casts a confident gaze over the exhibit, a painted tattoo of wings on her bare shoulder blades signaling the artist's newfound potential.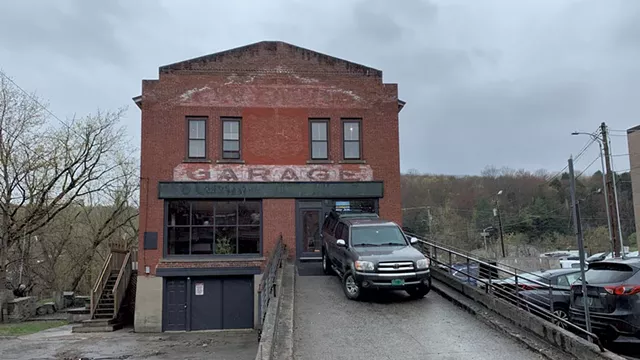 Amy Lilly
The Garage Cultural Center
Ewing's installation of life-size female swimmers and ravens is compelling for her ability to capture corporeal expression and movement. Thin and Caucasian, the swimmers are dressed in loosely fitting, antiquated-looking white swimsuits and caps that evoke 1950s beachwear. Though their faces are featureless, they buckle a flipper ("Flipper Adjustment") or grip a ring-shaped life preserver around the waist (the hanging sculpture "Afloat #2") with the attitudes of distinct individuals.
The Calais artist counts Swiss sculptor Alberto Giacometti's elongated figures among her inspirations. Her work at the Garage, which began as a project for the 2018 Art at the Kent show "Backstory," is a convergence of varied influences in her background. Ewing studied sculpture, particularly bronze figure casting, at the Rhode Island School of Design, did commercial work as a graphic illustrator and ran a landscape-design business for 17 years.
"I realized that with my history, I had a whole lot of information about the human body," she said.
Ewing's female "Standing With a Raven" references the Nordic god Odin and his ravens Hugin and Munin, who fly around the world gleaning information for the god. One raven is tucked under the swimmer's arm; the other rises from her outstretched hand in a series of five flying postures. In a poem included in Ewing's artist statement, the ravens call down to humans, urging them to change their ways and help the environment.
Geneva's two works at the Garage use female animals to explore how the lenses through which women see and are seen affect their understanding of themselves and their place in the world. "We can only see who we are by noticing how we are seen," her artist statement reads.
Amy Lilly
"Power Thru Pain" by Sande French-Stockwell
"Sitting Pretty" is a trio of cows unnaturally seated on their hindquarters on a circle of artificial turf. Simultaneously emaciated and muscular, two of the long-horned bovines bow their heads in subservient postures. The third appears to beg like a dog.
Even Geneva's powerful standing lioness, titled "The Expectation of Her Gaze," communicates a desire to please. The bronze-colored figure is based on an art-book photo of a 5,500-year-old pre-Sumerian sculpture representing female power. Her massive shoulders and bulbous musculature signal leadership, but the flattened ears and twisted posture — the lioness looks over her shoulder, her head tucked and her front paws and arms meeting neatly at her chest — evoke supplication.
Geneva found inspiration as a sculptor in a material new to the U.S.: Pal Tiya. Unlike clay, the New Zealand-made product is affordable, lightweight and weatherproof. The artist is a materials aficionado who has worked in ceramics and welded steel as a student at the School of the Art Institute of Chicago, made metal lampposts at a sandcasting foundry and explored fiberglass at a boat-building facility. Pal Tiya was a revelation for her, Geneva said; she introduced it to Ewing and French-Stockwell, and the latter sculpted her spider from it.
"UNbound!" is a striking show that celebrates female creators — not least the Garage founder who has brought these sculptors' show to the public.