Jeb Wallace-brodeur
Ward Joyce
A trio of primates has been turning heads and creating quite a scene on Langdon Street in Montpelier. Two chimpanzees and an orangutan swing on a painted vine that appears to stretch from a building to an electrical pole. The stenciled creatures are the work of DJ Barry, the first graffiti stylist approved by city officials.
Barry's is one of eight pieces that have been installed on Langdon Street as part of Langdon Street Alive, a public arts project. By the end of this month, 16 artworks, including sculptures, photographs, paintings and assemblages on buildings, are expected to be on display.
This isn't the first time Langdon Street has been a focal point for arts and culture in the capital. Locals know it as the former site of Langdon Street Café, which closed in 2011 after "a remarkable six-and-a-half-year run that revitalized and defined the Montpelier music and arts scene," Dan Bolles wrote in this paper at the time. Today, the street still hosts live music at Sweet Melissa's, which occupies the café's old spot.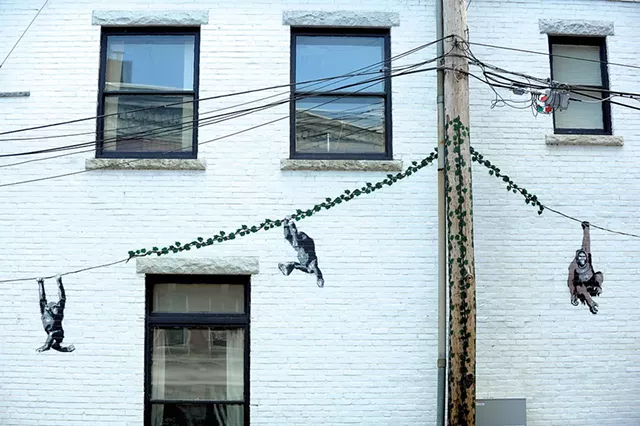 Jeb Wallace-brodeur
DJ Barry's trio of primates
Langdon Street Alive is the brainchild of architect Ward Joyce; it's his third public-space project in Montpelier. Joyce led the efforts to build the Rialto Bridge Parklet in 2014 and the Montpelier Pocket Park last year. He described those two projects as a "take-back-the-streets movement by citizens that say our cities are way too dominated by parked cars." The parklet and pocket park were designed to be places where people could pause to take in the sights and meet over ice cream or pizza, he noted.Designed and built by Vermont Technical College students, both projects were examples of "tactical urbanism" — that is, low-cost, high-impact rapid rollouts, not designed to be permanent, that aesthetically improve public spaces. Though the parklet received pushback from business owners — and its lease has ended — the park has been more successful. Residents water the plants, play on the giant chessboard, eat their lunches or read books there.
"We're trying to find creative ways to reshape the city to make it a place where everyone wants to come and hang out," Joyce said.
Following the success of the pocket park, he wanted to help fulfill the potential of one-block Langdon, which he called the city's "most charming street." To that end, Joyce raised $45,000 from various sectors of Montpelier, with the National Life Group Foundation, Pyralisk Arts Center, Myles Court Barbershop and city government among the biggest contributors. Joyce spent about $20,000 to commission 16 site-specific pieces to fill the 300-foot-long street with public art throughout the summer.
"We had to balance aesthetics, quality and cost, and it was tough," he said.
Among the artworks are a 16-by-24-foot mural of trees by Candy Barr and Julia Purinton; a black-and-white gallery of local portraits by John Snell and Rob Spring; Naima Green's 120-foot "floral bridge," a decoration of the street's eponymous structure; and Barry's trio of primates.*
When Barry, 31, pitched his stencil graffiti to Joyce, he didn't yet know how to execute it, he said. So the Middlesex artist, who became interested in stenciling three years ago, watched hundreds of videos and practiced at home in different weather conditions. Luckily for Barry, he's used to working at high elevations; his previous job required him to check surveillance cameras 30 feet in the air.
Barry had proposed stenciling one ape in an inconspicuous location, but Joyce couldn't get permission from the structure's owner. Instead, he secured approval for a more prominent building and asked Barry to add two more primates. The artist took three weeks to prepare the stencils. Then, with the help of his wife, Cindy, he spent six hours on a lift completing his artwork.


"I'm extremely happy with the outcome," Barry said. "I want to be outside and spraying more murals." His work has earned him praise among the young. "Seeing a 10-year-old boy walk down and go, 'Look at the monkeys!' and that excitement, that's exactly why I picked this type of piece," Barry said.
The artist, an IT employee at Central Vermont Medical Center, also contributed a second artwork to Langdon Street Alive. It's an experimental stencil piece called "Deconstruction of Vader," which Barry made by using the same stencil several times while shifting its position and hiding different sections with tape, so that the piece appears to have been digitalized.
Younger artists have also been invited to take part in Langdon Street Alive. Students from Montpelier High School produced small paintings that are displayed below Barr and Purinton's billboard mural. Joyce's 17-year-old son, Zebadiah Cousins-Joyce, said he and his friends will paint the street's Dumpsters graffiti-style.
Besides admiring the artwork, residents and visitors can look forward to community activities on Langdon Street, such as a gathering of vintage campers. But the highlight has got to be the 200-Foot Dining Table Event on September 10, when local restaurants will supply the fare for a community dinner party on a giant table running down the street's center.
Providing pedestrians with respite from the summer heat is a pop-up park outside Onion River Sports. The seating area, with its eye-grabbing pink umbrella, was designed by Stephen Frey of Arocordis Design and built by Jacob Rogen and Jonah Kivlen of Rogen Design-Build.


Frey, who's a member of the Langdon Street Alive steering committee, described the project as having an economic development component. Making Montpelier a fun and lively place, he noted, encourages entrepreneurs to start new businesses and raise their families in the city. "All of these efforts will help cultivate a stronger, more resilient and desirable community," Frey said.
Jeb Wallace Brodeur
Mural by Candy Barr and Julia Purinton
To measure the success of Langdon Street Alive, the steering committee will design a survey to assess the public's and business owners' perception of the project's impact. Meanwhile, Mayor John Hollar has already delivered his verdict. "This project is tremendous ... It's an example of the creative energy that exists in Montpelier," he said. "I wouldn't be surprised if something long-term came out of it."
Frey is already thinking about adding overhead lighting structures to Langdon Street next year, he said. Joyce hopes to commission more artworks from big-name institutions, though fundraising is "arduous," he added. The architect also wants to help other cities and towns seize their opportunities to create little parks and renovate underutilized lots, showing them how easily and quickly such projects can be rolled out.
Downtown Montpelier has had its ups and downs; five years ago, financial travails led to the closing of Langdon Street Café. But Joyce is banking on something different — a booming creative economy. In small communities like this one, he said, "Creativity can take the place of big investment."
*Correction, June 24, 2016: An earlier version of this story misstated the size of the mural by Candy Barr and Julia Purinton. It is a 16-by-24-foot work.