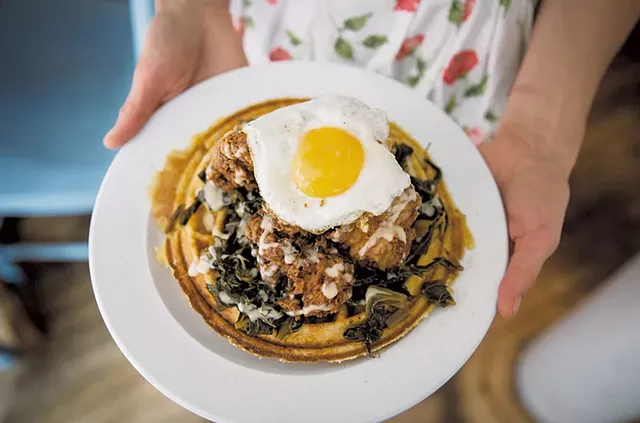 Courtesy Of Down Home Kitchen
Fried chicken and waffles at Down Home Kitchen
Down Home Kitchen, the Southern-style restaurant at 100 Main Street in Montpelier, will close at the end of the year, owner Mary Alice Proffitt told Seven Days. Proffitt, 39, opened the restaurant in September 2015 in the corner building that previously housed Rivendell Books & Games.
Known for its big breakfasts and communal dining table, Down Home Kitchen serves eggs Benedict with collard greens and fried green tomatoes, shrimp and grits, and fried chicken and waffles. The dishes are rooted in Proffitt's Southern upbringing and have ties to her family.
"I feel like I've met all of my initial goals with this project," Proffitt said. "I wanted to honor my mother and grandmother. ... I was able to take time to work on a small business, and I gained a tremendous amount of skills over the last five years."
Down Home Kitchen employs 15 to 30 people depending on the season, Proffitt said. The leased restaurant space, which she calls a "happy place," is available for rent and in "top condition," she added.
"I'm ready for somebody who wants to enjoy this space and move into it and have the next creative idea," Proffitt said.
Even as she plans to close, Proffitt said she's open to selling her business or welcoming a restaurateur who wants to launch a new business there. "I want to find somebody who I think has a chance [for success]," she said. "I've learned a lot in five years, and if I'm able to share that with the next person, that would make me happy. I live here, and I hope to eat here."
The building's landlord, Karl Miller, said Proffitt "had a wonderful vision for that place." The closing of Down Home Kitchen is sad, he said, "but there's a new beginning. It's a prime, beautiful location — a magnificent space just waiting to blossom once again."
"The thing I'm most proud of [is], this restaurant is based on an authentic expression of love for the women in my life," Proffitt said.
Through December 31, Down Home Kitchen will be open from 8 a.m. to 2 p.m. every day but Christmas. At noon on January 1, after the restaurant closes for regular service, Proffitt will prepare and host one final meal there — this one for people who are homeless.