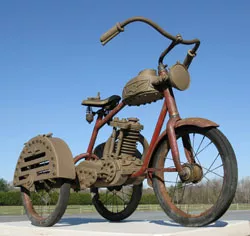 Vintage Tricycle by John Brickels
Rob Hitzig, co-owner of The Lazy Pear Gallery in Montpelier, is excited about an unusual public art exhibit that's popped up around the capital city. "SculptCycle 2008," a collaboration between the Montpelier Downtown Community Association and the central Vermont arts community, is a summer-long event featuring 20 sculptures made mostly from recycled bicycle parts. "The pieces do not have to be 100 percent recycled, but bicycle parts need to be in the sculpture," Hitzig explains. "We wanted to give the artists a pretty wide range of flexibility in terms of how they put things together and what they did."
"SculptCycle" marks the first time the city has presented a formal outdoor public art event, says Hitzig, event chairman and one of the 20 participating sculptors; his piece is entitled "Dog Walker." In addition, the sculptures are for sale, with proceeds going to the MDCA. That group plans to purchase one of the "SculptCycle" pieces for permanent display in Montpelier.
Hitzig reveals the original idea was to create sculptures out of fiberglass. "In researching the project, we did talk to other communities that have done things like this using fiberglass for projects where they create cows or moose," he explains. "A number of them also said there are people worldwide who collect public art and sculptures from these projects."
Those collectors, along with summer tourists and locals, will all have a chance to bid on the pieces on October 4. Each artist received a $500 stipend for his or her work, says Hitzig (who declined his), and will be given 20 percent of the auction sale price. The remaining 80 percent goes to the MDCA.
So why bicycles? "We were looking for ways to promote environmental sustainability and what we can really do to improve our environment and create a sustainable world," Hitzig says. "Using bicycle parts really put that in the forefront of the project. We get people thinking about biking and using alternative forms of transport, and recycling objects and turning them into works of art."
The 20 works span a range from the abstract to the functional. "I saw one . . . where they had crushed bicycles into a cube — totally cool, I thought," says Vermont Supreme Court Justice Marilyn Skoglund, who is judging the works. Skoglund's undergraduate degree, for the record, is in sculpture. She is also curator of the Vermont Supreme Court's lobby gallery. (Members of the public will have a chance to vote on their favorites on October 4, the night of the auction.) "I think it's a great way to inspire and get the community excited," says Skoglund of the event. "Art makes us happy."