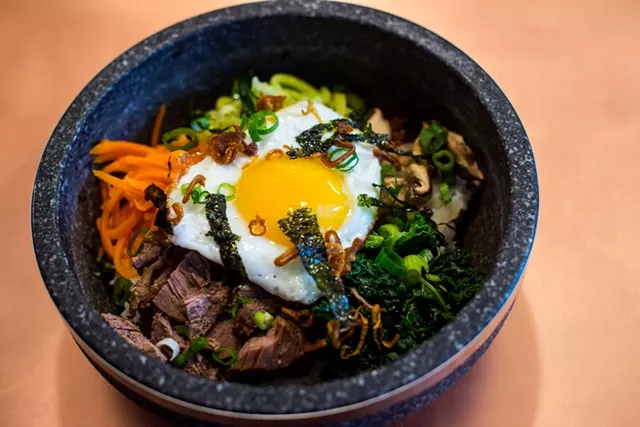 File: Jay Ericson
Stone bowl of bibimbap at Banchan
It's been a tough summer for Montpelier's food scene. The capital city lost a well-loved source of fresh, hand-cut local meats when Beau closed on Barre Street, and now, as of last weekend, two downtown restaurants have shuttered.
On Main Street, deMena's served its final supper earlier this month. We weren't able to connect with owner Sara deMena Travis before press time, but an August 11 announcement on the deMena's Facebook page says the restaurant will carry on in a new location.
"We are excited for the new chapter in the growth of deMena's," the post reads, without offering a timeline for the move.
On Elm Street, Banchan stopped serving Korean bibimbap and small plates as of Saturday. Since opening in March, the restaurant had earned a robust local following; lunches and dinners were invariably busy, said co-owner An Na, who ran the restaurant with her mother, Jin Suk, and sister, Jin An. But when Jin Suk decided it was time to retire, the sisters — both of whom work full time outside the restaurant — chose to close up shop.
"The response and the love we received were so nice," An Na said. "Everything went exactly the way it should for a small restaurant. We had great people and great support."
While An Na said the closure is permanent, she did allow for the possibility that she'll host occasional pop-up meals, advertising them in advance on the Banchan Facebook page. "That's something I can handle on my own," she said. "I love cooking and serving people."