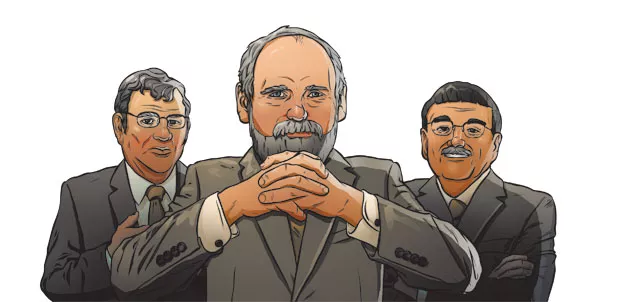 Confirmation hearings don't normally draw a crowd — not in Vermont, anyway. But reporters and TV crews filled every seat in the Senate Finance Committee room late last month to get a look at James Volz, chair of the Vermont Public Service Board, who is up for another six-year term. All were there to glean some revelatory tidbit about the man of the hour.
As the white-bearded and bespectacled Volz assumed the witness chair, Sen. Ann Cummings chuckled and remarked about the large media presence; the arcane intricacies of utility regulation don't exactly make for titillating television.
But this is no ordinary year for Vermont's utilities. In the next few months, chairman Volz, and fellow PSB members David Coen and John Burke, are expected to rule on some of Vermont's biggest and most contentious issues. The repercussions of their decisions will be felt for years, even decades.
Those cases, or "dockets," include the proposed merger of the state's two largest electric utilities, Green Mountain Power and Central Vermont Public Service. Also on the agenda is the fate of cash-strapped Burlington Telecom, as well as the Deerfield industrial wind project near Readsboro. More recently, some legislators are saying the state should control the Vermont Electric Power Company, which owns and operates Vermont's major transmission lines. A VELCO deal, too, would be subject to PSB approval.
But the 800-pound gorilla in the committee room with Volz was Vermont Yankee. On January 19, a federal district court judge struck down Act 160, which required that the legislature approve the nuclear plant's 20-year license extension. Entergy, the plant's owner, has now asked the PSB to green-light Vermont Yankee's continued operation beyond March 21, when its current license expires. That docket had been on hold since 2009, pending the outcome of the federal lawsuit.
How the PSB will rule on this and other contentious matters before it is the subject of endless speculation. Most longtime observers and participants in utility regulatory cases interviewed for this story agreed that this board is among the least activist or predictable in years. But trying to guess which way it will rule requires some understanding of what the PSB is, what it does, who serves on it and how its role has changed over the years.
If recent press coverage of the PSB has left you wondering What the hell is the Public Service Board?, you're not alone. But it's worth noting that its decisions affect as many Vermonters as those made by the governor, legislature and Supreme Court. Volz, Coen and Burke may be the most powerful men in the state about whom most Vermonters know virtually nothing.
PSB, DPS — WTF?
Not to be confused with the Vermont Department of Public Service, which is a policy arm of the governor, the PSB is a quasi-judicial body of state government that regulates electric power, telephone and internet service, cable television, pipeline gas and some private water systems. Its roots date back to 1855, when the legislature created a railroad commissioner to ensure the railroads were safe and charging fair rates. The board later expanded to three members, and in 1908, was granted jurisdiction over all the state's "natural monopolies," including gas, electric, telephone and telegraph companies. The 1908 law also marks the first time that the term "public good" appears in Vermont statute.
Today, the board consists of a full-time chairman and two part-time board members who are vetted by the state's judicial nominating board, appointed by the governor and confirmed by the legislature to staggered, six-year terms. Their staff of 23 consists of attorneys, engineers and economists.
Like judges, PSB members are expected to remain at arm's length from party politics and, especially in contested dockets, from their colleagues at the DPS. That said, there's an unwritten rule that whichever political party occupies the governor's office reserves one of the three seats for the minority party. Volz, who was first appointed in 2005 by Republican governor Jim Douglas, was reappointed by Gov. Peter Shumlin, a Democrat. Burke, a Rutland native and Castleton lawyer, was appointed in 2003 by Democrat governor Howard Dean, then reappointed by Douglas. Most longtime PSB observers say it's very difficult to discern party politics in the board's rulings.
The PSB can make or break a utility by granting or withholding what's called a certificate of public good — CPG. For example, in the mid-2000s, VELCO wanted to build new, higher-capacity transmission lines across the state. First, VELCO had to go before the PSB and convince the board that the Northwest Reliability Project was essential to meet the growing demand for power in the northwest sector of Vermont. At the time, VELCO argued that if the project wasn't approved, the city of Burlington could go dark on peak-load summer days.
VELCO prevailed and the board issued a CPG. But it included conditions and restrictions to meet the concerns of dozens of municipalities and individual property owners along the route, many of whom felt blindsided by the project and its huge cost. Out of that docket came VELCO's promise to plant and maintain more than 10,000 trees "for the life of the project" — which could keep them in the arbor-care business for more than 75 years. The CPG also gave rise to the Vermont System Planning Committee, a group of utility and consumer reps charged with better anticipating future transmission needs.
"By and large, we are well served by our Public Service Board process," suggests Barbara Grimes, general manager of the Burlington Electric Department and a member of the VELCO board. "The demands that come with getting a certificate of public good in Vermont are more costly and time consuming, I believe, than in any other state in New England."
"Public" Process
How does the PSB arrive at the public good? It conducts its business like a court of law, with evidentiary hearings, court reporters, document discoveries, attorneys and sworn-in witnesses. Oddly, the governor's DPS, usually referred to as "the department," represents the public interest in the proceedings.
To participate, citizens are either admitted as formal parties to the proceeding, or testify informally at public hearings. Often, those hearings are held in the communities directly affected by the project.
Today, Section 248 of Vermont statute spells out 10 criteria that must be weighed in determining the public good. They include environmental, aesthetic and historical concerns, the overall need for a project and its potential economic costs and benefits.
One Vermont utility executive summed it up more succinctly: The public good, he says, is "like pornography. Not easily defined, but you know it when you see it."
If senators and journalists at Volz's confirmation hearing were hoping to gets a sense of how he might interpret the public good — regarding Vermont Yankee or other cases — they were sorely disappointed. Volz, an attorney with 27 years of experience as a regulator, including the last seven as PSB chair, is as poker-faced as they come. No amount of legislative cajoling would convince him to show his hand.
Sen. Randy Brock (R–Franklin) acknowledged as much as he tried to engage Volz.
"I have a lot of questions, but I know you probably can't answer them," Brock said. "How would you improve [Section] 248" — the Vermont statute that gives the PSB its authority to review utility projects — "to make it more efficient and faster, while at the same time maintaining the same level of environmental protection?"
"That would be very difficult," Volz replied tersely.
"Is there anything from the policy perspective," Brock pressed, "that you would recommend to us that might clarify the requirements or improve the materials provided?"
"I'd have to think about that some more ... but off the top of my head, there's no easy answer," Volz replied.
After several minutes of back-and-forth about renewable-energy credits, Brock asked Volz if he's troubled by the "concentration of power" in Vermont's electricity industry.
Volz immediately begged off answering the question, explaining that whatever he said would seem to relate directly to the pending GMP/CVPS merger. Volz's sidestep sounded diplomatic, not evasive.
Next, Sen. Tim Ashe (D/P–Chittenden) asked Volz how he strikes "the right balance" between renewable power and aesthetic concerns. Ashe was alluding to the PSB's controversial decision last year to permit GMP to build 21 industrial wind turbines atop Lowell Mountain — one of four ridgeline wind projects the PSB has approved in recent years.
"Basically, I think that's something the legislature has to sort out," Volz answered. "Right now, the guidance we have is to promote renewable energy. And we use our siting statutes on a case-by-case basis to decide if any project meets those requirements, including aesthetics and other environmental impacts. As long as they do, they'll be approved."
Then Volz added, "At some point, if the people of Vermont, as represented by the legislature, look around and say, 'We don't like the way this looks anymore ...we would listen to that. We would have to listen to that."
Volz's last remark was the closest thing yet to a summation of his judicial philosophy: We do exactly what the legislature asks and the law allows, nothing more.
"I am not an activist," Volz clarified later in a rare interview. (Usually, PSB members, like judges, decline to speak to the press.) "I feel it's the legislature and governor's job to set policy. My job, and the board's job, is to implement those statues fairly and objectively."
"How much did you know about the Public Service Board before you read this story?"Post your answer below
Fair and Balanced?
Most utility executives, lawmakers, attorneys and activists interviewed for this story concur with Volz's self-assessment. Even those who have frequently disagreed with the PSB's rulings concede that Volz is a very experienced adjudicator, tough but fair. And that makes it even harder to predict how the board will rule in a given case.
Bob Stannard is a lobbyist for the Vermont Citizens Action Network, a group that opposes the nuke plant's relicensing. "Whether I would agree with any decision of his ... wouldn't detract from my respect for him," Stannard says of Volz. "He's a real fair guy and tries to do the right thing."
Ray Shadis, technical advisor for the antinuke New England Coalition, agrees. Shadis admits his client has often been on the losing end of PSB orders. Nevertheless, he says this board generally gives his client a fair hearing.
"My impression of Volz on the bench at the Public Service Board is of real strict judicial interpretation and impartiality. Not the way I like it. I like 'em on my side," Shadis jokes. "But one standard for a good judge is that they are inscrutable. If you can tell which way the judge is leaning, you're set up for a bad judgment, no matter which way it goes."
But how effectively the PSB weighs conflicting evidence and testimony is a frequent bone of contention. Sandra Levine is a Conservation Law Foundation attorney with many years of experience on utility matters. She suggests that although the board tries to "strike a balance" between competing interests, it often relies heavily on the recommendations of DPS.
"I think industry carries a lot of weight," Levine says. "So, when you have a department that's industry friendly, you tend to get decisions from the board that are industry friendly."
Rich Sedano, who served as DPS commissioner under governor Howard Dean from 1991 to 2001, has some historical perspective on that. He notes the relationship between the board and department. which were separated back in 1981, has ebbed and flowed over the years, depending upon how the commissioner and the PSB chair feel about each other. Sedano says he's "never seen a governor lean on the PSB in a case" in order to get his or her way.
"This board is very thoughtful and appears to have a clear compass," Sedano adds. "They are active questioners in hearings and ... are prepared to be activist when the circumstances call for it."
Not activist enough for Rob Pforzheimer. A carpenter in Sutton, he was "very involved" in the public processes surrounding the siting of wind turbines in Sheffield, Deerfield and Lowell. He alleges the PSB "cherry-picks the facts" and is just there to "rubber stamp" whatever the utilities want.
"'Quasi-judicial'? They sit up there like judges but don't deserve to be respected," Pforzheimer complains. "I think they're pompous and arrogant and barely tolerate individuals like me who are opposed to these projects. And they ignore every bit of evidence we bring to them."
Sen. Vince Illuzzi (R–Essex-Orleans) agrees with Pforzheimer's perception that projects such as Lowell Mountain and the Northwest Reliability Project had "predetermined" outcomes.
On the latter, Illuzzi suggests that other alternatives should have been considered before VELCO "used its power of eminent domain to blaze this high-voltage power line trail through some of the most pristine reaches of the state."
The PSB review process, Illuzzi complains, "is set up to approve projects, and any attempt to change that is met with fierce and well-funded opposition in the legislature."
To be fair, Illuzzi doesn't suggest this is the fault of Volz, Coen or Burke — all of whom, he emphasizes, he would vote to reconfirm. As he puts it, "It's a systemic problem, not an individual problem." In fact, Illuzzi endorses the idea of electing PSB members rather than appointing them, as many other states do. He introduced a bill several years ago to do so, but it went nowhere.
The Vermont Senate is expected to vote to reconfirm Volz some time this week.
Whose Side Are They On?
Pforzheimer's and Illuzzi's opinions of the PSB appear to be minority ones. Nevertheless, opponents did insert a speed bump in Volz's otherwise smooth confirmation process last week. On February 7, Vermonters for a Clean Environment, a group opposed to the Lowell wind project, penned a letter to the Senate Finance Committee condemning Volz's handling of that case.
In it, Annette Smith, VCE's executive director, wrote that "Under Volz's leadership the PSB has ignored public input and lost the public's trust — and as a result, his nomination should be rejected or at least more seriously questioned."
Smith took issue with how the PSB weighed expert testimony on turbine noise and setbacks from neighbors' property lines. Procedurally, Smith complained that the PSB's review of the Lowell project "broke all records for speed, to the extent that due process was thrown out the window."
On the latter point, VCE's letter quoted from PSB member Burke's dissenting opinion. In it, Burke wrote, "I understand that time constraints exist in this matter and the effect delay could have on the economic viability of the project, but that does not legitimize the abrogation of the parties' constitutional rights."
If Volz was irked by the broadside attack on his integrity, his anger didn't show when asked about it in an interview.
"I don't agree with them," Volz responded coolly. "I think we've gone out of our way to help people participate in the process... If you read the order, you can see for yourself how much attention was paid to the interveners and you can decide for yourself whether they got a fair shake."
Volz won't comment on whether he thinks anyone's constitutional rights were "abrogated," ... the case has been appealed before the Vermont Supreme Court by the Lowell Mountains Group and the towns of Albany and Craftsbury.
But when asked if the utility opponents' facts and expert witnesses were routinely ignored, Volz explains that competing expert witnesses frequently arrive at conflicting conclusions.
"Is one of them lying? No. They just have a different view of the evidence," Volz says. "Our job is to figure out who is more persuasive, and that's whose testimony we rely on."
"If you read the order, you'll see that we did look at all sides," Volz adds, responding to VCE's criticism about turbine noise. "We just didn't come down the way they wanted us to."
If Volz's response to his critics sounds diplomatic, his supporters are less so.
Rep. Tony Klein (D–Montpelier) suggests that Volz is as fair and evenhanded as they come and "follows the rules and regulations to a T.
"He has unquestionable integrity and honesty, and anybody who questions that about Jim Volz should be ashamed of themselves," Klein says. "Does that mean I like everything the board comes down with? Absolutely not. But this is one of the most arduous and meticulous [review] processes, not only in the country but in the world."
Shadis, with the New England Coalition, points to a good example of Volz's efforts at impartiality. Shortly after Volz's appointment to the PSB in 2005, the board was due to hear a case involving Vermont Yankee's use of dry-cask storage of radioactive waste, which the coalition opposes. Since Volz had spent the previous 20 years working for the department, which endorsed dry-cask storage, the Coalition asked Volz to recuse himself from the case.
"Volz actually issued an invitation for public comment on whether he should recuse himself. And we said, 'Hell, yes!'" Shadis recalls. Ultimately, Volz stepped aside and the PSB went ahead with just two board members. The New England Coalition still lost that fight. Shadis won't say whether he thinks his client would have been better served if Volz had stayed. "Water over the dam," he says with a sigh.
The Other Guys
If Volz is relatively unknown to most Vermonters, his fellow PSB members are even more mysterious. David Coen, first appointed in 1995, is the only non-attorney on the board. He began his career as an English teacher in Connecticut, then went on to run Fishman's Department Stores in Vergennes and Ticonderoga, N.Y.
Despite his humble beginnings, Coen has accrued many years of experience in regulatory matters and, until last year, served as president of the National Association of Regulatory Utility Commissioners. He still serves on its board of directors and executive committee and is active in Vergennes city government.
Coen, notes Shadis, "is extraordinarily evenhanded, very careful in what he says ,and asks some very astute questions, which indicate that he's been listening — even when it looks like he's not."
John Burke seems to be the contrarian on the board, and is often the dissenting voice in split decisions. In contrast to the others, says Shadis, Burke "brings a refreshing degree of volatility into the proceeding. He takes it personally when witnesses are not forthcoming and when attorneys attempt manipulation.
"He is very much the strong guardian of the prerogatives of the Public Service Board," Shadis adds. "I think if I were Entergy, he would be my least favored."
Ultimately, most longtime board watchers won't offer any predictions about how this PSB will rule on Vermont Yankee.
"I long ago gave up trying to predict an outcome from the Public Service Board," says the Conservation Law Foundation's Levine.
Stannard, at Vermont Citizens Action Network, concurs. "Everyone is surmising and guessing, but no one has a clue."
Adds Burlington Electric's Grimes: "If I could predict what the board was going to do each time, I'd be in Vegas, not here."
All three agree, however, that despite heavy public interest and press coverage of the case, this one will be decided on a strict interpretation of the law and which side makes the better case — not what the governor, the legislature or the media are saying.
Adds BED's general manager, "If the world hates Barb Grimes and I've got a case before this board, I think that I can walk out knowing that the decision wasn't based on the fact that the world hates Barb Grimes."
If so, that's troubling news for Vermont Yankee's opponents. Many who despise and distrust Entergy assume the corporation's tarnished reputation in Vermont is their last, best hope of getting the PSB to close it down.