Matthew Thorsen
Amuse-bouche with Parmesan, foie gras, strawberry and chocolate
By the time the duck course rolled around, I'd forgotten how many plates preceded it. But something about the poultry was memorable. It wasn't so much the food — though the dish will be seared in my soul forever — but a comment from the chef.
"Yeah," Jesse Lauer said. "I'm proud of this."
Matthew Thorsen
Jesse Lauer
He was talking about the blueberry sauce he made for the fowl, treating the berries as he would tomatoes in a marinara: sweating onions, garlic, basil and thyme, adding blueberries, and simmering. The sauce accompanied Lauer's smoked-duck tortelloni, featuring his housemade porcini-mushroom pasta and Lauer's own ricotta and blue cheeses. The tortelloni was served on an endive leaf.
Cooking a lavish and lovely multicourse dinner for five guests at his home on June 24, Lauer stepped out of his kitchen to describe the dish.
"Where'd you get the duck?" I asked him.
"My neighbor, Chuck," he said.
"Oh, he raises ducks?" I asked.
No, Lauer replied. Chuck shot a duck and sold the bird to him for $30 from the back of his pickup truck.
Chuck's duck. Lauer's imagination. It's a pairing that surely stands apart in Vermont dining.
Matthew Thorsen
Jesse Lauer talking to the Oren family and Alex Raub
Lauer, 36, is the founder, creator, chef and conceptual mastermind of Dinner With Friends, a series of pop-up dinners held at his house in Monkton. He cooks 10- to 12-course dinners in his open kitchen for up to six guests, who eat a few feet away at the dining room table.
Matthew Thorsen
John Mejia
Lauer's husband, John Mejia, 43, is a University of Vermont administrator who takes on the weekend roles of maître d', waiter and dishwasher. ("Six people times 12 courses equals a lot of dishes," he said.) The ease and warmth with which the couple talks and laughs with guests belies the effort they put forth.
Dinner With Friends encompasses the pair's culinary series called "do good. eat well.," in which proceeds from the meal are donated to a social justice cause. Lauer pays for the ingredients and donates his considerable prepping and cooking time. The suggested donation for dinner — $55 per person — is given in full to the cause Lauer chooses. The menu and the beneficiary change with each dinner.
"The selfish side of Dinner With Friends is me getting to be totally self-indulgent and doing everything that I ever wanted to do," Lauer said. "Every recipe I throw down, it's always the first time."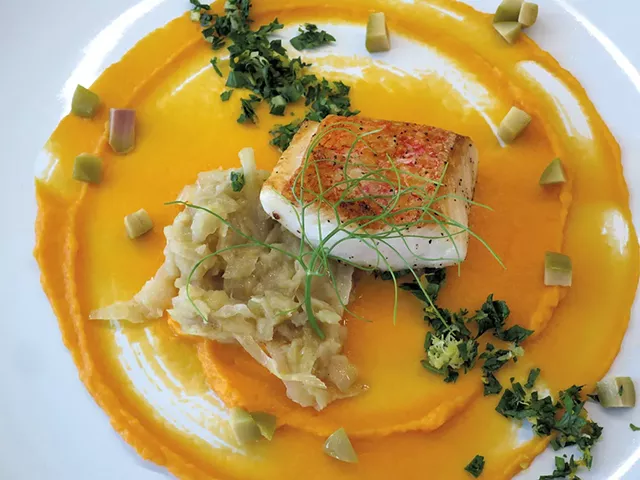 Matthew Thorsen
Snapper
Dinner With Friends happens one or two weekends a month. The table of six fills with groups of friends, families who book the meal together and people who meet at the pop-up. The night I attended, the dinner was a benefit for New Farms for New Americans.
"It's a chef's tasting menu," explained Dru Oren of Charlotte, whose daughter Alana worked as a pastry chef with Lauer at the Bearded Frog in Shelburne. The Orens recently enjoyed their second "do good. eat well." pop-up, dining with their younger daughter, Piper, and her boyfriend.
Matthew Thorsen
Lamb
"Everything is perfection," Oren said as we sipped wine before the meal. "It's beautiful to look at and wonderful to taste."
Piper, a college student, got into the swing of things quickly: "Seven more, please," she said with a smile after a salad course of watermelon and housemade queso fresco.
Lauer, a graduate of Vergennes Union High School, is a composer who studied at Purchase College of the State University of New York. He found that the joy of making music — "the soul" he put into it — diminished when music became his profession.
"As soon as it was for money," Lauer said, "it wasn't fun anymore."
After college, he embarked on a route that is not uncommon for artist types: restaurant work. It was a step up from what he jokingly called the "classiest gig ever" — clerking at the defunct Showtime Video & Record Center in Hinesburg.
At the suggestion of childhood friend Andrea Cousineau, who is now executive chef and general manager of Vergennes Restaurant Group, Lauer got a job as a salad maker at Starry Night Café in Ferrisburgh.
He spent the next 14 years working in food service, primarily as a pastry chef. Lauer ran the dessert program at Bearded Frog and its affiliated bakery-café, Next Door Bakery & Café, and other restaurants founded by the late Michel Mahe.
"You made one chiffon cake, you made 'em all," Lauer said. "Once you know the rules, you figure out how to bend the rules."
Matthew Thorsen
Cauliflower vichyssoise
He practiced making savory meals for the staff while working at Bearded Frog, Cousineau recalled, something of a departure from the precision required of pasty work. Later, as a pastry chef at UVM, he took time on his own to hone his savory cooking skills.
"Once he broke down the barrier, he was off and running," Cousineau said. "His attention to detail and meticulous nature, paired with his amazing creativity, [are] really special."
Matthew Thorsen
Smoked duck
Lauer has long been inventive in the kitchen. His first experiment was melting Popsicles in the microwave, he recalled. At age 11, home alone in North Ferrisburgh, Lauer decided to make caramel sauce. He put some sugar in a pot on the stove and walked away — returning later to a black, smoky disaster.
"I did what you do," Lauer said. "I threw the pot in the ravine behind the house."
Last fall, he quit his job as cheesemonger at Cheese & Wine Traders in South Burlington — a position he took after leaving UVM. His "retirement" was short-lived.
"I sat around for two weeks, and I couldn't take it anymore," Lauer said. "I started this. Dinner With Friends is what I always wanted to do. I just gave the time and space [of the concept] a name."
The meals take place in a metal house that Lauer and Mejia designed and built with design assistance from Lauer's father, a retired landscape architect. Lauer said a pastry chef and an office worker building a house together was a "bad idea."
Matthew Thorsen
Intermezze
To a guest at their table, however, it appears quite wonderful: high ceilings, concrete floors, rocks dug up in excavation as support pilings, spectacular art, and an open kitchen for watching and talking with the chef.
Lauer leaves the kitchen long enough to describe each course, his no-big-deal demeanor suggesting he'd just whipped up a peanut-butter-and-jelly sandwich.
But he welcomes chitchat, and that gave me the chance to ask: "Hang on, did you say melted fennel?"
Sure, Lauer said. Fennel is really fibrous, and, if you cook it long enough, "low and slow," it dissolves into "delicious mush." He served it with seared red snapper, puréed sweet potato, gremolata and diced green Cerignola olives.
Another item to pause over was eucalyptus oil in the pesto. Lauer explained that he bought branches of eucalyptus at a florist shop, cooked its leaves and extracted the oil. The pesto dressed pasta that Lauer made from an ancient grain called kamut; he served it with rack of lamb rolled in Persian spices.
Lauer's pasta was so fresh that it required just 30 seconds of cooking, a quick turn in the pot as guests finished an intermezzo course, or palate cleanser, of passion fruit and raspberry drizzled with ginger liqueur. This delight was presented in a small ice vessel that Lauer crafted himself. The full creation rested on a plate in a "substrate" of salt, Lauer told us.
"The idea of Dinner With Friends — this is really unique," guest John Oren said. "It's the plateau of high art."
Lauer looked up from his cooking and countered, "middle art."
But high art could be found in the cauliflower vichyssoise made with a coconut-water base, bobbing with cubes of pickled potato and chunks of poached langoustine.
Matthew Thorsen
Dessert
To top it off, Chuck's duck made a repeat appearance, this time as rendered fat in a nickel-size sugar cookie that Lauer served hot from the oven. Each diner was presented with a cookie on an individual cooling rack beside a baby cream puff filled with soy-sauce-caramel mousse.
"One of Jesse's superpowers is timing," said Mejia.
Lauer said he spent about two weeks preparing the meal, including drawing sketches of each course and lying awake at 2 a.m. "worrying about everything," he said.
Before we left their house, Lauer and Mejia told us they planned to drive to a Chinese restaurant in Hinesburg to pick up beef with broccoli and boneless spare ribs.
A few days later, Lauer reported on the to-go meal: "We got home and pretty much fell asleep on top of it."