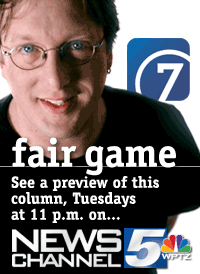 Last March, the five Democratic candidates for governor promised hundreds of individuals with disabilities — along with their parents and advocates — they wouldn't let mean ol' Gov. Jim Douglas reduce their services.
Fast forward 10 months: Three of those Democrats are now defending a budget proposal that would cut another $5 million from the state's community mental health and developmental disability system. We're talking about Gov. Peter Shumlin, Human Services Secretary Doug Racine and top Shumlin aide Susan Bartlett.
Here's what the trio had to say less than a year ago.
Shumlin: "We do this group therapy session once or twice a week, and this is definitely the largest group we've been yet. That's because the people in this room have more at this stake in this election than anyone else in Vermont."
To much applause, Racine added, "I don't believe our values are negotiable just because we're in difficult times."
Bartlett promised the legislature would not "pass a budget that leaves you by the side of the road."
Over the past three years, the state's $200 million-plus mental health support system has absorbed $15 million in cuts, according to Julie Tessler, executive director of Vermont Council of Developmental and Mental Health Services. The council represents the regional mental health providers and was the sponsor of last year's March event.
The trio has since changed its tune.
Shumlin is upbeat about $1 million in corrections savings that will go into substance abuse, housing and counseling services, but admits he and Racine will be working with community mental health providers to "mitigate the pain as much as possible." Racine hopes to help find "efficiencies" in the system.
Tessler said health providers have already absorbed the cost of technology upgrades, home visits and burgeoning health insurance costs without help from the state or feds.
"The hospitals and health care insurance companies, on the other hand, have asked for and been granted rate increases to cover their costs," said Tessler. "Also, there is emphasis on support for prevention and primary care in health care, and that is what we're doing on the mental health side. That's what makes it hard to understand these proposed cuts."
The budget cuts, if approved, would boost caseloads for mental health workers from 35 to nearly 60 in some parts of the state. Wait lists for outpatient services would increase from weeks to months, Tessler said. It will also mean that many adults now living independently would get less support and be at greater risk of ending up back in group homes, hospitalized — or worse.
Floyd Nease, executive director of the consumer-based Vermont Association for Mental Health, said he was "shocked" by Shumlin's budget proposal. As House Majority Leader, Nease led the charge against Douglas' budget cuts because of their potential impact on the most vulnerable.
The state should redirect some of the $12 million being saved by cancelled plans to build a 15-bed secure residential mental health facility on regional mental health services, Nease said.
He also has another suggestion.
"I know this sounds odd coming from a guy who helped get three bridges replaced in his district, but you could stop all optional paving projects and not have to make these cuts," said Nease. "We could choose people over pavement."
Meeting of the Mayors
Last week's public hearing on Burlington Telecom was as much about the 2012 mayor's race as about a beleaguered municipal telecom that owes taxpayers $17 million.
Councilors Karen Paul (I-Ward 6), Joan Shannon (D-Ward 5) and Kurt Wright (R-Ward 4) — all considered possible mayoral candidates — took great pains to distance themselves from the BT debacle, while lobbing pot shots at Burlington Mayor Bob Kiss.
Despite calls for his resignation and demands that he apologize to voters, Kiss didn't rise to the bait — or even raise his voice.
Each of the three "candidate" councilors did his or her best to represent the "taxpayer."
Shannon reminded residents that the council took the lead in creating a Blue Ribbon Panel, a special audit committee to review the city's and BT's financials. It also disallowed BT's use of the cash pool.
Paul took Kiss to task for spreading misinformation: The mayor continues to claim that BT would now be financially stable if the administration had been allowed to negotiate a deal with Piper Jaffray in late 2009. Even the consultants hired to turn BT around admitted that notion was folly.
That the council went along with some of Kiss and Chief Administrative Officer Jonathan Leopold's plans should not be seen as an act of complicity, Wright insisted. "Could we have figured this thing out?" asked Wright. "It was a trust issue. We trusted that the administration was not doing what we later found out it was."
Wright urged Kiss to admit "serious mistakes were made" as a way to rebuild trust in city government.
Kiss didn't waver, insisting that he and Leopold have only had the city's best interests in mind.
Off the Block
The 44 residents at Wharf Lane in Burlington were spared eviction last week on the very day it was scheduled to happen. The Burlington Housing Authority and the Vermont Housing Finance Agency brokered a deal to buy both Wharf Lane and neighboring Bobbin Mill apartments from Pizzagalli Properites, according to Paul Dettman, BHA's executive director.
Dettman said the agreement — to be signed off on officially this week — would see a near-term purchase of Wharf Lane with a closing on the Bobbin Mill no later than December 2012.
One clarification: In last week's column, I referenced the annual revenues of Pizzagalli Construction — not Pizzagalli Properties. Although the former company still bears the family name, it is now employee-owned. The brothers sold the company to its 700 workers a few years ago.
A Socialist Among Capitalists
Sen. Bernie Sanders' (I-VT) eight-hour lecture about the evils of capitalism, combined with his criticism of the Federal Reserve, have earned him a seat on the Congressional Joint Economic Committee. No foolin'.
This 20-member panel holds hearings, performs research and advises Congress on the economy. It was established by the Employment Act of 1946, with the charge to make "a continuing study of matters relating to the U.S. economy."
Sanders' own campaign economics have greatly improved thanks to his mid-December "Filibernie." He now has $535,000 cash on hand, according to his most recent Federal Elections Committee report.
Whole Lotta Shakeup
In an odd-numbered year, with no general election in sight, the major parties tend to rearrange the deck chairs.
Vermont Democratic Party Executive Director Robert Dempsey announced last weekend he is calling it quits as soon as a successor is found, while Vermont Republican Party Chairman Steve Larrabee announced two weeks ago he's leaving his post, too.
Former GOP lawmaker and government exec Pat McDonald is emerging as a lead candidate among the Rs. McDonald ran Lt. Gov. Phil Scott's winning 2010 campaign — just one of two GOP candidates to be elected to statewide office. The other was Auditor Tom Salmon.
Dan Riley, chairman of the Bennington County GOP, previously ran for the post. He said McDonald would be a great pick.
"Her whole management style, beginning with open and direct communication, is perfect for the Vermont Republican Party at this time," said Riley.
Mark Snelling, who lost the race to Scott, is working behind the scenes to help reorganize the party and is being urged by some to consider the chairman post.
"V" for Victory?
It's official: There will be only two contested Burlington City Council races on Town Meeting Day.
Republican Councilor Vince Dober (R-Ward 7) will face Democrat Greg Jenkins. Meanwhile, Progressive Councilor Vince Brennan (P-Ward 3) will face Democrat Lynn Mesick and Independent Ron Ruloff.
If either Mesick or Jenkins wins, the Democrats would hold an outright majority on the 14-member council.
Question is: Will the incumbents prove invinceable?
Got Al Jazeera?
Cable TV viewers in the United States are getting a decidedly Western view of the unrest in Egypt.
That is, unless you're a Burlington Telecom subscriber. BT is one of the few cable outlets in the U.S. that offers Al Jazeera English. You can find AJE on Channel 132, tucked between TruTV — formerly Court TV — and FOX Business.
Maybe the situation in Egypt will help boost BT's subscriber base. Then again, the last thing Mayor Bob Kiss needs is unending footage of people rioting in the streets, calling for the resignation of an unpopular leader.
Media Notes
The Barre-Montpelier Times Argus is laying off staff and the Burlington Free Press still has its mandatory unpaid furloughs. Meanwhile, VTDigger.org is hiring.
Digger-in-Chief Anne Galloway has brought on her first full-time staffer: Josh Larkin will serve as Digger's director of design and technology and will also contribute articles. Larkin and Galloway worked together at the Times Argus, where Galloway was laid off more than a year ago and Larkin worked as a reporter.
Speaking of second chances, here are two more: More than four years ago, Out in the Mountains ended its 21-year run as Vermont's only free, monthly LGBTQ publication. A new crew of volunteers is now hoping to relaunch the pub as an online community newspaper. The nascent site can be found at OITM.org.
In December, Seven Days purchased Kids VT, the state's only parenting publication. The first issue hit the stands Tuesday with a new logo and design, and all local content.