astrid hedbor lague
Astrid's mother, Eloise, at home in South Hero
When I was seven months pregnant with my now-17-year-old daughter, my nesting instinct kicked in with full force. No, I did not get the inspiration to purge closets and clean things from top to bottom. Instead, I became obsessed with making the perfect coffee cake, convinced I would not be a "proper" mother if I didn't have one in my repertoire. I experimented with coffee cake variations at least once a week and even resorted to stocking my pantry with mason jars full of all the dry ingredients that went into the cake, ready to go with the addition of just butter and milk (or orange juice, applesauce ... so many variations). I brought all of my creations to work with me, much to the delight of my coworkers. My husband happily ate my experiments, but there is only so much coffee cake a couple awaiting their first child can reasonably consume. And, funnily enough, my craving was not so much about eating the coffee cake as it was about making it.
It turns out I didn't need to try out all those variations to find the perfect coffee cake. I'd forgotten my mom's recipe, immortalized in our self-published family cookbook, Home Is Where the Kitchen Is. When we were growing up, my mother emphasized the importance of a good breakfast. On weekends, we always had pancakes, and sometimes mom would whip up her delicious coffee cake. It might be studded with raspberries from the patches by our garden or contain sliced apples, peaches or pears. Sometimes the crumb topping was full of oats or crunchy Grape-Nuts. But the base of the recipe was always the same, and I don't know that I have ever made anything easier or better.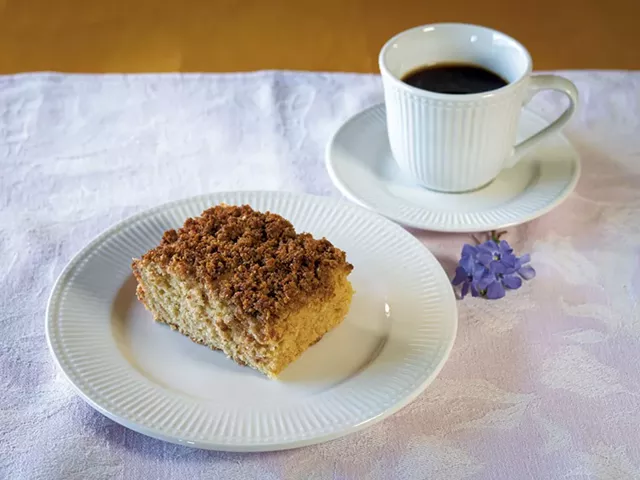 Andy Brumbaugh
Mom's coffee cake
Nowadays, I am not seeing my mother much. She is sheltering at home in South Hero, working remotely. I have been making quick grocery and wine deliveries to her every couple of weeks, and we stand — at least six feet apart — and chat for a while. For now, there are no hugs. She is not able to walk over from her office to meet me for lunch at the picnic table behind my work. There are no school concerts or performances for her to attend. Easter breakfast was a video chat. I haven't been inside my beloved childhood home since early March.
For most of us, Mother's Day is bound to be very different this year. So maybe, since my mom and I aren't able to go out for a pedicure like we sometimes do, I will honor her by making her perfect coffee cake, thanking her for the inspiration for how to be a "proper" mother and hugging my children tight.
Mom's Coffee Cake
Andy Brumbaugh
Mom's coffee cake
(Makes one 8" square or round cake)
Ingredients
For the cake batter:
1 cup sugar
½ cup butter, softened
2 cups all-purpose flour
2 teaspoons baking powder
½ teaspoon salt
1 teaspoon cinnamon
1 cup orange juice
For the crumb topping:
1 cup plain breadcrumbs (Mom always used a couple of pieces of stale bread)
¼ cup brown sugar
½ teaspoon cinnamon
2 tablespoons butter, softened
Directions
Preheat oven to 350 degrees. Grease an 8" round or square pan and set aside. Cream together sugar and butter in a stand mixer (or by hand, mixing well).
Whisk together the dry ingredients, and then incorporate into the creamed butter and sugar until it forms a nice, crumbly texture. Add in the orange juice and beat until smooth. Pour the mixture into the pan and spread evenly.
Add the ingredients for the crumb topping into the mixing bowl that you made the batter in, without cleaning it beforehand. (The little bit of batter that may be left over makes for a better crumb.) Blend together until it forms a nice crumble, then spread it evenly on top of the batter.
Bake for 40 to 45 minutes, checking for doneness by putting a knife or a skewer into the cake. When it comes out clean, it is done. Remove from the oven and cool before serving — if your family can wait, that is.
Variations are endless. Try substituting milk for the orange juice; add some citrus zest for an extra pop of flavor; add nuts, oats or cereal to the crumbs; or stir fresh or frozen fruit into the batter.