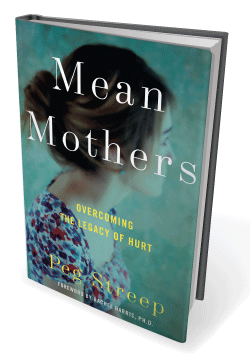 When author Peg Streep discovered she was pregnant with her daughter, she went against everyone's advice — that of her friends, relatives and therapist — and cut off contact, once and for all, with her mother. The relationship was just too toxic.
"It didn't occur to me until years later that never once did my mother initiate a reconciliation, and I now understand why," she writes in her recent book, Mean Mothers: Overcoming the Legacy of Hurt. "She was relieved by my absence. From her point of view, I was the mirror that reflected her greatest fear and failure: her own unloving nature as my mother. Keeping that secret was, I believe, more important to her than I was."
Streep, now 61 and living in Burlington, is both the daughter of a "mean mother" and the devoted mother of an adult daughter. Her journey from one role to the other was the inspiration for her book, her exploration of mother-daughter relationships in which the mother is incapable of loving her child.
In a recent interview, when I tell her I'm enjoying her book, Streep is surprised.
"You're the first person who's used the word 'enjoy,'" she says. Since the book was published last fall, Streep explains, people who struggle with unloving mothers have been tracking her down to tell her how grateful they are that she tackled the taboo subject, but the word that comes up most frequently is pain. "Their reactions to [the book] are so incredibly painful," Streep says.
So, maybe enjoyment isn't entirely appropriate. But the book is certainly a fascinating read, even for those of us whose mothers weren't so bad. When it was featured on "Good Morning America" last fall and on Vermont Public Radio's "Vermont Edition" shortly thereafter, responses came pouring in from around the country.
Weaving together her own story with the experiences of other daughters of mean mothers, Streep paints a picture of multigenerational maternal dysfunction. At the book's core is the notion that a mother's ability to love her child is crucial to the child's development. The myth that all maternal love is instinctual and unconditional only deepens the pain an unloved daughter feels.
"Most of us have discovered, one way or another, that love among humans is sometimes unreliable," Streep says. "We like to believe that there is one kind of love that isn't. We like to think of mothering as being exempt from all that, but of course it isn't."
Hallmark cards and People magazine covers would have us believe that mother love comes naturally; that an unbreakable bond is forged the moment a woman lays eyes on her newborn baby. But Streep argues that love is a learned behavior. In the book, she writes that she was all of 4 years old when she realized her mother didn't love her.
"I knew it first by the way she stiffened when I tried to sit in her lap or touch her arm and how she turned her face away when I kissed her," she writes.
As Streep puts it, a daughter catches the first glimpse of herself in the mirror that is her mother's eyes. (The connection isn't quite so intense for boys, because they are taught early on that their gender separates them from their mother.) When a daughter sees love reflected there, she grows up with a strong sense of self, believing she is worthy of love. If she doesn't find it, she may never establish a sense of self-worth.
It wasn't easy getting women to speak honestly about their mothers on the record, Streep says. With the exception of herself, only one woman in the book agreed to let Streep use her real name. "I had a lot of women who were talked out of it by siblings, or decided they would just look too bad talking about their mothers this way," the author says.
Streep experienced considerable criticism herself after she dove into the project.
"Why would you want to dig all that up now?" her hair colorist asked when she heard what Streep was writing about, then said of Streep's mother: "She must have done something right, because you turned out OK, didn't you?"
A guest at a dinner party regarded Streep with disdain, she writes in the book. "I don't think it's fair to talk about those things," the person said. "My mother did what she could."
When the book was published, Streep expected responses to it to be similarly scolding — such as the reaction she's used to getting when new doctors ask for her medical history; she has to tell them it's incomplete because she hasn't talked to her mother in 15 years.
Instead, Streep says, she's been overwhelmed by the number of women who have contacted her to air their own stories, experiences they've hidden for years so as not to disrespect their mothers.
"There are always going to be mothers who are not up to the job," Streep says. "Do I think some of it is generational? Yes. Choosing not to have a child is no longer an unthinkable thing."
In fact, all through her twenties and thirties, Streep was resolved not to have a child. She made this decision for many reasons, she says, but her experience with her mother was high on the list.
"Science pretty much held that you were going to end up repeating the behaviors of your mother," she says. "As counterintuitive as it is, women often go out in their lives and replicate that relationship. It may not be healthy, but it feels familiar."
But scientists now believe the cycle can be broken, and therapists say "divorcing" one's parents can be necessary. The key is therapy, Streep says. All but one of the women she interviewed, herself included, went through years of therapy before they fully understood they had done nothing as children that made them inherently unlovable. They learned they could essentially rewire their brains.
"By [the time I had my daughter], I knew myself well enough to know that I wasn't my mother, and I wasn't the person my mother thought I was," Streep says. "But it took a really long time."
Her heightened awareness of where her mother went wrong, she says, has guided her in raising her daughter. "I call it the negative compass," she says. "Everything my mother did not give me, my daughter got. Needless to say, these unloved daughters who become mothers are highly invested in succeeding in raising their children."
Even for those who have been well loved, mothering is a tough job. "It's not for the faint of heart," Streep says. "There isn't a mother out there who hasn't at one moment or another thought, Can I just get a small vacay from this mothering thing? But we don't let people be ambivalent about mothering."
When Streep was wrapping up the book, she recalls, her daughter, home from college, asked her, "If you could speak to your mother one more time, what would you say to her now?"
The question took Streep aback. She has never regretted cutting off contact with her mother, she says, and she no longer needed to ask the question she had obsessed over throughout childhood: "Why don't you love me?"
"If I could speak to my mother one more time, I'd say this," she writes. "You didn't mean to, but you made me stronger and more aware than I might otherwise have been."
In person, Streep backs off a little from that statement.
"You don't really 100 percent heal from this experience," she says. "There is a hole, because there's something you needed and didn't get. But at the same time, like every lousy experience, there is a positive that can be drawn from it. It sounds very Pollyannaish, but it's true."