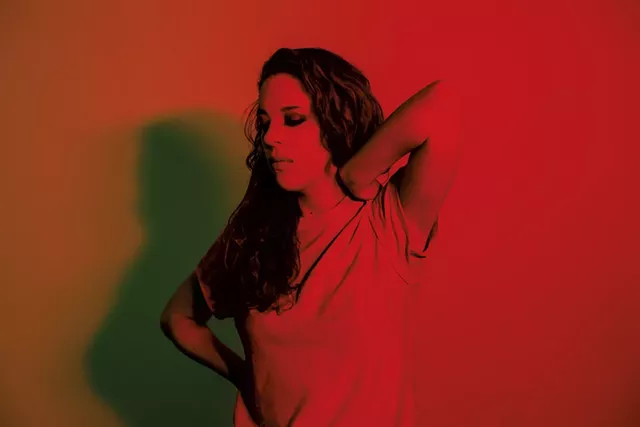 courtesy of Julia Braga
Luísa Maita
Change is the only true constant, as the rapid pace of technology perpetually underscores. But it can be difficult to accept. Brazilian singer-songwriter Luísa Maita, though, accepts it willingly. Change, particularly that fueled by technology, is the driving inspiration behind her new album, Fio da Memória, which translates from Portuguese as "thread of memory." That album drops on Friday, September 23. Touring North America in support of the record, Maita plays the Higher Ground Showcase Lounge in South Burlington on Monday, September 26.
The 34-year-old cantora is signed to Cumbancha, the globally minded record label based in Charlotte. Maita's 2010 debut, Lero-Lero, showcases a pristine, contemporary take on samba and bossa nova, two of Brazil's signature musical styles. It's bright, lyrical and rooted in tradition. Fio is nothing like that. Couched in electronic sounds and modern styles, it's dark, edgy and untethered.
English is not Maita's first language. In conversation, she puts her words together with careful consideration — though she comes off like a dreamer rather than someone struggling to translate her thoughts. In her Cumbancha bio, Maita explains Fio as being "about what Brazil is today aesthetically, in this electronic age." Asked to clarify, she ponders the question before responding.
"[It's] very different from the first album," she says, speaking by phone from Brazil. "I think it's a mix of what is happening in the world."
Maita cites the internet age and the permeation of American pop music as contributing to the changes she sees in daily Brazilian life. But she doesn't claim to be an authority, just an observer. "It's just my point of view, what I listen [to] and what I see," she says.
Maita's earliest musical influencers were her parents, Myriam Taubkin and Amado Maita. Her mother has been producing prestigious live-music events in Brazil for more than 30 years. Her father, who died in 2005, owned and operated a parking lot in São Paulo, but his true passion was playing music. In 1972, he released his sole record, a self-titled LP of samba-infused jazz; it's become a coveted prize for collectors around the world. (Asked by the Red Bull Music Academy to compile a list of underrated jazz records, Dutch electronic-jazz fusionist Jameszoo rounded out his selections with Amado Maita, though he said he couldn't afford it.)
Maita cherishes her one copy of her father's record. "[He] developed a different kind of samba. It's very beautiful and spontaneous," she says. "It's a very particular kind of music from that period of his life and what [was] going on in São Paulo." The curious can find the album in its entirety on YouTube.
Maita grew up surrounded by a constant flow of creative energy. She describes her early life as a nonstop musical, social event. Going to shows and constantly meeting new people, always talking about music, was the norm in her household.
"It was not a classical family," she says.
Her family's nonconformity, though lively and stimulating, came with frequent life changes. Maita changed schools a half dozen times. Her family moved from Bixiga, a vibrant, diverse neighborhood of São Paulo, to the quieter outskirts of the city. Eventually, her parents divorced and her mother remarried, taking Maita even farther away, to the rural state of Minas Gerais in southeastern Brazil. But she doesn't resent her transitory childhood.
"I didn't feel I wanted things [to] stop changing," she says. "I like when things change. I don't like routine."
In 2007, Maita began recording Lero-Lero. At the time, she felt it was quite modern. Of course, in 2007, iPhones were just hitting the market and hadn't yet crammed the internet into every crevice of existence. On Fio, the "electronic age" of which Maita speaks is fully realized.
Organic sounds are nowhere to be found on "Na Asa," the opening track. Maita's sultry whispers are punctuated by rapid-fire trap beats and a throbbing bass line. It's one of the most striking, if lyrically ambiguous, tracks on the record.
"I kind of invented a language in this song," Maita explains. "You can understand it in Portuguese, but it's not really Portuguese."
In English, the title translates to "On Wings," which offers a clue to the essence of the song.
"You have your power in your wings," Maita says. "If you want to reinvent yourself, you can't keep walking in your routine, in your normal life. You have to fly."
Subsequent tracks on Fio retain elements of Maita's former sound but filtered through a sharp, bleak palette. The architecture of "Porão" feels unmistakably like samba, but the electronic bass and drums breed welcome unfamiliarity.
"Around You," which is sung in English, combines synth bass and stringed bass, creating a heavy bottom as Maita chants in airy, haunting vocals, "Above you / inside you / around you / wherever you are."
The impact of technology on culture and daily life is a primary theme on Fio da Memória. Maita also takes inspiration from other art forms. She singles out British photographer Martin Parr as her favorite contemporary artist, praising him for his ability to turn unconventional, even ugly, things into beautiful works of art. She also names the Academy Award-nominated Argentinean film Wild Tales, directed by Damián Szifrón, as one of her favorite flicks. But Maita's strongest influence, and one embodied profoundly by Fio, is simply change itself.
"Maybe all my albums will change a lot. I don't know yet," she says. "[I'd] like to do something different and find a new aesthetic, a new sound. I don't have a style."