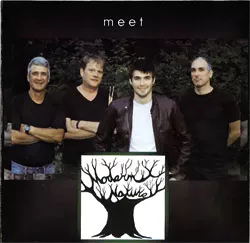 (Self-released, CD, digital download)
There's really nothing wrong with a band starting life as a covers act. Even if the modern hipster crowd looks down on it (usually while ironically rehashing decades-old trends and sounds). Indeed, many of rock's all-time great bands started out as bar bands — the Beatles and the Rolling Stones, to name two. Especially when starting out, playing covers is a natural way for a band to find its footing, and to sort out its influences before moving on to original material. But recording and releasing those covers as the majority of a debut album? Unless you actually are an all-time great band, not so much.
On their knowingly titled debut, Meet Modern Nature, Shelburne-based bar band Modern Nature introduce themselves as a capable covers act with designs on original material. That's a good thing, given the strength of the originals included on the record. The problem is the other two-thirds of the album, composed of a head-scratching assortment of pop and rock hits.
It's not that Modern Nature's take on classics such as John Hiatt's "You May Already Be a Winner," the Beatles' "If I Fell" or the Velvet Underground's "Sweet Jane" are poorly chosen, or even poorly played. They're not. And with the glaring exception of a woefully ill-advised reworking of Amy Winehouse's "You Know I'm No Good," the songs are all solid covers. They probably kill at the local tavern. But it's hard to fathom why anyone would need to listen to them anywhere else.
Not so the band's three originals, which ably nod at the aforementioned Beatles, Stones and VU — and maybe wink at Alex Chilton and Big Star.
"I Don't Need You," penned by guitarist Mark Bouchett and drummer Mark Wetmiller, boasts some charming pop jangle that owes a debt to Lou Reed in the verses and Paul McCartney at the hooks. Bouchett also penned the album's two other originals: a slyly substantive little romp called "Looks Are Everything" and the punky, retro, rocking album highlight "She's a Girl."
While none breaks any rock-and-roll molds, any of those three cuts is a more worthwhile listen than, say, the millionth cover of "Heartbreak Hotel." Here's hoping that on their next effort, Modern Nature flip the ratio of originals to covers and give audiences something new.
Meet Modern Nature is available at modernnatureband.com. Modern Nature play Splash! at the Burlington Boathouse this Friday, August 23.