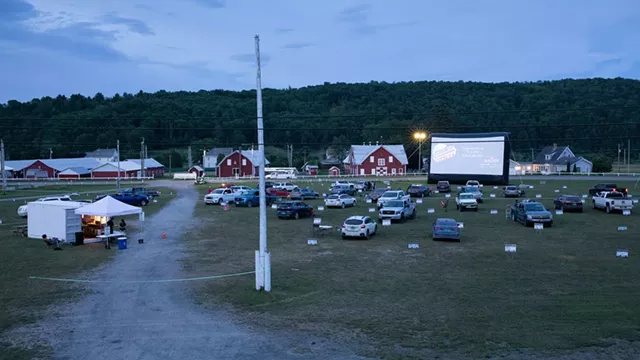 Don Whipple ©️ Seven Days
Scenes from the Orleans County fairgrounds
The Orleans County fairgrounds in Barton hasn't seen much action this year, but that changed in early July. Now, Wednesdays through Sundays, it's the site of a drive-in theater where locals can watch Vin Diesel steer his way to victory in The Fate of the Furious while enjoying popcorn, hot dogs and lots of space to lounge.
Moonrise Cinemas is a nomad. Currently ensconced in Barton, the 52-by-26-foot screen and projection setup will move to the Caledonia County fairgrounds in Lyndonville on August 5 and to a third, to-be-announced location in September. In its current spot, "the moon literally rises above the screen," said Saturn Roblee, who co-owns Moonrise Cinemas with her friend Emily Ladd.
The pop-up drive-in, she noted, is actually classified as a "drive-up" by the film industry, which means it's governed by different rules from its brick-and-mortar brethren. With one double feature per night, the business partners show a mix of semi-new and "classic" films; last week, they paired the animated The Addams Family with Knives Out and Jurassic Park with Galaxy Quest. While Wednesday through Friday are family oriented, and Saturday is "date night," Sunday is a showcase for local artists or organizations. On July 12, Moonrise screened "The Big Top on the Big Screen," a curated comedy collection from Greensboro's Circus Smirkus.
With the usual summer fun of carnival rides and agricultural exhibits on hold, Moonrise isn't the only "drive-up" popping up on Vermont fairgrounds. On July 3, Rutland's Paramount Theatre opened a 60-car drive-in on the Vermont State Fairgrounds, where it offers weekend showings of movies such as Footloose and Raiders of the Lost Ark. "The response has been overwhelming," said Eric Mallette, the Paramount's programming director. To meet community demand — shows sell out "in minutes," Mallette said — the Paramount's management is putting a second drive-up screen in Brandon, with plans to open it in early August.
Don Whipple ©️ Seven Days
Scenes from the Orleans County fairgrounds
Roblee, 30, has always been a drive-in fan. "You have your own space, and you're outside under the stars and it's just really nice," she said. When she arrived in West Glover in 2019, after a two-year RV road trip from northern California, she deemed it a "perfect place for a drive-in."
Then the pandemic closed indoor movie theaters. With Vermonters eager to get outside as summer approached, the idea turned into a plan. "Maybe it's time to open that drive-in!" Roblee recalled saying. She and Ladd, 42, went to work with the help of their respective partners, Cavan Meese and Tito Ladd, who both have experience in live events and production.
At the time, the Ladds lived in Pembroke, Mass. With their 3-year-old son, they relocated to an RV on the Barton fairgrounds — being sure to get tested first and observe Vermont's quarantine rules for out-of-staters, Ladd said.
The venture took about a month and a half to get off the ground, with a primary sponsorship from St. J Auto Group in St. Johnsbury. A "lot of friends" pitched in, Roblee said: "We wouldn't have been able to do it without everybody who's here helping us right now."
The screen, which soars 40 feet above the ground, takes about two hours for initial installation, Ladd said, and 10 minutes to raise and lower each night. Moving the entire setup to its next location will take about two and a half days.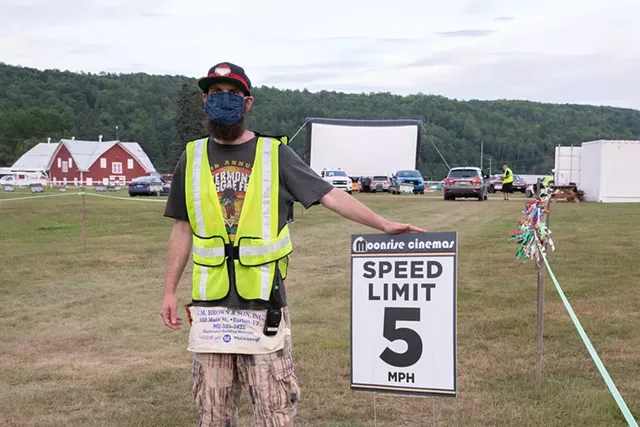 Don Whipple ©️ Seven Days
Scenes from the Orleans County fairgrounds
Besides installing the theater, the partners transformed a shipping container into a kitchen, where Roblee now preps Black River Meats hot dogs, nachos with queso blanco, popcorn and sweet treats. More dinner options are in the works, Roblee and Ladd said. A full bar, opening July 15, will offer products from Montpelier's Caledonia Spirits.
Moonrise charges $25 per carload of five people (extra passengers are $10 each) and has spots for 150 cars, each occupying 270 square feet. That means moviegoers can leave their stuffy vehicles to break out the lounge chairs or sit in a truck bed.
Online ticketing and touchless food pickup and delivery ensure minimal contact. As for restroom facilities, Moonrise offers "three beautiful and regularly cleaned porta-potties," Roblee assured Seven Days.
Response from the community has been strong so far, she said: "A lot of customers have felt safe coming here, have felt welcomed and have just felt really excited to get out into their community."
For all their precautions, the business partners have mixed feelings about touting Moonrise Cinemas as "safe," "because then it makes you think of what's going on," Roblee said. Ladd suggested a substitute: "comfortable."
The objective is to give Northeast Kingdom dwellers what movie theaters have long provided — a refuge from the stress of daily life. "We're kind of trying to create a space that's a new normal," Roblee said. "We want it to feel super natural when you're here."
The moon rising over that big screen should help. Moonrise's current slogan, Roblee said, is "When the moon goes down, the stars come out."