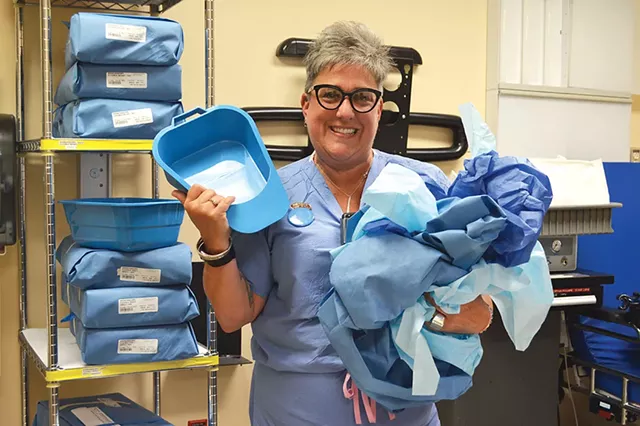 Courtesy Of Annie Mackin
Monique Citro
On a typical afternoon in the University of Vermont Medical Center's operating room 21, surgical staff were prepping for an imminent hip-replacement surgery. This process of "opening the room" involves unpacking and laying out all of the instruments and supplies that may be needed during the operation.
Many of those sterile instruments were rolled in on a metal cart, like the kind used in bakeries. Because operating room 21 is a "total joint room" where orthopedic surgeons perform complete replacements of hips, knees and shoulders, those surgical supplies included a tray of metal ball joints of various sizes. During the operation, the surgeon inserts different balls into the patient's hip socket to determine which fits best.
All surgeries require a sterile environment. But as Dr. Douglas Campbell, a UVM Medical Center orthopedic surgeon, explained, any break in sterility can be especially problematic for joint replacements because it can cause an infection within the joint itself.
For this reason, virtually anything that may get used during the surgery arrives in sterile blue plastic wrap. Once opened, the fabric-like material gets bagged in its own separate trash bin and whisked out of the OR before the patient arrives. This prevents it from inadvertently getting contaminated by infectious waste, such as used gauze pads, sponges, masks and gloves.
Opening an OR, which can take from 10 minutes to half an hour, isn't the messiest part of the surgery, but it creates the most trash. The UVM Medical Center doesn't track exactly how much waste its 22 operating rooms generate. But based on national studies, ORs account for as much as 40 percent of a hospital's total waste stream, much of which is plastic.
For years, all of that nonbiodegradable material ended up in a Vermont landfill or a hazardous waste incinerator. But about a decade ago, Monique "Mo" Citro, now an operating room communications specialist and sustainability coordinator, decided to change all that.
Due in large part to her efforts, tons of plastic waste are now getting recycled — not only by the UVM Medical Center but also by hundreds of other hospitals nationwide. Just recently, the Burlington medical center began "closing the loop" on its recycling efforts by buying patient care products that are made from its own recycled materials.
For Citro, the genesis of the blue-wrap recycling program originated with an environmental mess thousands of miles away. About a decade ago, the Underhill native worked as an OR equipment specialist at the UVM Medical Center. She'd be paged whenever a piece of surgical equipment wasn't working properly or the surgical staff needed help with it. At the time, none of the blue wrap in operating rooms was salvaged. But with 65 to 90 surgeries performed at the hospital each day, Citro saw mountains of blue-wrap trash piling up.
Citro's idea to recycle it coincided with reading a story in Rolling Stone magazine about the Great Pacific Garbage Patch, that massive whorl of debris in the central Pacific Ocean that contains an estimated 80,000 metric tons of plastic.
"It so affected me," she recalled. "I was like, Well, I can't do anything about that, but I can do something in my community. And this just happened to be it. This was my garbage patch."
At the time, the UVM Medical Center was buying about 16 to 18 tons of blue wrap annually, which it turned into some 22,000 trash bags of waste. It's difficult to visualize such a vast quantity, she noted, as the wrap is extremely light; to demonstrate, she lifted a full trash bag of it with one finger. "That's a lot of blue wrap — and a lot of space that isn't in the landfill anymore," she added.
Unlike many large hospitals and medical institutions around the country, the UVM Medical Center has no sustainability director to oversee its environmental efforts. So Citro had to implement the recycling program at the grassroots level. To do so, she first had to educate the surgical staff about why it's important — and to make the process as easy for them as possible.
"Change is tough, and this is a tough environment," she explained, noting that surgical teams work long hours and are on call nights and weekends. "Sometimes it's just too much [for them] to be thinking about sustainability."
Nevertheless, Citro soon discovered that the vast majority of her colleagues supported her efforts to make their workplace more eco-friendly.
At the time, no other hospital in the country was recycling its blue wrap, and an estimated 255 million pounds of it were ending up in landfills. But because it's made from a spun No. 5 polypropylene, Citro eventually determined that it could be repurposed. The big question was, who would accept it?
"No one knew what to do with it. You can only recycle stuff if you've got a vendor," she said. "But I had it in my head that I was going to find somebody. So I started making phone calls."
By July 2011, Citro had secured a deal with Canusa Hershman Recycling in St. Albans to accept it; the recaptured blue plastic was then shipped to Canada, where it was made into products such as car bumpers and doghouses. But Citro had to ensure that none of the OR recycle bins contained biohazards or other nonrecyclable materials.
"Back then, we used to have these tape- and label-removing parties in one corner of the OR," she recalled. In 2016, the UVM Medical Center partnered with Casella Waste Systems to take the blue-wrap recycling program hospital-wide, and the Rutland-based company has handled it ever since.
Where is all of that blue wrap going? To make the program more cost-effective, Casella combines blue-wrap waste from the UVM Medical Center with wrap from other hospitals around the region. Those materials are then delivered to its facility in Lebanon, N.H., and shipped to companies that reprocess it.
Dan Constant is president of Sustainable Solutions, a health care consulting firm based in Orlando, Fla.; he's worked with Citro since 2014. For the last decade, he's had a contract with Georgia-based Halyard Health, maker of the sterile blue wrap.
A few years ago, Constant explained, the UVM Medical Center expressed concern that its recycled blue wrap was being shipped to China, which created an enormous ecological footprint.
"We made a decision at the time that the only way this material could stay in the U.S. was if we created a circular economy for the material," Constant said.
That helped kick off Blue Renew, Halyard Health's blue-wrap recycling program, in which the plastic is melted into resin pellets, called BlueCON. Those in turn are used to make patient products such as hospital washbasins, bedpans and totes, which the UVM Medical Center now buys — and in considerable number: about 38,000 washbasins and 7,500 bedpans annually.
Sustainable Solutions is also helping more than 400 other hospitals around the U.S. divert more than 5 million pounds of blue wrap from landfills each year — and adding about 100 new hospitals to the program annually. Vermonters, Constant noted, "were really the pioneers to do it."
But those efforts aren't cheap. As he pointed out, the recycling commodities market is really depressed right now, which puts a strain on programs like this one. As a result, hospitals that recycle blue wrap pay a premium to do so, which they must offset with savings elsewhere. Still, as landfill space fills up, especially in the Northeast, Constant said that the cost of hospital waste disposal will continue to rise, making recycling efforts more attractive.
"I'm proud of UVM [Medical Center]," he added. "They're starting the journey now."
Citro's grassroots efforts have gained national recognition. Last year Practice Greenhealth, a nonprofit organization that encourages environmental stewardship and eco-friendly best practices within the health care industry, ranked the UVM Medical Center among the top 25 most sustainable hospitals in the U.S.
The blue-wrap recycling program may be the UVM Medical Center's "shining star," but Citro isn't resting on her laurels. She's helped to implement the recycling of other clinical items, too, including single-use medical devices such as surgical staple guns and tourniquet cuffs, which the hospital ships off to be sterilized and repurchased — at a third of their original price.
Other materials are also being kept out of the landfill, Citro noted. ORs open plenty of surgical supplies, such as gauze and sponges, whose inner seals are never broken and thus are still considered sterile. However, because the U.S. Food & Drug Administration doesn't allow hospitals to reuse those supplies, Citro now collects and donates them to the nonprofit group Partners for World Health, based in Portland, Maine, which ships them overseas to hospitals and clinics in developing countries.
She believes this is only the beginning. As the cost of waste disposal continues to rise, and the domestic recycling market recognizes the value of these recaptured materials, Citro envisions many other hospital materials being repurposed into health care products, such as hospital scrubs and operating room drapes. She even envisions a day when medically contaminated blue wrap can be sterilized and recycled, too. As she put it, "American ingenuity is going to catch up to our vision."